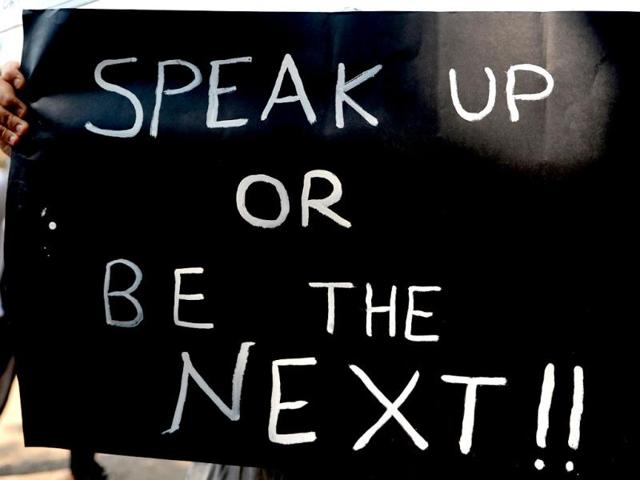 These are not minor transgressions
Women in India are under threat by not just ordinary men who might be potential rapist, but also by those who should be their protectors, donning the mask of decency but violating women nonetheless by such uncharitable thoughts, Sujata Anandan writes.
UPDATED ON JAN 02, 2013 12:30 AM IST
I had never heard of Honey Singh or his despicable songs/lyrics until television channels began to air the outrage over his songs after the gang rape of the 23-year-old medical student in New Delhi.
That instantly took me back to the late-1980s in Bombay when a Marathi journalist had published a blow-by-blow account, rather a guide, for potential rapists. The booklet was titled — what else — Balatkar Kasa Kartat (How to rape). What was shocking was that the booklet had been printed by a newspaper whose circulation had plummeted but which was still the springboard for a host of young journalists who started their careers with the paper and went on to good jobs elsewhere, some even ending up as very recognisable names in the industry. The outrageous thing about the episode was that this was a paper that had been fiercely at the forefront of the freedom movement but now its managers were justifying the publication as 'just a job work' they undertook from private publishers from time to time.
No one might have known about the outrage if a woman journalist working at the newspaper at the time had not got excited about an article of hers being published in the paper that evening. Before ending her night shift, she decided to visit the basement to secure an advance copy of the paper to take home to show to her parents. Instead of thanking her for bringing it to their attention, the managers tried to intimidate her, asking why she had been where she had no business to be — inside the printing press area — when she was just a sub-editor with the newspaper.
She then brought the copies of the offensive booklet she had surreptitiously picked up to some women's groups who decided to approach the police commissioner with a request for action against both the press and the publisher who had written the offensive guide. Of course, the owners of the press got away with the excuse that they could not monitor every last bit of job work brought to them and that they had printed the offensive material in good faith without having a clue about its contents.
But no action was taken against the writer of the guide either. A few years later I was horrified to discover that he had ended up as a friend, philosopher and guide to the reigning president of the Maharashtra Pradesh Congress Committee (MPCC) — he was an elderly, even fatherly, man and a former freedom fighter, and requests for interviews by journalists were run past this potential rapist. I refused to have my credentials vetted by a man who saw nothing in advising men on how to rape women and told the PCC president that I would not step into his office if this offensive personality was anywhere on the premises. What worried me then was that he expected his party to win the assembly elections that year and thought he would automatically be made chief minister. Every day I died a little at the thought that this potential rapist would end up as his media adviser, with all the trappings of government and power.
Thankfully, however, when the Congress did end up winning, the man was put out to pasture and, while I felt sorry for him personally, I thanked the natural course of events for saving the state — and indeed the nation — from such an outrage.
But I have always wondered ever since what prompts men — even decent fatherly figures like that PCC president — to believe that such obnoxious acts are of no consequence and that women unduly make a big deal of what might have been a minor transgression. Now, as is evident from innumerous statements by politicians — from Mukhtar Abbas Naqvi dismissing the 26/11 candlelight protests by women as one by those in lipstick and powder to the President's son, Abhijit Mukherjee, calling the gang rape protesters as 'dented and painted' (whatever he meant by that), it is obvious that women in India are under threat by not just ordinary men who might be potential rapists — the obvious criminals — but also by those who should be their protectors, donning the mask of decency but violating women nonetheless by such uncharitable thoughts.
And when they end up being like that Rajasthan legislator who says school girls should not wear skirts, I wonder why he ever noticed their uniforms instead of their human potential.
Close