'A batsman of his calibre understands the game, he will have his plans': Sachin Tendulkar backs Kohli to fire in England
Batting great Sachin Tendulkar spoke about Virat Kohli's batting ahead of India's tour of England, which will begin with the WTC final against New Zealand.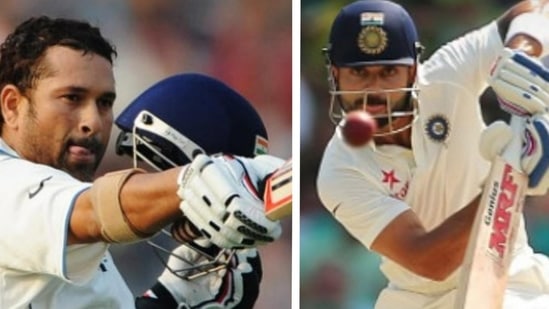 Updated on Jun 15, 2021 08:11 PM IST
When it comes to batting in the sport of cricket, there aren't many better than the likes of Sachin Tendulkar and current India captain Virat Kohli. These men, along with numerous other greats, have been at the pinnacle of the sport and they continue to inspire the present and the future generation of cricketers. The two batters have been known to share a great relationship and it came to light when Tendulkar helped Kohli after the latter had a disastrous tour of England in 2014.
Ahead of the World Test Championship (WTC) final between India and Kane Williamson-led New Zealand, 48-year-old Tendulkar was asked whether the old problem outside the off-stump still persists in Kohli's game, Tendulkar said he wouldn't worry too much.
ALSO READ| 'In intra-squad match, he scored an 80 plus score, he is in good rhythm': Laxman picks India's opening duo for WTC final
"I think outside the off-stump or whatever that is, all batters get out from there. So, I won't look at whatever shot he is playing. What is the percentage that Kohli is getting the shots right and how many times he has been dismissed? If we compare that, then the player has to assess and plan that these are the areas I need to tighten up. But I wouldn't worry too much about all those things, it has been fine, to be honest," Tendulkar told ANI in an interview.
The genius of 'Master Blaster' Tendulkar is often remembered by his innings at the Sydney Cricket Ground in 2004, where he fought his weakness of being dismissed by poking at balls outside the off-stump and going to smash one of the greatest centuries in the history of the game. Can Kohli pull off a Tendulkar in England? The maestro responded:
ALSO READ| India announce 15-member squad for WTC Final: Openers named, 2 spinners included
"I am sure a batsman of his calibre understands the game as he is a good student. He will have his plans. It need not be that 'okay I am not going to play this shot'. Sometimes you know, you adjust your stance and do a lot of things at the crease which the bowlers sometimes don't pick. All those minor tweaks one can do.
"I started not playing that shot (drive), but it wasn't decided in the dressing room. I went there on the field and figured out their strategy is to keep the ball away from me, so I said okay let's see who loses patience first. It was me against the 11 and I thought if you keep bowling the ball there, I will keep leaving it. If it is for two days, I will. It happened on the field and I am sure with him also, he will realise what they are trying to do and then you should have the flexibility to move from Plan A to Plan B and respond to various challenges," he explained.
The grand finale, which will bring down the curtains on a two-year-long tournament, will be played at the Rose Bowl in Southampton. The match is slated to begin on June 18. It will be followed by a five-match Test series against England.
Close Story