Afghanistan vs Australia, ICC World Cup 2019: Cummins, Warner shine as Australia crush Afghanistan by 7 wickets
As it happened: David Warner and Aaron Finch hit respective half-centuries as Australia surpassed the Afghanistan total with seven wicket and 15.1 overs to spare. Earlier, Afghanistan ended their innings at 207 with Najibullah Zadran top scoring with 51. Rahmat Shah scored 43. Pat Cummins and Adam Zampa scalped three wickets each for Australia. Earlier, Afghanistan won the toss and elected to bat first.
Follow AFG vs AUS highlights below -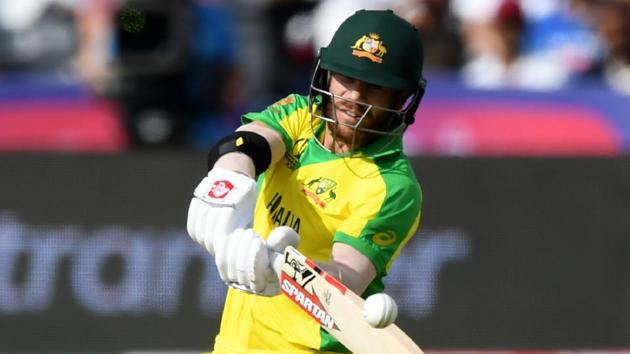 Updated on Jun 02, 2019 08:51 AM IST
23:52 hrs IST
Match ends
Glenn Maxwell hits the winning runs, a boundary over the mid-off fielder's head and with that, Australia have won the match by 7 wickets. David Warner remained not out on 89. Not to forget the contributions of the bowlers with Pat Cummins and Adam Zampa scalping three wickets each to restrict Afghanistan to a 207.
23:47 hrs IST
Smith departs
Australia need just three runs to win but Smith has fallen to the bowling off Mujeeb ur Rahman. Smith was taken for surprise by the bounce and he hit the ball into the hands of Hazratullah at short third man. Maxwell come out to the crease now to finish the match.
23:42 hrs IST
9 runs needed
Australia are now just 10 runs away from starting their World Cup campaign with a big win. They have 102 balls and 8 wickets remaining so its safe to say they are going to win this match by a big margin.
23:35 hrs IST
Australia steady
Warner and Smith are dealing in singles and they are taking Australia closer to the target. The duo have already put on 35 runs and doing it easily at the moment. Warner has also entered his 80s.
23:27 hrs IST
Smith survives
Steve Smith should have been back in the hut but he survives a close run-out chase. David Warner hit the ball towards square leg and went for two. Smith hesitated but went for it after Warner forced and when the throw whizzed past the stumps, Smith was way out of the crease.
23:20 hrs IST
AFG lose their review
Steve Smith tried to play the reverse sweep off Rashid Khan but ended up missing the ball. The ball hits his pads and the players appealed. The umpire said not out but Naib asked for the DRS. Replays showed the ball hit the glouves and the review was wasted.
23:13 hrs IST
Khawaja falls
Rashid Khan scalps the wicket of Usman Khawaja but it might just have come a bit late as far as Afghanistan are concerned. The ball crashes into his pads and the umpire gave it out straightaway. Khawaja departs for 15 as Steve Smith joins David Warner in the middle.
23:07 hrs IST
Fifty for Warner
David Warner goes past the 50-run mark off 74 deliveries and it has been an uncharacteristic innings for the Australian to say the least. However, with Australian bowlers firmly on top of their game today, Warner was given the time to get his eye in play accordingly.
23:01 hrs IST
Four and four
Mohammad Nabi bowled on the pads of David Warner and it missed everyone including the keeper for four byes and a wide. Then, couple of deliveries later, Usman Khawaja hits the ball off his hips for a four towards square leg. Australia going towards the target at the rate of knots.
22:54 hrs IST
Another partnership building
Usman Khawaja has looked positive since coming on to the crease and he is building a good partnership with David Warner, who is playing an uncharacteristic innings on the other. Despite that, he is hitting a boundary here and there, just like this one where he cut Naib for a boundary towards third man.
22:45 hrs IST
100 up for Australia
David Warner hits Rashid Khan for a boundary towards short third man and with that, Australia go past the 100-run mark. They need 105 to win off the remaining 32 deliveries and they would want to go past the target as soon as possible.
22:38 hrs IST
Naib strikes
Skipper Gulbadin Naib has broken this 96-run stand between the Aussie openers by getting rid of counterpart Aaron Finch for 66. The right hander hit the ball high in the air and Mujeeb took a good high catch at deep point. Australia have lost their first wicket in chase.
22:31 hrs IST
Fifty for Finch
Aaron Finch is taking the attack to the Afghan bowlers and he is dealing in boundaries at the moment. He hits a four and six off Rashid Khan go past the 50-run mark. No threat from the Afghanistan bowlers and Australia are scoring runs at a rapid pace.
22:25 hrs IST
Warner survives again
David Warner almost lost his wicket but wicket-keeper Mohammad Shahzad wasn't ready and the Australia opener survived. Warner inside edge the ball near the stumps and tried to sneak a single. But realised the ball hadn't gone far and came back inside the crease. Till the tile Shahzad realised he could get him out, Warner was inside the crease.
22:19 hrs IST
Nabi starts steady
Mohammad Nabi concedes just three runs off his first over and kept things tight for Afghanistan. Australia have been very comfortable so far in the chase and Afghanistan need to break this partnership soon if they stand any chance of making a match out of this chase.
22:13 hrs IST
Australia go past 50
Aaron Finch hits a six and four off Dawlat Zadran and with that Australia have crossed the 50-run mark in 9 overs. While Finch is on the attack, Warner is taking his time to build his innings. The defending champions are moving along nicely at the moment.
22:07 hrs IST
Another maiden over
Hamid Hassan bowls his second maiden over of the innings to David Warner and he has been on the money. In four overs, he has given just 10 runs and bowled two maidens. He has helped Afghanistan create some of the pressure on the batsmen.
22:01 hrs IST
Partnership building
Finch and Warner are playing risk free cricket and only dispatching the deliveries that needs to be sent to the boundary ropes. The duo have added 44 runs off 43 deliveries as Australia are going all guns blazing towards the Afghanistan score.
21:54 hrs IST
Warner survives
Hamid Hassan once again produces an edge, this time off David Warner's bat but once again the ball goes past the fielder at first slip. Had there bin a second slip, it would have been a regulation catch. Warner survives but the pacer isn't happy. Now we have a second slip.
21:47 hrs IST
Edge and four
Excellent delivery from Hamid as he produces an edge off Finch's bat but it goes past the fielder in the slip cordon. Finch picks up his fourth boundary of the innings as Australia are off to a good start in the chase.
21:38 hrs IST
Maiden over
David Warner, on the other hand, is off to a stead start as he plays Hamid Hassan for a six dots in the over. A maiden over to start the proceedings for the right-arm pacer.
21:30 hrs IST
Finch starts well
Aaron Finch starts the chase on a positive note has he hits Mujeeb ur Rahman for couple of boundaries in the first over. The first one he hit towards extra cover and the second one also went in the same region. 9 runs from the first over of the innings.
21:20 hrs IST
Chase about to begin
Afghanistan skipper Gulbadin Naib hands the new ball to Mujeeb ur Rahman as he will bowl the first over of the innings. Aaron Finch and David Warner are opening the innings for Australia.
21:10 hrs IST
Innings ends
Pat Cummins picks the last wicket of the innings as he gets rid of Mujeeb ur Rahman for 13. Afghanistan end their innings at 207 with Najibullah Zadran top scoring with 51. Rahmat Shah scored 43. Pat Cummins and Adam Zampa scalped three wickets each for Australia.
21:01 hrs IST
Rashid departs
Rashid Khan's quick-fire innings comes to an end as he dismissed by Adam Zampa for 27. His 11 balls included 2 boundaries and three sixes before he was dismissed LBW by Zampa. Afghanistan have lost their ninth wicket now.
20:55 hrs IST
Expensive over from Stoinis
Rashid Khan tore apart Marcus Stoinis in the over as he hit him for 20 runs off the last five deliveries. Couple of sixes and boundaries each give a good reading to the score as they are going closer to the 200-run mark.
20:49 hrs IST
Cummins strikes now
Pat Cummins picks his second wicket of the day as he gets rid of Dawlat Zadran for 4. The batsman gloved the ball into the hands of the keeper as Afghanistan lose their eight wicket. Mujeeb ur Rahman joins Rashid Khan in the middle.
20:43 hrs IST
Stoinis strikes again
Marcus Stoinis picks his second wicket of the over as he gets rid of Najibullah Zadran for 51. Like Naib, he too top edged the delivery and Carey made no mistake with the catch. Afghanistan are seven down now and again in a spot of bother as two new batsmen are out in the middle.
20:38 hrs IST
Fifty and out
Najibullah Zadran hits a masterful 46-ball fifty but right after skipper Gulabadin Naib falls as Afghanistan lose their sixth wicket. Naib hit the ball straight in the air and keeper Carey took an easy catch. Marcus Stoinis picks his first wicket of the day as Rashid Khan walks out in the middle now.
20:30 hrs IST
150 up for Afghanistan
Naib hits Coulter Nile for a huge six towards long-on and with that, Afghanistan have gone past the 150-run mark in style. These two have put on 76 runs so far off 72 deliveries. Australia's search for wicket continues as they look to break this stand and expose the tail.
20:23 hrs IST
Four and four
Another good over for Afghanistan as the batsmen score 9 runs off Mitchell Starc. Najibullah flicked the ball for a boundary towards fine leg and then, off the last delivery, Naib hit the ball towards long-on for four runs. Afghanistan have done really well to recover from five down to this position.
20:15 hrs IST
Four, four, six, six
Najibullah seems to have had enough as he takes the attack to Zampa and hits him for 20 runs off the last four deliveries off the over. Two fours followed by two huge six on the on side as Afghanistan are looking to get a move on now.
20:07 hrs IST
Partnership building
Najibullah Zadran and Gulbadin Naib have stitched together 30 runs off 46 deliveries thus far and they are trying to steady the Afghanistan ship. 22 overs left to be bowled in the innings and these two will look to bat for as much as possible.
19:57 hrs IST
Four and 100
Najibullah gets on the backfoot and hits Coulter-Nile for a boundary through the point region. Afghanistan have now crossed the 100-run mark in the 26th over. Second four of the innings for Najibullah who is giving able support to his skipper from the other end.
19:50 hrs IST
Cummins' short-ball strategy
Pat Cummins his bending his back and trying to bounce out the batsmen. He is keeping both Naib and Zadran on their toes with his fiery pace and bounce. Although Naib has hit couple of boundaries off him, he hasn't really done a significant damage thus far.
19:43 hrs IST
Naib shows his prowess
Skipper Gulbadin Naib shows his intent and hits Pat Cummins for couple of boundaries in the over. Twice Cummins tried to bowl the short delivery to him but on both occasions, he was hit for a boundary towards mid wicket. 9 runs came from that over from Cummins.
19:36 hrs IST
Nabi run-out
Steve Smith produces another great effort in the field as he stops the ball in the covers and throws it towards the keeper in a blink of an eye. Carey takes off the bails as Nabi was trying to get back in his crease. Afghanistan have lost half their side now.
19:31 hrs IST
Rahmat falls
After a good innings of 43, Rahmat Shah heads back into the hut for 43. He hits a Zampa delivery straight into the hands of Smith, who has fielding in the covers. Afghanistan have lost their fourth wicket now and are in big trouble.
19:26 hrs IST
Bowling change
Zampa and Starc kept the pressure on Afghanistan batsmen are didn't let them free their arm. Pat Cummins has now been introduced into the attack as Australia look to inflict further damage.
19:20 hrs IST
Fifth boundary for Rahmat
Easily one of the shots of the day as Rahmat rocks back onto his back foot and hits the ball through the mid wicket region for his fifth boundary. He has held the innings well on one end and needs a partner to stay with him for long.
19:14 hrs IST
Tidy over from Starc
Mitchell Starc returned into the attack as skipper Aaron Finch is going for the jugular. Starc keeps things steady and gives just one run in the over. He was the one who started the innings by taking a wicket in the first over and would like to strike again soon.
19:08 hrs IST
Zampa strikes
Adam Zampa has done the trick for Australia as he gets rid of Shahidi for 18. The southpaw came out of his crease to defend the ball but missed the line of the delivery.Wicket-keeper Alex Carey effected the easiest of stumpings as Afghanistan lose their third now.
19:02 hrs IST
Fifty up for Afghanistan
Shahidi hits a double on the first ball off Coulter Nile's over and with that Afghanistan have gone past the 50-run mark. Spin is now being introduced into the attack as Adam Zampa is coming on to bowl for Australia.
18:58 hrs IST
Good over from Stoinis
Marcus Stoinis gives away just four runs from his over including two wides. Afghanistan batsmen are content with just taking singles and doubles with occasional boundaries. These two have done well to get the team though the early storm.
18:52 hrs IST
Four and four
Two fortunate boundaries for Shahidi in one over from Coulter Nile. The first one, Shahidi hit the ball in the practice pitches and it went for a boundary through the covers after evading Stoinis. Then, Coulter Nile bowled short and the ball took a top-edge and went for a boundary. 8 runs came from that over.
18:45 hrs IST
NCN on the money
Nathan Coulter Nile bowls another good over as he gives away just one run off it. He has bowled two overs so far and has conceded 7 runs. Marcus Stoinis now replaces Pat Cummins in the attack.
18:37 hrs IST
Partnership building
The two batsmen have put together 27 runs thus far and they are doing well to help Afghanistan recover after a poor start. Both Rahmat and Hashmatullah need to continue batting like this for as long as possible.
18:30 hrs IST
Positive cricket from Rahmat
Cummins drops the ball short and Rahmat pulls the ball for his second boundary of the innings. Four runs came from that over from Cummins as Australia continue to pile on the pressure on Afghanistan. Nathan Coulter Nile now replaces Mitchell Starc in the attack.
18:23 hrs IST
Edge and four
Cummins makes the ball come inside and it takes an inside edge off the bat of Rahmat and goes for a boundary towards fine leg. First four of the innings for Rahmat it couldn't not have been more fortunate as the ball missed the stumps by a whisker.
18:17 hrs IST
Afghanistan need a partnership
Considering the bad start that they have got, Afghanistan need good partnership to bail them out of trouble. Rahmat Shah and Hashmatullah Shahidi are in the middle now and they will look to weather this early storm by playing good cautious cricket.
18:10 hrs IST
Cummins strikes now
Pat Cummins has provided Australia their second breakthrough in as many over as he gets rid of Hazratullah Zazai for 0. The southpaw edges the ball into the hands of the keeper Alex Carey as Australia are already on top of their opponents in the match.
18:04 hrs IST
Wicket in first over
Mitchell Starc has provided Australia with the perfect start in the match as he gets rid of Mohammad Shahzad on the third ball of the match. Starc bowled a fast yorker and the ball hit the batsman's pads and crashed into the off stump. Afghanistan lose their first wicket without a run on board yet.
17:58 hrs IST
Match begins
Mitchell Starc has the new ball in his hands and he will be bowling the first over. As for Afghanistan, Mohammad Shahzad and Hazratullah Zazai are opening the innings. We are about to get underway with the first over of the match.
17:53 hrs IST
National anthem
The two sets of players are out in the middle for their respective national anthems. Afghanistan batsmen will look to get off to a good start while Aussie pacer will be eying early wickets.
17:47 hrs IST
Stat attack
267: Average 1st innings score at Bristol, extrapolated over last 5 completed 1st innings at this ground in ODIs. Although, the last ODIs have seen the scores of 358 & 369 in 1st innings at Bristol.
0/2: Afghanistan have faced Australia only twice and lost both in 2015 and 2012.
1/6: Afghanistan have won only once out of their 6 World Cup matches in 2015. Their only World Cup win came against Scotland in 2015.
0: Afghanistan have not played a single international match in England before.
2/10: Australia have lost only 2 out of their last 10 ODIs. Their last 8 ODI wins out of 10 has come on trot.
1/2: Australia won and lost one each ODIs out of 2 they have played at Bristol. Their 2 ODIs at Bristol came in 2005 (lost) and 2015 (won).
6/6: Australia will enter this World Cup with the streak of 6 consecutive wins in a World Cup matches (in 2015).
125: With 125 wickets, Rashid Khan is the leading wicket-taker for Afghanistan in ODI at an average of 15.33 with the economy rate of 3.90.
17:40 hrs IST
Playing XIs
Afghanistan: Mohammad Shahzad(w), Hazratullah Zazai, Rahmat Shah, Hashmatullah Shahidi, Najibullah Zadran, Mohammad Nabi, Gulbadin Naib(c), Rashid Khan, Dawlat Zadran, Mujeeb Ur Rahman, Hamid Hassan
Australia: Aaron Finch(c), David Warner, Usman Khawaja, Steven Smith, Glenn Maxwell, Marcus Stoinis, Alex Carey(w), Nathan Coulter-Nile, Pat Cummins, Mitchell Starc, Adam Zampa
17:33 hrs IST
Toss update
Afghanistan have won the toss and elected to bat first against Australia in Bristol. Australia skipper Aaron Finch conceded that they were looking to bat first as well on this track. Afghanistan skipper Gulbadin Naib said he has spinners in his team to trouble the Aussies.
17:25 hrs IST
Predicted XIs:
Afghanistan: Mohammad Shahzad (wk), Hazratullah Zazai, Rahmat Shah, Asghar Afghan, Najibullah Zadran, Mohammad Nabi, Gulbadin Naib (c), Rashid Khan, Hamid Hassan, Mujeeb-ur-Raham, Dawlat Zadran
Australia: David Warner, Usman Khawaja, Steve Smith, Glenn Maxwell, Marcus Stoinis, Alex Carey, Nathan Coulter Nile, Adam Zampa, Pat Cummins, Mitchell Starc
17:19 hrs IST
Langer calls on fans not to boo Aus duo
"You (the media) talk about earning respect, and I think it's really important that people show respect as well," Langer said ahead of five-time winners Australia's World Cup opener. "They made a mistake and paid a big price for it. After the experience of Hampshire, we have a pretty good idea what to expect. We've talked about it a lot and we can put strategies in place. That said, when it happens it doesn't make it any easier. They are human beings, that's the truth -- and that's what I find the hardest."
17:12 hrs IST
Top player battles
Rashid Khan vs David Warner: Mates when the play for Sunrisers Hyderabad, Rashid and Warner will face-off for the first time in an international match and this promises to be an intriguing affair. If the recent trend is anything to go by, opposition sides have decided to wait and play out Rashid, but with Warner, defence will never be an option which is what makes this contest the most interesting battle in this match.
Mitchell Starc vs Mohammad Shahzad: For Afghanistan, Mohammad Shahzad is their X-factor in the batting order and he has already signalled his intent in this tournament in the warm-up games. However, he will have to face Mitchell Starc, who is back at his best. Shahzad will have to counter the movement and the pace and look to remain unscathed in the powerplay overs.
17:07 hrs IST
Warner declared fit
Opener David Warner will be selected for Australia when they launch their World Cup campaign against Afghanistan on Saturday, captain Aaron Finch said on the eve of the match. "Dave is fine, he will play tomorrow. No doubt about that," Finch told a news conference on Friday. "Everyone's been in really good form... in the practice games, and the three games we played against New Zealand."
17:00 hrs IST
'Won't be overawed'
"We are very excited for tomorrow's game and the start of the tournament," Naib told reporters on Friday. "The team has changed from four years ago, and the last couple of years we have improved very well in every department. We are just focusing on tomorrow. The World Cup is a big stage, and we are looking forward to doing our best."
16:50 hrs IST
No pushovers
Afghanistan captain Gulbadin Naib is confident his unheralded side will not suffer from stage-fright when they play holders Australia in their World Cup opener. Naib's team go into the tournament as 100-1 outsiders and few expect them to shock Australia in Bristol on Saturday. When they met Australia at the 2015 World Cup in Perth, a 275-run defeat ensued as David Warner hit 178 in a total of 417 for six. But Afghanistan cricket has undergone a steady improvement since that competition and the minnows start the tournament bolstered by a recent win over Pakistan in a warm-up fixture.
16:40 hrs IST
Afghanistan's incredible rise
Afghanistan's rise from associate-nation status to cricket's elite has been nothing short of a fairytale. The minnows witnessed a captaincy change two months before the start of the World Cup, with little-known Gulbadin Naib named leader of the ODI side in place of Asghar Afghan, a move that did not go down well with some senior members of the team. But the team have now settled to focus on their World Cup campaign.
16:30 hrs IST
Australia's all-round bowling attack
Australia also boast a potent pace attack led by Pat Cummins and Mitchell Starc, ably supported by Jason Behrendorff, Nathan Coulter-Nile and Kane Richardson. Spinners Adam Zampa and Nathan Lyon lend variety to the bowling attack that combined to get the better of England and Sri Lanka in warm-up games.
16:20 hrs IST
Star duo under spotlight
The defending champions have endured a tumultuous past year but the Aaron Finch-led side are peaking at the right time and are considered one of the favourites in the 50-over showpiece event. After edging out hosts India 3-2 in a five-match ODI series in March, Australia welcomed back Smith and Warner with open arms. But they are not expected to be given an easy ride by English fans, with former captain Smith being booed and called a "cheat" during the England warm-up game.
16:10 hrs IST
Hello and welcome
A very warm welcome to the live blog of ICC World Cup 2019 match between Afghanistan and Australia. The match will be played at the County Ground in Bristol. Afghanistan will look to start their tournament with a surprise win while the defending champions will look to get their campaign off to a flier.
Close Story