Anurag Thakur to Supreme Court: Recall order to remove me as BCCI chief
Anurag Thakur was removed as the president of the Board of Control for Cricket in India on January 2, 2017. The Supreme Court also removed Ajay Shirke as BCCI secretary for failing to implement the reforms suggested by the RM Lodha panel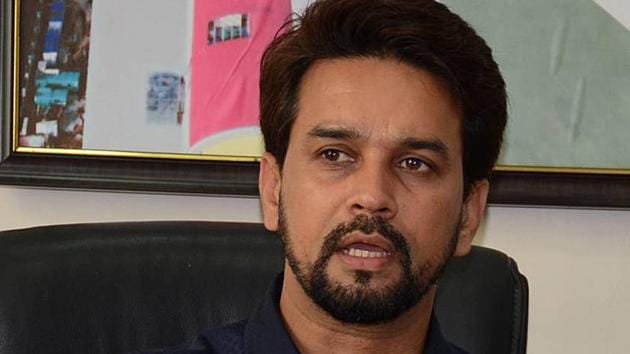 Updated on Aug 02, 2018 12:18 PM IST
Anurag Thakur, on Tuesday, filed an application in the Supreme Court seeking the recall of the order that removed him as the president of the Board of Control for Cricket in India.
On January 2, 2017, a Supreme Court bench headed by then Chief Justice of India TS Thakur, sacked Thakur and BCCI secretary Ajay Shirke for failing to implement the reforms drafted by the Justice Lodha committee.
In his application, Thakur, a BJP MP, said that he was not present in his personal capacity during the court proceedings and was subsequently furnished with the Supreme Court order by the BCCI. Saying that court's order "caused mental anguish and public embarrassment," Thakur, who was the president of Himachal Pradesh Cricket Association, added that he was "not heard either in person or through counsel" before the top court removed him.
Thakur's application comes at a time when the Supreme Court bench, headed by Chief Justice Dipak Misra, agreed to review the 'one state, one vote' and 'cooling off' clauses and has reserved its order on a new BCCI constitution.
On July 5, the three-judge bench of Justice Misra, Justice AM Khanwilkar and DY Chandrachud, hearing the BCCI matter after the Vinod Rai-headed Committee of Administrators filed its ninth status report highlighting the defiance of BCCI officials, said modifications to its judgement of July 18, 2016 that included the 'one state, one vote' and cooling-off period clauses could be considered.
ALSO READ | India vs England: Virat Kohli celebration after Joe Root run out 'cool', says Keaton Jennings
BCCI officials have been steadfastly opposing clauses in the Lodha proposals that arrest long-term power to officials, curb conflict of interest and relegate institutional units with voting rights. The BCCI is in constant conflict between its 'acting' officials and the CoA.
Thakur's application will only add twist to this protracted power game that has left cricket administration in the doldrums. From August 7, 2013 till July 5, 2018, 173 hearings have taken place in the courts. Four chief justices, including Misra, are among a dozen judges to have heard the case.
Asked to comment on the Supreme Court agreeing to modify the key 'one state, one vote' and 'cooling-off period' clauses, Justice Lodha had said it would render the whole exercise ineffective.
"I have been very clear that these suggestions, which have the seal of the court, are the heart and lungs of the reforms. If they are in any way modified, the very efficacy of the reforms would be lost."
Close Story