Australia to appoint Aaron Finch as ODI captain? Justin Langer drops hints
Updated on Jul 09, 2018 03:43 PM IST
Aaron Finch, the in-form Australian T20 International captain, seems to be the best choice as team scramble for answers ahead of next year's World Cup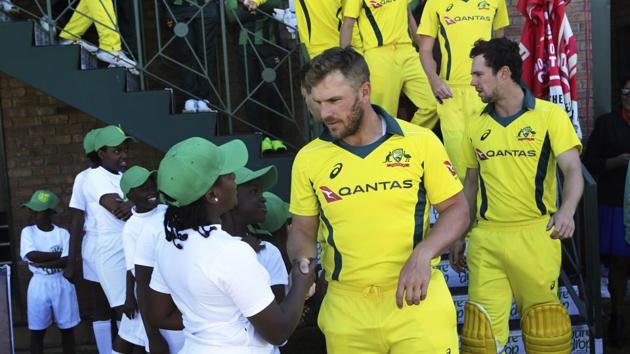 Australia's head coach Justin Langer has dropped hints of Aaron Finch's ascension to the ODI captaincy, with less than a year left for the next World Cup to be played in England.
The leadership slots in the Australian teams were left vacant following bans to Steve Smith and David Warner in the wake of the Sandpapergate scandal earlier this year.
While both the players are banned from representing Australia in international cricket for one year, Smith cannot assume any leadership role for two years while Warner has been banned forever.
READ | Pakistan's Sahibzada Farhan makes unwanted record vs Australia
The duration of the ban began in March 2018, and with both players likely to make their way into the Australian squad for the World Cup in England, the selectors have been sweating over the choice for leadership.
However, after a decent showing in the recently-concluded T20I tri-series in Zimbabwe where they lost to Pakistan in the final, Australia are contemplating over expanding Finch's leadership responsibilities.
Finch became the first player in the history of T20 Internationals to break the 900-point mark as he moved up three places to finish the tri-series in Harare against Pakistan and Zimbabwe as the top-ranked batsman in the shortest format of the game.
Finch, who captained Australia to the final, had touched the 900-point mark following his record-breaking knock of 172 (76b, 10x6, 16x4) against Zimbabwe in Harare on 3 July.
Langer was quoted as saying by ESPNCricinfo, "After this tour we'll have a really, really close look at everything we're doing at the moment including our leadership, which is such an incredibly high priority in Australian cricket."
"Finchy has definitely put his best foot forward in this series. So we'll look at that. We'll look at all our staff. We'll look at everything to make sure we keep flying forward, as is the expectation of the Australian cricket team," he added.
READ | Indian cricket team can build on T20 success vs England: Hardik Pandya
Australia's problems compounded in England with their first-ever 0-5 result against the arch-rivals, with the stand-in captain Tim Paine going through a lean patch.
And for coach Langer, Finch seems to be just the right man given that his form with the bat has been supreme as well.
"He's been brilliant. Finchy and I spoke privately yesterday and I told him he's done a great job at the top of the order. To have someone that dynamic is a great example to all our players," Langer added.
Personalise your news feed. Follow trending topics