Australia vs West Indies Highlights, ICC World Cup 2019: Mitchell Starc's fifer seals Australia's 15-run win over West indies
Australia vs West Indies Highlights: Mitchell Starc completed a five-wicket haul as Australia defeated West Indies by 15 runs in their second World Cup game. Shai Hope and skipper Jason Holder scored half centuries each, but it was not enough to take Windies to victory, as they finished at 273/9 in 50 overs . Earlier, on the back of half centuries from Steve Smith and Nathan Coulter-Nile, Australia posted a total of 288.
Australia vs West Indies, ICC World Cup 2019: As it happened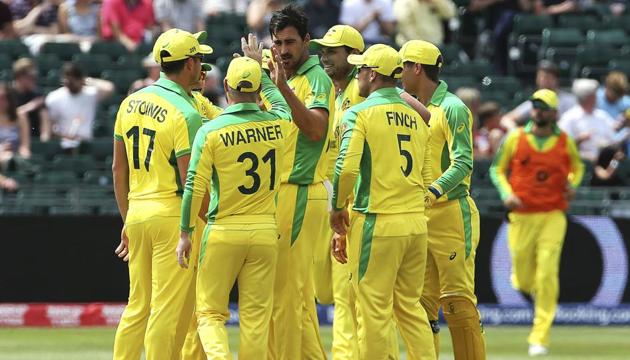 Updated on Jun 06, 2019 11:28 PM IST
23:17 hrs IST
Finch speaks
Aaron Finch: We just kept hanging in there. From 4 for 30 odd to be able to fightback and then partnership between Smith and Carey. And that innings of Coulter-Nile was exceptional. Even with the bowl we hung in there. Absolutely, I was nervous when they were coming at us at 30/4. You have to keep taking wickets against West Indies since they are so destructive. With the bowl, we have few areas to improve.
23:17 hrs IST
Holder speaks
Jason Holder: "Obviously disappointed. I thought we were well in the game there. Just a few irresponsible shots when we probably just needed to tap it around a little bit more. Having said that, I still think there's lots of positives to take out of this game. We dropped Coulter-Nile when he was about 60-odd and he got about another 30 runs. That was one pivotal moment but obviously the batting. If we came here at the start of the day and limited Australia to 280, we'd have taken that. The batters need to take the responsibility and knock it off."
23:11 hrs IST
Man of the match - Nathan Coulter-nile
Nathan Coulter-Nile, who hammered 92 runs in 60 balls, was awarded the man of the match prize for his performance. The batsman took Australia to a competitive total of 288 from a precarious position, which in the end, proved to be too much.
23:03 IST
Australia win by 15 runs
Australia have, in the end, picked up an easy win over West Indies, courtesy of a five-wicket haul from Mitchell Starc. West Indies reach 273/9 in 50 overs.
22:51 hrs IST
Starc completes fifer
And Sheldon Cottrell moves away from the stumps to give himself room - misses the back of the length delivery - and the stumps are down. Starc gets his fifth wicket. WI 256/9
22:40 hrs IST
Brathwaite, Holder departs
Carlos Brathwaite has played one shot too many. He tries to go for a big one off Starc, mistimed it and it was taken comfortable at mid-on by Aaron Finch. West Indies 252/7 - need 37 to win in 27 balls. In the same over, Holder has been removed as well - Adam Zampa has taken this inside the box. WI 252/8
22:34 hrs IST
Brathwaite begins onslaught
Carlos Brathwaite has started the onslaught - a big six in the previous over of Coulter-Nile, and then follows it up two back-to-back boundaries in Cummins' over. Can Windies pull out a win from the hat?
22:28 hrs IST
Pressure back on Windies
Two good overs - Only 3 runs coming in the last two overs. The pressure is back on Windies now and they will need to get at least one or two boundaries in this one. Coulter-Nile continues. Meanwhile, a fifty for Holder.
22:10 hrs IST
Russell departs
Great catch at mid-off by Glenn Maxwell. Andre Russell lost his cool... goes after a wide one from Starc. Mistimed it and gets a leading edge. Maxwell ran backwards to get the dismissal. Russell departs for 15. WI 216/6 - Need 73 in 67 balls.
22:03 hrs IST
Andre Russell goes big
What can you expect when Andre Russell comes on in the middle - a six and a four in Adam Zampa's over. The onslaught has begun! Windies cross 200-run mark.
21:54 hrs IST
DRS to the rescue
Adam Zampa makes a feeble LBW appeal and after a long time, again the umpire gives Holder LBW out. The review was taken and it was missing leg stump. "Atrocious umpiring..." screams Michael Holding from the commentary box.
21:51 hrs IST
Hope departs
Hope has been caught by Khawaja at mid-on. A half-volley at leg stump and he chipped it straight to the fielder. And now, Andre Russell will come on in the middle. WI 190/5 in 35 overs, need 99 off 90
21:39 hrs IST
Back-to-back boundaries
There have been a couple of tight overs from Aussies and in turn, the run rate is starting to increase. Holder immediately goes after Glenn Maxwell and hit two straight boundaries to release pressure.
21:27 hrs IST
Saved by the DRS
Glenn Maxwell has removed the skipper Jason Holder with a straighter delivery. The batsman missed the turn and it rammed hi on the pads. Huge appeal, the umpire took his time to raise the fingers. Holder reviewed. Is it missing leg stump, oh yes!
21:18 hrs IST
Hetmyer run out
Horrible mix-up in the middle - Hope hits it to fielder at mid-off, and Hetmyer starts running without seeing the fielder on the non-striker's end. The fielder was quick with the throw and the batsman is caught in no man's land.
21:14 hrs IST
Boundaries galore
Australia re leaking boundaries here - Coulter-Nile has been hit for back-to-back boundaries by Shai Hope. This is a good spell for Windies, and the pressure is creeping back on Australia now. Fifty for Hope in 76 balls.
21:03 hrs IST
Hope finds his groove
Shai Hope hammered two boundaries against Adam Zampa - and he is starting to find his groove now. Zampa was building the pressure, but Hope releases the pressure in the previous over.
20:49 hrs IST
Zampa strikes
Adam Zampa has done the trick for Australia as he removes Nicholas Pooran for 40. Aaron Finch took a good one-handed catch at point to get rid of Pooran. Shimron Hetmyer joins Shai Hope in the middle now as Windies lose their third wicket.
20:42 hrs IST
Australia need a wicket
Hope and Poooran have kept the Aussie bowlers away in their risk-free partnership thus far. The duo have already added 62 off 80 deliveries as Windies are edging closer to the 100-run mark. Australia need a wicket soon.
20:35 hrs IST
50-run partnership
Pooran slams a short one from Stoins to deep backward square leg for a boundary. Brings up the 50-run partnership between the two in stylish fashion.
20:30 hrs IST
15 overs gone
Australia bowlers are not allowing easy runs to Windies at the moment. Still Hope and Pooran are able to stick it out in the middle and keep up with the asking rate. These two batsmen need to stay on.
20:20 hrs IST
Crowd goes silent
Australia bowlers have brought the tempo of the game down as Windies batsmen are finding it hard to get boundaries now. The crowd, in turn, has gone silent. Hope has scored just 26 runs in 10 balls.
20:10 hrs IST
Cummins goes wide
Pat Cummins bowled a maiden over after Nicholas Pooran was dealing in boundaries. But in the next over, he appears to be struggling with his line a bit. Three wides in the over from Cummins.
19:59 hrs IST
50 up for Windies
Nicholas Pooran hammers another couple of boundaries in Coulter-Nile's over, and this has been a sensational start from the left-handed batsman. 50 up for West Indies.
19:54 hrs IST
Pooran goes after Starc
A couple of boundaries in Starc's over and Nicholas Pooran releases pressure. He has decided to target Mitchell Starc to help Windies' cause.
19:45 hrs IST
Chris Gayle finally departs
After surviving two no-ball appeals, Chris Gayle has finally been done by an angled delivery from Mitchell Starc. The fuller delivery swooped inside, but the Universal Boss sought for a review. It went to the umpire's call, so Gayle had to walk back for 21. WI 31/2
19:36 hrs IST
Gayle survives and then survives, again
Full ball on off, Gayle wants to go over the top, umpire says out, Gayle refers, survives. Starc comes back with a full bunger, hits Gayle flush on the pads, umpire says out again, Gayle refers and survives again! Woof, this is some drama, the Universe boss is ticking
19:26 hrs IST
Lewis departs
Length ball angled across Even Lewis who goes after it and ends up edging it to Steve Smith at second slip. Top ball from Pat Cummins and Australia draw first blood
19:20 hrs IST
Chase begins
The universe boss is out there, he is accompanied by Evin Lewis. And just like the West Indies bowling start, Starc stars with a wide, and the ball flies down to deep fine leg boundary
18:50 hrs IST
End of Australia
Starc is caught at long on, but is caught by Jason Holder and Australia finish with 288. This has been some recovery after their top order was blown away by the West Indies pace attack. Steve Smith held fort and forged partnerships with Alex Carey and then with Nathan Coulter-Nile as Australia staged a comeback. Nathan Coulter-Nile was the star of the show as he notched up his career beat score when he was dismissed for 92. West Indies will need 289 to win their second match of this tournament.
18:46 hrs IST
Coulter-Nile departs
Well, he has to depart, he has managed 92, but this has been an innings right from the top drawer. Came out, withstood all the attack, and then brought out his strokes, smacking his way to 92. He has bailed Australia from a hole and he brought them back in this contest. Take a bow!
18:35 hrs IST
Cummins departs
Another banged in ball, this time from Brathwaite, Cummins goes for the pull stroke, does not control it and this time Cottrell takes an easier catch down at deep fine leg.
18:26 hrs IST
Catch of the tournament!
Sheldon Cottrell has easily picked one of the catches of the World Cup so far as he picks the ball out of thin air at square leg boundary ropes. Steve Smith flicked the ball hard towards Cottrell and he caught the ball before he could go over the line. As his momentum was taking Cottrell over the ropes, he threw the ball in and caught it again after coming back in. Australia are seven down courtesy of this stunner.
18:21 hrs IST
Dropped!
Windies had the opportunity to break this dangerous stand but Shimron Hetmyer drops a regulation catch at mid-wicket. Nathan Coulter-Nile survives as Australia will now look to inflict further damage on Windies. 12 runs came from that over from Ashley Nurse as 6 overs are left in the innings now.
18:14 hrs IST
Fifty up for Coulter-Nile
Nathan Coulter-Nile brings up his maiden ODI half-century and it has come off just 41 deliveries. He celebrates his achievement by hitting a huge six off the next Brathwaite delivery over long-on. Australia are moving all guns blazing towards 300 now.
18:04 hrs IST
Coulter-Nile goes boom
Nathan Coulter-Nile is no slouch with the bat and is showcasing his skills perfectly. A flick over deep square leg for a six and then a controlled pull shot. Australia cross 200 and now look set to go past 250, which should be a good competitive score
17:52 hrs IST
50 for Steve Smith
It has not been a fluent innings, but Steve Smith has dug in and has played a resolute innings. Brings up his 50 and now holds the key for Australia. He has to keep batting along, Coulter-Nile and Cummins are no slouches with the bat either and they will hold the key for Australia to reach a par total
17:40 hrs IST
Sensational fast bowling
Aiming for the toes and then aiming for the nose, this has been some display of fast bowling. Nathan Coulter-Nile has been attacked here, he has to turn the strike over to Steve Smith. Well, and for all his promise, Oshane Thomas is quite wayward
17:26 hrs IST
Dre Russ strikes
Holder brings on his talisman and he delivers. Angles the ball across Carey who pushes at it with flat feet and ends up edging it behind to Shai Hope. West Indies break a resolute stand and this is a timely break, just when Australia were walking away with momentum
17:20 hrs IST
West Indies need to break this partnership
Smith and Carey are now finding momentum in their innings and West Indies need to break this partnership. Ashley Nurse is keeping things tight at one end, but Jason Holder needs to keep attacking from the other end
17:09 hrs IST
Carey looking good
Well, Australia looking far better now, Alex Carey has looked very comfortable and the strokes are now coming off. This pitch is a belter, and with the sun beating down, Australia should look to bat deep and take it till the final over. Smith holds the key here
16:58 hrs IST
So near yet so far
FOUR! Fortunate boundary for Smith. Cottrell slipped just at the right time for Australia. Holder bowls this short and on middle, this one gets big on Smith. He looks to pull but the ball goes off the top edge towards fine leg. Sheldon there runs to his left, then realizes he has to come forward, in the attempt to do so, he slips, the ball lands in front of him, beats him and goes into the fence.
16:55 hrs IST
'Carey'ing Australia
Four boundaries from the bat of Alex Carey in 7 balls. Australia badly needed to break the shackles and Carey comes up with two fours from Oshane Thomas' over and follows it up with two identical square cuts off Sheldon 100 up for Australia.
16:50 hrs IST
The Cottrell salute
This is how Sheldon Cottrell celebrated after getting wicket of David Warner. And if you wanna the reason behind it, click here
Australia are in all sorts of trouble!

Russell gets Khawaja courtesy an UNBELIEVABLE catch from Hope, and then Cottrell has the new man Maxwell holing out.

Australia 38/4! #AUSvWI LIVE ⬇️ https://t.co/riLpupROEA pic.twitter.com/ZhYLF2XC3z

— Cricket World Cup (@cricketworldcup) June 6, 2019
16:47 hrs IST
Another maiden
Second maiden of the match from Jason Holder. He has been impeccable with his line and length. However, One shouldn't blame the Australian batsmen for being cautious here.
16:39 hrs IST
Pressure on Australia
The heat is on Australia at Trent Bridge. Holder and Brathwaite are giving nothing away but Steve Smith is standing tall in front all this. He holds the key in this match.
16:27 hrs IST
Maiden wicket
What an over from the Windies captain Jason Holder, a maiden wicket. He was hit for a couple of boundaries in his first over and since then has conceded only 3 runs in his next two overs and picked up the wicket of Stoinis.
16:24 hrs IST
Holder breaks the stand
Oh no! Marcus Stoinis will be kicking himself after he reaches the dressing room. One of the softest dismissals you will ever see. A length delivery from Jason Holder, Stoinis was almost cramped for room and hits it straight to the short mid-wicket fielder. Holder is elated.
16:20 hrs IST
Silky touch from Smith
Another fantastic backfoot punch from Steve Smith and the ball races away to the boundary, no chance for the fielders on this lightning quick outfield. That ruined a very good from Barthwaite, he bowled five dot balls until this.
16:13 hrs IST
Nice and steady from Brathwaite
Very good over from Carlos Brathwaite, only three runs from it. The umpire's have called for drinks. Australia 72 for 4 after 14 overs.
16:06 hrs IST
Straight as an arrow
Good strokes from Stoinis. Two boundaries straight back past the Jason Holder. As straight as you can get. The first time West Indies pitched it up and Stoinis was up to it. Very good batting from the all-rounder
16:01 hrs IST
Smith looking good
Very good backfoot punch from Steve Smith and it races away through the covers for a boundary, the second from Steve Smith's bat, he's looking good and Australia need a big one from him.
15:53 hrs IST
No power in Australia's play
A boundary from Marcus Stoinis' bat to end the 10th over but the Powerplay belonged to West Indies. The big West Indian fast bowlers have ripped apart Australia's top order. 2 wickets to Oshane Thomas, 1 each to Andre Russell and Oshane Thomas. Australia's hopes rest on Steve Smith.
15:41 hrs IST
Cottrell on a roll
There's no stopping Sheldon Cottrell, he's saluting again. And why wouldn't he, he gets his second wicket of the game. A dreadful shot in the circumstances from Glenn Maxwell. It was a short ball aimed at the body, Maxwell goes for the pull shot, without even thinking of ducking and gets nothing but a top edge. Australia tottering at 38/4
15:37 hrs IST
Russell gets into the act
OUT! What a catch from Shai Hope, Andre Russell strikes in his first over, Usman Khawaja departs. That's what a few bouncer can do to the best of the world. Rusell pushed Khawaja back with a barrage of bouncers and then slid in the sucker ball and Khawaja took the bait. The rest was done by Shai Hope, who dived towards his left to hold onto a low catch. Australia three down.
15:24 hrs IST
Cottrell strikes, Warner goes
There is Sheldon Cottrell's first wicket and out comes the salute. What a start for West Indies, David Warner now back in the hut. A loose shot from Warner, it wasn't there to drive, he plays on the up and steers it straight into the hands of Hetmyer standing art backward point. Big breakthrough for West Indies, Australia 26/2
15:17 hrs IST
Ouch!
Oshane Thomas is breathing fire and Usman Khawaja is the latest to bear the brunt. A snorter of a bouncer from the big West Indian. It climbs from length and smacks into Khawaja's helmet. According to the new rules, the physio will come out to check for any concussion and so he does. Khawaja looks fine though.
15:12 hrs IST
Thomas removes Finch
What a jaffer from Oshane Thomas. Nothing much that Aaron Finch or for the matter of fact anyone could have done about that. Perfect length, perfect line and a little bit of movement from the deck, just enough to get the outside edge of Australia captain Aaron Finch's bat. Early blow to Australia.
15:10 hrs IST
Good over from Cottrell
Just the over West Indies needed after an indifferent first over from Oshane Thomas, brilliant start from Sheldon Cottrell. He made both Warner and Finch hop in the creaze with his extra pace and bounce.
15:06 hrs IST
Indifferent start
A wide and a boundary off the first ball, and then a no ball and some swing on offer. Oshane Thomas was all over the shop, but there is swing on offer. West Indies will have to make this new ball count
14:59 hrs IST
Out walk the openers
As Ian Bishop says: This is a mouth-watering prospect, out walk Aaron Finch and David Warner. West Indies follow them, the crowd is packing in, the sun is shining, and this pitch is flat. Boy, this is going to be some match. Let's go, let's go!
14:37 hrs IST
Playing XIs
West Indies (Playing XI): Chris Gayle, Evin Lewis, Shai Hope(w), Nicholas Pooran, Shimron Hetmyer, Andre Russell, Jason Holder(c), Carlos Brathwaite, Ashley Nurse, Sheldon Cottrell, Oshane Thomas
Australia (Playing XI): Aaron Finch(c), David Warner, Usman Khawaja, Steven Smith, Glenn Maxwell, Marcus Stoinis, Alex Carey(w), Nathan Coulter-Nile, Pat Cummins, Mitchell Starc, Adam Zampa
14:36 hrs IST
West Indies field first
Jason Holder: We will field first. It is a good wicket and we are hoping for some early wickets. We want to be disciplined in both the departments. We have made one change in our team, Evin Lewis comes in and Darren Bravo misses out.
15:28 hrs IST
Pitch report
The conditions are nice, it is bright and sunny. There is a little bit of grass but that is just to hold pitch together. It is a used pitch but cracks have not opened up. It looks a belter, good luck to the bowlers.
13:46 hrs IST
West Indies predicted XI
After the dominant batting performance, Chris Gayle stood up with the bat and he smoked a half-century. Shai Hope has been consistent with the bat and in Nicholas Pooran and Shimron Hetmyer, they have two exciting left-handers in the middle order.
Here is West Indies predicted XI.
13:39 hrs IST
Australia's predicted XI
After an emphatic win against Afghanistan, a confident Australia will take on West Indies at Trent Bridge. Both sides had thumping victories in their respective openers and look fairly well-settled which makes this contest a very spicy prospect.
Here is Australia's predicted XI for the match.
11:40 hrs IST
It's AUS vs WI time
Hello and welcome to the live coverage of ICC World Cup 2019 match between Australia and West Indies at Trent Bridge Nottingham. It promises to be a mouth-watering contest between the quicks of West Indies and the top order of Australia but not to forget the big hitters in the West Indian ranks.
Close Story