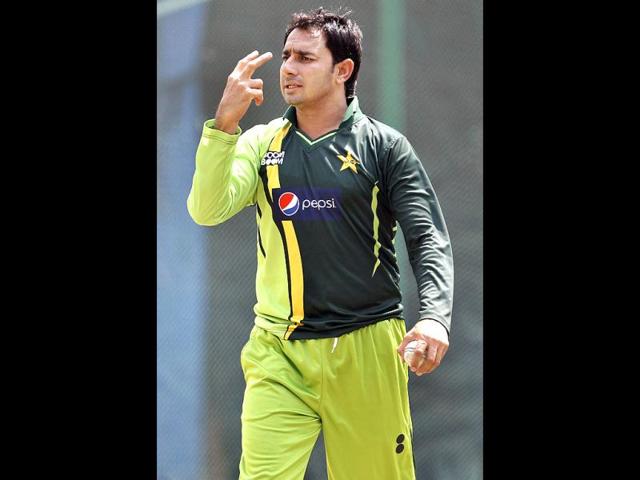 Banned Ajmal vows to return with clean action
Banned Pakistani off-spinner Saeed Ajmal has vowed to correct his illegal bowling action and return to cricket before next year's World Cup in Australia and New Zealand.
UPDATED ON SEP 10, 2014 01:12 PM IST
Banned Pakistani off-spinner Saeed Ajmal has vowed to correct his illegal bowling action and return to cricket before next year's World Cup in Australia and New Zealand.
The International Cricket Council (ICC) banned the 36-year-old earlier on Tuesday after biomechanic tests revealed all his deliveries breached the permissible limit for straightening of the elbow joint.
"The ban is not a problem for me right now. The ICC has stopped me from bowling because my elbow is bending beyond the 15 degrees allowed by the ICC and I know I can correct that," Ajmal told Reuters.
"It is very disappointing to know the results of the tests but I am a fighter and I know what I have to do to get back into international cricket before the World Cup," he said.
Pakistan Cricket Board (PCB) said they were considering their next move hours after chairman Shaharyar Khan had said they would appeal against the decision.
"The PCB is contemplating its future course of action, weighing all options," the PCB said in a statement, adding that the board had 14 days to appeal.
Khan said he felt someone like former pace bowler Waqar Younis, who is the head coach of the team, can help Ajmal emerge from the episode.
Ajmal, who turns 37 next month, said he was also open to approaching former players to help him correct his action which was first reported in 2009.
"Playing in the World Cup and doing well for Pakistan is a dream for me and I am not going to give up on that," said Ajmal, who has been Pakistan's top spinner in all formats.
Ajmal has about five months to correct his action and appeal for a reassessment in order to play in the World Cup.

BACK-UP PLAN
Chief selector Moin Khan hopes Ajmal will quickly get his action cleared but was also working on a back-up plan.
"We have time before the World Cup, so Saeed can sort out his bowling action issues but we have also already called up two or three promising spinners to the National Cricket Academy to have a look at them," he said.
"We need to find a replacement for Saeed until he is cleared to bowl again because we have a tough series against Australia coming up."
Starting next month, Pakistan play one Twenty20 International, three ODIs and two tests against Australia in the United Arab Emirates.
"Saeed is a strong character and I am sure he will work hard to be ready for the World Cup," Moin said.
Former captain Rashid Latif said he was not really surprised with the ban after the new protocols for testing bowling actions came into effect.
"In the past bowlers were given the benefit of doubt on medical grounds but apparently now things have changed. But Saeed is a fighter and Pakistan still needs him for the World Cup," Latif told Reuters.
"I think the PCB should get our former great spinners like Saqlain (Mushtaq), Abdul Qadir and Mushtaq (Ahmed) to work with him on his action."
After Ajmal was reported last month, PCB set up a committee of bowling experts to identify and work on bowlers in domestic cricket with suspect bowling actions.

LEGAL RECOURSE
Dodgy bowling action has remained a problem for Pakistan cricket for a while with Shoaib Akhtar, Shabbir Ahmed, Shahid Afridi and Shoaib Malik being reported in the past.
Former fast bowler Akhtar, who like Sri Lanka off-spinner Muttiah Muralitharan was also cleared to bowl on medical grounds, advised Ajmal to legally challenge the ban.
"I would advise Saeed to legally challenge not only the ban but the entire protocol and method being used by the ICC to test bowlers," Shoaib said.
"I don't know how much the PCB is going to support Saeed on this issue but to me the best option for him is to take the ICC to court.
"The way I look at it he has to fight this case himself if he wants to play in international cricket again."
Former Pakistan captain and senior batsman Mohammad Yousuf agreed with Akhtar that legal recourse was Ajmal's best option.
Close