Cricket and the future: Here are five things this World Cup taught us
Updated on Mar 30, 2015 07:47 PM IST
The bat didn't always beat the ball and you needn't be disappointed about Team India: here are five lessons that this cricket World Cup taught us.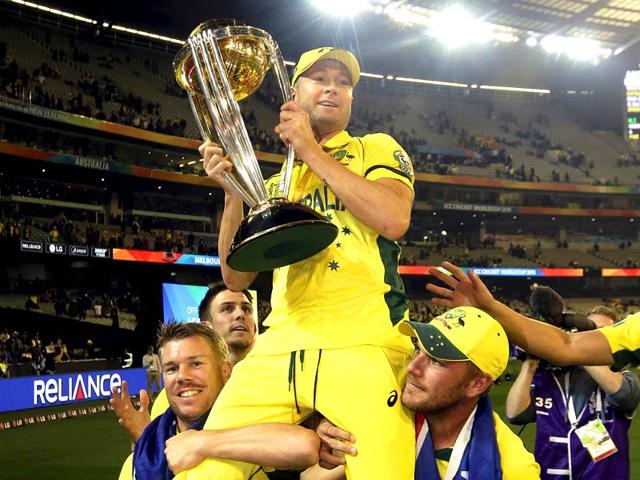 The bat didn't always beat the ball and you needn't be disappointed about Team India: here are five lessons that this cricket World Cup taught us.
T20 has redefined the ODI
Twelve to 15 runs per over in the final ten overs was pretty routine in this tournament. Not so long ago, anything more than six an over towards the end seemed tough. The innovation and savage attack of the T20 game suffused the closing stages of most of the innings of this World Cup.
Carnage does not preclude conventional batting
Amid the power hitters of the World Cup, amid the likes of AB de Villiers, Glenn Maxwell and David Miller, there are players who have scored freely – and furiously fast – without resorting to the innovative shots that are associated with T20.
Rohit Sharma and Kumar Sangakkara (the latter made four hundreds, the most ever made in a World Cup) have kept the flag flying for delicate, delightful yet conventional stroke play. In the early and middle overs of an innings, be it Hashim Amla or Steve Smith, we have seen the need for sound defence, a risk-free approach and the unfurling of all the skills of orthodox batsmanship.
Bat has not completely smothered ball
Amid the avalanche of runs in the tournament, it should be noted that top bowlers have had their say. The player of the tournament was a bowler: Starc. And it was not only him. Trent Boult, Tim Southee, Mohammed Shami, Ravichandran Ashwin, Morne Morkel and Imran Tahir have acquitted themselves splendidly. Wahab Riyaz, Mitchell Johnson and Dale Steyn have bowled devastating spells.
In spite of the mountains of runs scored, perhaps because of the mountains of runs scored, the only potent counter has been attacking, fiery, wicket-taking bowling. Bowlers have looked less to contain than to attack in this World Cup.
India did as well as could have been expected
Between 1992 and 2011, there has been no World Cup into which India have gone without at least one member of the golden generation of Sachin Tendulkar, Sourav Ganguly, VVS Laxman, Rahul Dravid and Anil Kumble. This time a young team, many of them playing in a World Cup for the first time, began the tournament on the heels of a tough, long assignment in Australia.
India are certainly not one of the top two teams in the world at the moment. They are among the top four. In that context, a semi-final exit was just desserts. The hand wringing and forehead clapping and breast beating were uninformed over reactions. India's performance was creditable.
Australia looking at long-term domination
Australia deserved to be champions. Their play in the final against the neutral's favourite, New Zealand, was so clinical and assured that it was as though their narrow group-stage defeat to New Zealand in a low-scoring thriller had never happened.
In the final Australia ceded no ground; at no time did New Zealand look like they would get on top. With Michael Clarke's departure, Steve Smith is likely to become ODI captain. He is very young as is a clutch of star performers in this side: Starc, Josh Hazlewood, James Faulkner and Maxwell.
So they will be around for a while. After a magnificent year, David Warner shone only briefly in this tournament, but it will not be long before he is incandescent again. In Darren Lehmann, they have a coach who is respected and effective. If I had to pick one team that looks likely to dominate in ODIs in the times ahead, it has to be Australia.
Personalise your news feed. Follow trending topics