Dravid keen on getting balancing act right
Jan 23, 2023 11:13 PM IST
Key players will play in the IPL unless there are injury concerns, says India coach
With the ODI series against New Zealand in the bag, India will utilise the third ODI in Indore on Tuesday to try out a few players. Although head coach Rahul Dravid remained tight-lipped on whether local boy Rajat Patidar would get his debut, he emphasised on giving ample game time to all the players to give the squad enough experience.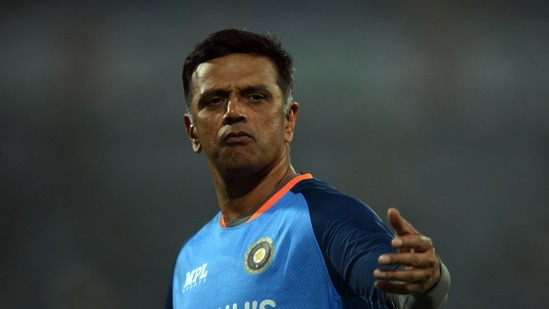 At the same time, he also stressed striking a balance in terms of rotating important players and keeping them fresh for the ODI World Cup in October-November, while not losing sight of the T20 World Cup next year. From that perspective, IPL performance remains an important criterion and unless injured, cricketers will participate in the league, said Dravid.
"It is a challenge, in the sense, that in three formats of the game you have to prioritise a couple of them," said Dravid during the pre-match press conference on Monday. "And then you have to figure out which is the white-ball event you play and sort of just prioritise that. For us in this cycle, we're already done with these five games (three against Sri Lanka and two against the Kiwis), then three against Australia and then an Asia Cup. Three against West Indies, three against Australia and maybe give and take one or two more. So, you're looking at probably 15 games. At this stage, we've narrowed down our group of players who we want and we're almost there. It's just about ensuring that players we narrowed down, play more in one-day cricket and prioritise this format."
It is in adherence to this policy that Virat Kohli has been rested for the T20 leg of this New Zealand tour, says Dravid, and not a question mark on his position in the T20 lineup.
"With the amount of cricket we are playing, there are certain white-ball tournaments that we have to prioritise," said Dravid. "The priority after the last T20 World Cup is these six (ODI) games and Virat has played all these games. He will get a bit of a break along with Rohit and one or two other guys where we'll play some T20 cricket and they'll come refreshed on the 2nd (February) and we have a good week's camp before we play Australia. So it's about priorities at certain stages."
India have been struggling with a spate of injuries to a number of senior players, something Dravid believes needs to be taken in stride in the larger scheme of things. "In the case of Bumrah and Jadeja, it's actually not workload management. They have had injuries, they have had to sit out for that period of time and we hope they can come back whenever they do come back," said Dravid.
"You can call the break that we have given to some of the boys for the T20 series potentially as workload management. Injury management and workload management are two completely different things. We have to keep balancing between the two and see our priority in the short-term considering the amount of cricket we play and ensuring that we have got our big players available for the big tournaments."
The BCCI has recently put more onus on the NCA and the IPL franchises to manage a player's workload.
"If any of the big players are injured or if there's any concern, of course the BCCI has a right to pull them out but if they are fit, we do release them for the IPL because it is a very big tournament for the BCCI and for us (the team) as well," said Dravid, who previously headed the NCA. "Our preparation for the 2024 T20 World Cup—although it's a little bit away and our focus is on the 50-overs World Cup—the IPL is a good tournament for us to assess the performances of players in that particular format."
With the crucial Australia tour coming up (India need to win at least three Tests to make it to the World Championship final in June), there has been some talk about whether a few players should play in the ongoing Ranji Trophy. Dravid wants to play it by the ear.
"As far as possible, we would really like for the boys to play Ranji Trophy games as and when possible but it's a tough one for us," said Dravid. "The quarter-final is on the 31st and our build-up for the Border-Gavaskar Trophy is exactly at the same time. Obviously, in a lead-up to a big tournament like that, you're probably not going to be able to release any players (for the quarterfinal) but once the series starts, if an opportunity presents itself where someone is not playing in our team and he is required for a semi-final or a final, we will certainly look at it."