England vs Pakistan Highlights 1st Test Day 2: England reach 92/4 at stumps
England vs Pakistan Highlights, 1st Test, Day 2: STUMPS! England are 92/4 at stumps on Day 2, trailing Pakistan by 235 runs. Yasir Shah broke the budding partnership between Joe Root and Ollie Pope. He forced a nick off Root's bat and he hands it to keeper. Earlier. Mohammad Abbas and Shaheen Afridi had rocked England top-order, dismissing Rory Burns, Dom Sibley and Ben Stokes.Follow Highlights of England vs Pakistan, 1st Test, Day 2: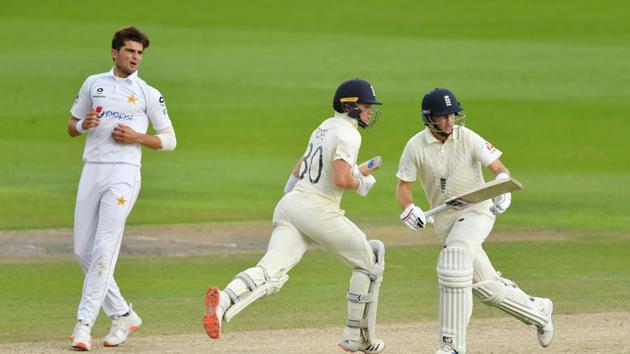 Updated on Aug 06, 2020 11:35 PM IST
Hindustan Times, New Delhi |
hindustantimes.com
23:25 hrs IST
End of Day 2
STUMPS! England are 92/4 at stumps on Day 2, trailing Pakistan by 235 runs.
23:15 hrs IST
Yasir Shah is brilliant
Yasir Shah bowls a beauty, nipped it in and almost ripped the wickets. Brilliant show from Yasir and he is really not making it easy for England.
23:00 hrs IST
GONE!
Yasir Shah strikes as Joe Root gets a soft nick and edges it to keeper. Big blow to England. ENG 62/4
22:50 hrs IST
LBW appeal
Yasir Shah traps Root and goes for a huge appeal. Umpire not interested. Players not too keen on review either. It was straying down. Shah is getting some turn.
22:25 hrs IST
Naseem Shah into the attack
The 17-year-old Naseem Shah is into the attack and he is known for being a young lad with lot of speed in his bowling. Can he rattle cages even further.
22:10 hrs IST
Root, Pope to rescue?
Joe Root and Ollie Pope are playing the defending game at the moment. They are just blocking the threat from the seamers. But Pakistan, too, are sticking to the plans - pitching up and making them play every delivery. Good cricket all around.
21:49 hrs IST
GONE!
BALL OF THE CENTURY!?? What a beauty delivery from Mohammad Abbas that goes through Ben Stokes and topples the top stump of Ben Stokes, who departs for a duck. Eng 12/3
21:38 hrs IST
GONE!
Mohammad Abbas traps Dom Sibley and the umpire has raised his finger. England opener takes a review. Three reds. This is gone. Pakistan have rocked England! ENG 12/2
21:33 hrs IST
DRS saves Joe Root
Shaheen Afridi trapped Joe Root and the umpire gave it out. But the skipper took a review and the replays showed that it was going over stumps.
21:25 hrs IST
OUT!
Rory Burns trapped on a straight one from Shaheen Afridi. Huge LBW appeal, umpire was not interested. Pakistan reviewed. Three reds. GONE! England 4/1.
21:20 hrs IST
England out to bat
Dom Sibley out to bat alongside Rory Burns. Shaheen Afridi starts the attack with the ball for Pakistan. HERE WE GO!
21:08 hrs IST
All out!
Naseem Shah has edged it to keeper. Stuart Broad gets another wicket. Batsman reviews - but that seems out. Pakistan 326 all out.
20:57 hrs IST
DRS Review
Huge LBW appeal as Broad traps Masood. Umpire gives it out and the batsman takes a review. The reviews shows three reds. OUT! Pakistan 317/9
20:55 hrs IST
Back after Tea
The action resumes after Tea. Shan Masood in the middle with Shaheen Afridi. How long can Pakistan stick it out in the middle here?
20:30 hrs IST
Masood brings up maiden 150 and takes Pak to Tea
Shan Masood has been outstanding in this innings. Deservingly reaches 150, his first in Test cricket. The left handed opener has batten in both gears and has shown his full range in this match and taken the thunder away from the favourite Babar Azam. Pakistan go into the tea break at 312/8
20:18 hrs IST
Masood turns on the style
The twin strikes from Archer means Pakistan are looking down the barrel and what a response from the centurion. He hits Dom Bess for two massive sixes and a boundary to take Pakistan past the 300-run mark. That will be a big psychological boost for the tourists.
20:11 IST
Archer strikes twice in two balls
The extra pace of Jofra Archer has worked for England as he gets past the defence of the solid Yasir Shah to pick up his second wicket of the innings. Pakistan now 7 down with 300 in sight. He comes back the next ball to get an edge off Abbas and has now picked up 2 wickets in 2 balls. The hat-trick ball was well defended by the young Afridi.
20:02 IST
Pakistan playing for tea
Masood and Shah have been blocking it all from Bess and Archer. They are definitely playing for the Tea break. A bit of rest and they will come out refreshed and try and give Pakistan a big first innings score in the last session.
19:54 hrs IST
Bess has Yasir Shah all at sea
Yasir Shah has come out in the middle and he is no mug with the bat. But Dom Bess is making life difficult for Shah. The offie completes a maiden and as we hear, Buttler has dropped another. This time it is Shah. Buttler is already ruing the drop of Masood.
19:45 hrs IST
Dom Bess strikes as Shadab runs out of patience
Finally the seventh wicket has come for England and it has been a while. Shadab Khan looking to reach his half century with an almighty heave but the ball goes up in the air for Joe Root to complete an easy catch. Bess takes a wicket just when spin legend Shane Warne was talking on commentary about what he should be doing to be more impactful. Pakistan 281/6
19:40 hrs IST
Tea in sight, Pakistan look strong
Shadab Khaan has tried a few unusual shots and thankfully for Pakistan, he didn't connect. Shan Masood has been outstanding in defence and his strokeplay and the way he has shepherded Shadab so far. England might look towards the pace of Jofra Archer right before tea to get a breakthrough. Archer has just not been used today.
19:25 hrs IST
Pakistan winning 2nd session again
On Day 1, Pakistan had won the 2nd session which put England under pressure. This is precisely what is happening again on Day 2 as well. England in deep need of a wicket or two here.
19:05 hrs IST
250 up for England
England bring up their 250 with Shadab Khan and Shan Masood taking quick singles and doubles. This must be really frustrating for Joe Root, these quick runs. England need to take a quick wicket.
18:55 hrs IST
CENTURY!
Shan Masood brings up his century as Pakistan regain control in the match. This is Shan's 4th Test hundred. Totally deserving! Pakistan
18:43 hrs IST
England being frustrated
Shadab Khan and Shan Masood are frustrating England pacers as they both are continuing to run quick runs and this continues to keep the scoreboard ticking and it definitely frustrates England. 50 run partnership as well.
18:30 hrs IST
New ball taken
Stuart Broad and James Anderson into the attack as England take the new ball. The duo will hope to get a few more wickets here.
18:25 hrs IST
200 up for Pakistan
Shadab and Shan quickly take Pakistan past 200 run mark. Pakistan are hoping to score as many runs as possible before the new ball is taken.
18:15 hrs IST
Back after Lunch
Shan Masood and Shadab Khan return after Lunch. Joe Root begins the attack for England after Lunch. Interesting session in store.
17:25 hrs IST
Lunch on Day 2
Shan Masood and Shadab Khan take Pakistan to at 187/5 Lunch on Day 2. Good first session for England and they have certainly got back into the game.
17:10 hrs IST
Edged and gone!
GONE! Woakes forces an edge wide off the crease, gets an edge from Rizwan, straight to keeper. Pakistan are five wickets down. PAK 176/5
17:00 hrs IST
Shine on dukes ball
England got a little bit of shine on the new ball. There is still movement on offer for the bowlers. Chris Woakes is getting great swing with the ball.
16:45 hrs IST
Archer is testing Pakistan
Jofra Archer is seriously testing Pakistan batsmen with pace and bounce right now. Woakes is keeping them on thier toes. Excellent attack in tandem from England.
16:33 hrs IST
Fantastic first hour
What a first hour it has been for England. They got two wickets. England seamers will hope to get a couple more before Lunch and it will really shift the momentum.
16:23 hrs IST
Change in attack
Christ Woakes has come out to replace Stuart Broad into the attack. Woakes was brilliant yesterday, and he can swing both ways. He will be eager to get another wicket before Lunch.
16:17 hrs IST
DRS saves Rizwan
Stuart Broad taps Rizwan on the pads, and a huge LBW appeal. Umpire Illingworth gives it out. But DRS showed that bat was involved. Just saved by a soft nick.
16:10 hrs IST
Edged and gone!
Length delivery from Stuart Broad, gets a leading edge off the bat from Asad Shafiq, easy catch to Stokes. Fantastic start to the day for Pakistan. Pak 150/4
16:00 hrs IST
Stuart Broad missing a trick
It seems Stuart Broad is missing a trick here. Anderson attacked in the first over, he kept bowling similar lengths to Babar. Broad keeps on making variations here and there, and not backing himself. Needs to calm his nerves here.
15:51 hrs IST
FIFTY!
Fifty for Shan Masood. It is on him now to take Pakistan to a good total in the first innings. Masood has looked good so far and he has to play a long one here. 150 up for Pakistan as well.
15:45 hrs IST
What a start to the day
It has been a great start for England in the day. This will give the bowlers some confidence on getting the job done quickly.
15:40 hrs IST
OUT!
Anderson strikes first over on Day 2, Babar Azam departs. Pak 139/3. A big blow to Pakistan early in the day. Babar tried to get a run, but gave an easy catch to Joe Root.
15:30 hrs IST
Day 2 begins
Shan Masood and Babar Azam return to the middle. James Anderson starts the proceedings for England on Day 2.
15:20 hrs IST
Nasser Hussain's huge praise
"If this lad was Virat Kohli, everyone would be talking about it but because it is Babar Azam, no one is talking about it," said former England captain Nasser Hussain while commentating for Sky Sports. "He's young, he's elegant, he's got all the swagger," he added. READ MORE
15:02 hrs IST
98 overs today
98 overs likely to be bowled today to compensate for the delay that took place on Day 1.
14:56 hrs IST
Raja comments on Babar's technique
"When that is happening it means that your head position isn't right. The head is not locked in with the shoulder. When you open yourself up in that manner, facing the outswinger becomes problematic. This means that your drives will stop connecting," Ramiz said on his Youtube channel.
14:50 hrs IST
Slight rain
There is some rainfall around the ground as the players warm-up. However, as of now the play is scheduled to start on time.
14:42 hrs IST
Vaughan lauds Azam
"He is averaging 65 in his last 18 months of Test cricket. No one is averaging higher than him. Babar Azam is at the top of the average tree and I can only see him improving and getting better and better."
14:32 hrs IST
Hello and Welcome
Hello and welcome to the live coverage of England vs Pakistan 1st Test match at Old Trafford in Manchester.
Close Story
Personalise your news feed. Follow trending topics