Here's why BCCI chief selector feels Wriddhiman Saha is ahead of Parthiv Patel
Updated on Jan 24, 2017 08:20 PM IST
BCCI chief selector MSK Prasad believes that Wriddhiman Saha has the edge over Parthiv Patel in the race for becoming India's No 1 choice wicketkeeper in Test cricket.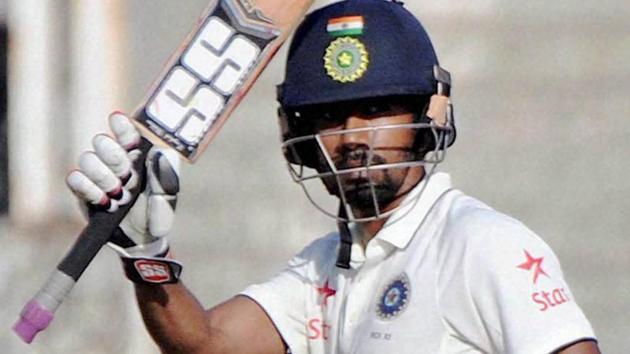 Mumbai |
HT Correspondent
Wriddhiman Saha did help his cause with a brilliant double-hundred in the Irani Cup on Tuesday, but for the selectors, there was never a doubt about his selection for the Test team because of his keeping ability.
Chairman of selectors MSK Prasad settled the debate of India's No 1 choice in Test cricket by declaring Wriddhiman Saha as the best man for the job.
"Personally, Saha was out of the team not because of his form, he was injured. He was the man of the match in Kolkata Test (against New Zealand), he got a hundred in the Test series in West Indies. When it comes to Test cricket, you want a player who keeps better," said MSK Prasad after the Irani Cup match on Tuesday.
He dismissed the talk that the Irani Cup was a trial for Saha. It was only about proving his fitness, said Prasad.
"Parthiv's glovework is definitely improved from the time I first saw him. (But) We all know that as far as keeping is concerned may be Saha is a point ahead (of Parthiv), he has better hands. Though, Parthiv is not too far behind, he is there in the scheme of things just a point difference," he added.
Wriddhiman Saha scored an unbeaten 203 and his 316-run stand with Cheteshwar Pujara (116 not out) helped Rest of India clinch the Irani Trophy against Ranji Trophy champions Gujarat.
"And as far as batting is concerned, his team was struggling at 63 for four and from there to chase 379 is phenomenal. Mentally also he is strong as is Parthiv. It is a healthy competition, let's see how it goes.
"At the same time, Parthiv too is a fighter to the core, singlehandedly he has taken Gujarat to the title."
MSD IS THE BEST
Talking about the most high-profile wicketkeeper-batsman in the country, Mahendra Singh Dhoni, Prasad called him the 'best in the world'. In the one-day series against England, there was extra interest around Dhoni's performance as it was his first series after stepping down as captain. The legend marked it with a match-winning century in the second game.
"As of now, MSD is the wicketkeeper-batsman in the world, forget India. He is an invaluable asset for the team. If a situation should arise, I am sure Mahi will know what to do. I don't think that situation will arise in the coming few months or a year's time," said Prasad.
In a high-scoring series, India prevailed 2-1 to give Virat Kohli a winning start as captain in ODIs. "It's not just about victory, it was an electrifying series, we had to fight hard. More importantly, The players have come in and done exceedingly well, like Yuvraj Singh and Kedar Jadhav, and Mahi got back among the runs," stated the chief selector.
He was most chuffed by Yuvraj's performance in the series, where he got a 150 in the second ODI in Pune. Prasad said, for Yuvraj the main point to be considered was his durability. "There are no two ways about his ability, if he is fit the ability is always there, which he showed in the second ODI. Heading to a big event (Champions Trophy in June), we needed a strong middle-order.
"We were a bit worried about the middle order in the New Zealand but with these guys and Ajinkya Rahane and Manish Pandey, we have enough bench strength now."
Elaborating on the decision to rest R Ashwin and Ravindra Jadeja, he said: "It was a tough, strenuous series and in Twenty20 we don't have a big event coming up so we might as well give them a break. In one-dayers we have Champions Trophy coming up."