How Kuldeep Yadav routed England to clinch maiden T20 five-wicket haul
Updated on Jul 04, 2018 09:37 AM IST
England felt the full force of Kuldeep Yadav's ability in the T20 International on Tuesday at Old Trafford when he grabbed five wickets for 24 runs for India to puncture the hosts' confidence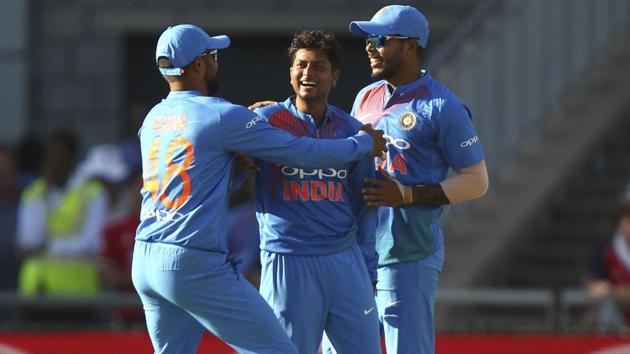 It's not a fluke that Kuldeep Yadav is producing special performances in big games on a consistent basis. Confident about his skill sets, which were honed during his young days at Kanpur, he has a clear gameplan in mind for every game and the control to back it.
England felt the full force of his ability in the T20 International on Tuesday at Old Trafford when he grabbed five wickets for 24 runs to puncture their confidence. Early last year, he had come up with an equally delightful display in his debut Test to turn the series decider in India's favour; in the limited overs series against South Africa early this year he had raised the excitement level with 17 wickets in the six ODIs.
READ | Kuldeep Yadav snaps up five, KL Rahul ton in India win over England
Finding the hot and dry conditions at Manchester to his liking, there was craft, control and skill on display as Yadav held centrestage in the opening skirmish with hosts England.
It's his length which tests the batsmen, enticing them with flight and the ability to turn and dip the ball.
"England are a very good side in ODIs and T20Is. And they play really well in their conditions. It's down to the length you bowl at. If you bowl the right length and have good variations, any batsman will struggle," said Yadav after creating doubts in the England batsmen's minds with a confidence-shattering display.
"Whatever I learnt in childhood I am trying to follow here. I have never been afraid of getting hit (for sixes), I think that's the biggest plus point for me. I used to practice getting hit for sixes so that when I get hit in the match I don't feel pressure."
READ | Lethal Kuldeep Yadav key for Indian cricket team vs England: Virat Kohli
Yadav finished with a five-wicket haul, picking up all the big names in the line-up. Jos Buttler, Eoin Morgan, Jonny Bairstow, Joe Root and Alex Hales all failed to read the chinaman bowler's variations. It's not just about the wickets, Yadav hurts more because he has got into the habit of claiming wickets in a cluster. It is what knocked the stuffing out of the home team also.
In the 14th over of the innings, Yadav claimed three wickets in four balls to put Indian in control. After Morgan holed out on the first ball of the left-arm spinner's over, Jonny Bairstow and Joe Root were dismissed for golden ducks off the third and fifth balls.
Sharing his thought process and gameplan through the mesmirising spell in the opening Twenty20, Yadav said: "England's start with the bat was quite good. The wicket was a bit dry. It felt like there was a chance it'd turn a bit, but it didn't at the start. Chahal had already bowled and he said it wasn't turning. The ball was stopping a bit.
READ | Kuldeep Yadav snaps up five, bamboozles England in first T20
"I varied my pace. I thought if I bowled a bit slower, maybe there'd be chances... Then when I came to bowl the second over, I kept the pace down, and increased the flight and maintained it. I maintained my length too. After the wicket of Morgan, I kept going ball by ball. The plan was to stretch the batsmen, and they don't get any easy deliveries. I didn't want to give them any pace, because it could've made things easy for them. I was varying my pace," said Yadav.
Buttler was the only batsmen who stood the spin test with a classy half-century. Having matched wits many times during the Indian Premier League, Yadav knew the England 'keeper-batsman would be tough to crack, hence his gameplan was to contain the Rajasthan Royals star batsman while targeting his teammates
"I've bowled a lot to Buttler, even in the IPL. So, I knew his plans. I knew he won't take the chance against me. He'd go for singles and doubles, and won't hit me. So I was happy to give him that single, because the other batsmen has never faced me, so I thought I had (better) chances of getting them."
Asked when does he decide to bowl the wrong'un to a new batsman as he did on Tuesday to get the prized scalps of Jonny Bairstow and Joe Root. "I never bowl looking at who the batsman is. I always try to do what I can do," he said, while talking about the innings-changing 14th over when he ripped out the guts of the England line-up with three wickets in four balls.
The thrill at getting Bairstow and Root was there to be seen in the celebrations.
"Obviously they are quality batsmen and it's a good feeling when you take two wickets on the trot. It gives a chance to the team to build momentum for all the bowlers. It was amazing and the third over was brilliant I guess, three wickets in the over really changed the momentum."
Personalise your news feed. Follow trending topics