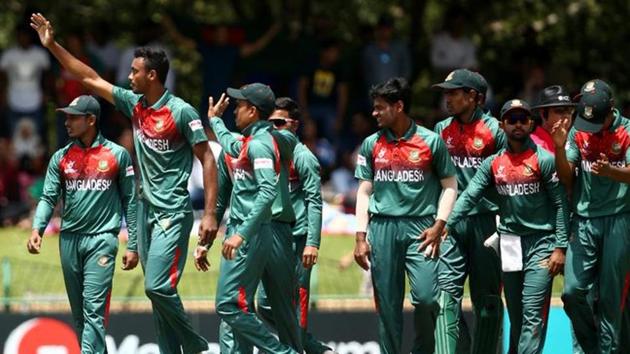 India U19 vs Bangladesh U19 Highlights U19 World Cup final: BAN U19 beat IND U19 to claim maiden title
India vs Bangladesh Highlights , ICC U19 World Cup Final 2020: Follow Highlights of IND U19 vs BAN U19, U19 World Cup 2020 final at Potchefstroom.
UPDATED ON FEB 10, 2020 08:48 AM IST
IND U19 vs BAN U19 Highlights , U19 World Cup final: Parvez Hossain Emon scored 47 while Akbar Ali scored 43 as Bangladesh defeated India by 3 wickets (DLS) to claim their maiden U19 World Cup title. Ravi Bishnoi took all four wickets for India while Sushant Mishra took two and Yashasvi Jaiswal claimed one. Earlier, Yashasvi Jaiswal scored a brilliant 88 but India ended up losing wickets in a heap as they were all out for 177 in the ICC U19 World Cup final against Bangladesh. Avishek Das took three wickets for BAN U19 while Tanzim Hasan Sakib and Shoriful Islam claimed two wickets each. IND U19 lost their last seven wickets for 23 runs as Bangladesh staged an impressive comeback in the summit clash.
Highlights India vs Bangladesh U19 World Cup final:
21:44 hrs: Bangladesh have done it! They have beaten India by 3 wickets (DLS) and this is the maiden title for Bangladesh!
21:42 hrs: A four and a single for Rakibul Hasan and the scores are level!
21:41 hrs: Bangladesh now need 6 runs to win from 28 deliveries as the target has changed due to DLS.
21:35 hrs: The covers are off and looks like play will begin in some time. 15 runs to go for Bangladesh and three wickets for India. Game on!
21:24 hrs: New twist to the story! It is raining and the players have left the field. When it comes to the par score, Bangladesh are well ahead of it!
21:21 hrs: 9 overs left and Bangladesh are 15 runs away. They are slowly but steadily moving towards the target.
21:15 hrs: 11 overs to go and Bangladesh need 21 runs to win. This is Bangladesh's game to lose at this moment but one wicket can change the momentum completely!
21:09 hrs: That was unfortunate! A yorker from Akash Singh hit a footmark and bounced to the boundary. Bangladesh need 24 runs to win at the moment with seven wickets to go.
20:56 hrs: 14 overs gone. Bangladesh need 31 runs to win. This match is getting tighter by the minute. Bangladesh have taken the cautious route and this can be problematic for India.
20:48 hrs: That is the end of Ravi Bishnoi's spell. 10 overs - 4 wickets for 30. A good show from the young spinner but Bangladesh will be happy to see him finish his quota.
20:44 hrs: Rakibul Hasan is the new batsman for India but the responsibility is completely on Bangladesh skipper Akbar Ali to guide them home. Ravi Bishnoi still has one over left and this is not going to be easy for them.
20:37 hrs: Yashasvi Jaiswal has done the trick for India! Parvez Hossain Emon is caught for 47 and Bangladesh have lost their seventh wicket. Can this be the turning point for India? BAN 143/7
20:33 hrs: Ravi Bishnoi is looking for wickets but Bangladesh are looking to play him out. They have succeeded for now and they now need 37 runs to win from 114 balls.
20:27 hrs: Yashasvi Jaiswal is introduced into the attack and considering his knack of taking crucial wickets, this can be an inspired decision from India skipper Priyam Garg. BAN U19 129/6
20:21 hrs: Ravi Bishnoi is back into the attack and these three overs will be key. The youngster has been a star for India today and if Bangladesh can play him out without losing a wicket, it will be quite significant for them. BAN U19 128/6
20:16 hrs: Boundaries keep coming for Parvez Hossain Emon and he has singlehandedly changed the tide in Bangladesh's favour. 52 runs to go and this is not looking good for India at the moment.
20:11 hrs: An absolute beauty from Parvez Hossain Emon and the ball rushes to the boundary as Bangladesh are 121 for the loss of six wickets. Is this the partnership that will take Bangladesh home?
20:05 hrs: Parvez Hossain Emon and Akbar Ali have steadied the innings somewhat and Bangladesh now need 67 runs more to win. Will the match change once again in India's favour?
19:57 hrs: The new batsman is Parvez Hossain Emon who is back after retiring hurt due to cramps. A lot will depend on him and Akbar Ali as this is the partnership that can make or break it for Bangladesh in this game. BAN U19 109/6
19:50 hrs: Sushant Mishra gets his man as Avishek das is caught for 5. A mis-hit from the middle order batsman and Kartik Tyagi made no mistake in completing the catch . Bangladesh 102 for the loss of six wickets.
19:48 hrs: Dropped! Tilak Verma dropped a chance to dismiss Avishek Das at the slips and this is a huge miss. Bangladesh are 102 for the loss of five wickets.
19:40 hrs: Two more boundaries for Akbar Ali and Bangladesh are looking a bit confident right now. 22 overs gone and BAN U19 are 97 for the loss of five wickets.
19:32 hrs: Shamim Hossain departs and Bangladesh have lost their fifth wicket. A horrible shot from the batsman and the first wicket of the match for Sushant Mishra. BAN U19 85/5
19:29 hrs: Akbar Ali is taking the fight to India as he heaves Atharva Ankolekar for a six over mid wicket. Finally a positive shot from Bangladesh as they are 85 for the loss of four wickets in 20 overs.
19:24 hrs: Ravi Bishnoi is the top wicket-taker in the tournament right now with 17 dismissals and he deserves it completely. The spinner has been in top form and Bangladesh are struggling at 72/4.
19:18 hrs: It has been a special performance from Ravi Bishnoi! Four wickets in five overs and India are firmly in the driver's seat at this point as BAN U19 are 66 for the loss of four wickets.
19:12 hrs: Four wickets for Ravi Bishnoi! What a performance! A quick stumping from Dhruv Jorel and Shahadat Hossain is dismissed for 1. This is all going wrong for Bangladesh as they are 65 for the loss of four wickets.
19:07 hrs: India skipper Priyam Garg is really attacking right now with close fielders. At one point when Ravi Bishnoi was bowling, there were four fielders near the batsman! 15.3 overs gone and Bangladesh are 65/3
19:01 hrs: Another wicket for Ravi Bishnoi! This is special from the young spinner. A wrong one from Bishnoi and Towhid Hridoy was caught LBW for a duck. BAN U19 62 for the loss of three wickets.
18:57 hrs: Bangladesh started the run chase brilliantly but the two quick wickets and the departure of Parvez Hossain Emon has shifted the momentum somewhat. 14 overs gone and BAN U19 are 62 for the loss of two wickets.
18:51 hrs: Another blow to Bangladesh! Parvez Hossain Emon is suffering from a cramp and he is also leaving the field. Two new batsmen for BAN U19 and this can be the opening that IND U19 needed.
18:47 hrs: Mahmudul Hasan Joy played it onto his own stumps and it is Ravi Bishnoi once again who provided the breakthrough for India. A huge wicket for India as Bangladesh are 62 for the loss of two wickets.
18:44 hrs: Full toss and wide from Sushant Mishra and Mahmudul Hasan Joy dispatched it through backward of point for his second boundary. Easy outing till now for him as Bangladesh are 59 for the loss of one wicket after 12 overs.
18:39 hrs: Two loud caught behind appeals from Bangladesh but the umpire was not quite convinced on both occasions. Bishnoi has bowled well till now and he will be key to India's comeback in this match. BAN U19 55/1 after 11 overs.
18:32 hrs: 10 overs gone and Bangladesh are 55 for the loss of one wicket. Mahmudul Hasan Joy started tentatively but he was able to produce a brilliant cover drive for a boundary and it looks like he is all set for another big innings.
18:27 hrs: Finally a wicket for India! Tanzid Hasan went for the big shot once again but this time, he was caught in the deep by Kartik Tyagi off Ravi Bishnoi. BAN U19 50 for the loss of one wicket.
18:25 hrs: Ravi Bishnoi is introduced into the attack and Tanzid Hasan has slammed him for a six over long on! This is amazing batting from the openers as BAN U19 are 50 for no loss.
18:21 hrs: 8 overs gone and Bangladesh are 44 for no loss. Akash Singh was bowling well but another boundary for Bangladesh and it is Parvez Hossain Emon once again as he slammed it through the point region!
18:16 hrs: Parvez Hossain Emon is dealing in boundaries and this is significant for Bangladesh as the runs are coming at regular intervals. 7 overs gone and BAN U19 are 39/0.
18:11 hrs: A boundary for Parvez Hossain Emon through mid wicket and that will break the shackles some what. Six overs gone and Bangladesh are 33 for no loss.
18:06 hrs: The last time Bangladesh defeated India in the U19 World Cup was way back in 2002 when they were on a 11-game winning streak. Similar situation once again. Will Bangladesh repeat that feat? Only time will tell.
18:01 hrs: Two beamers already from the young fast bowler Sushant Mishra and the umpire gave him an official warning. Not a good start for India till now. Bangladesh 27/0 after 4 overs.
17:54 hrs: Sushant Mishra and Kartik Tyagi have not bowled badly but they are looking oddly ineffective at this point. A couple of mishits from the Bangladesh batsmen but nothing dangerous till now as they are 26 for no loss.
17:47 hrs: 2 overs gone and this is a good start for Bangladesh. Sushant Mishra was able to keep the BAN openers quiet but they are looking quite set at the crease. India 18/0
17:41 hrs: What a confident start for Bangladesh! Emon looked comfortable against Tyagi and Tanzid Hasan played a brilliant cover drive for a boundary as BAN U19 are 13 for no loss after the first over.
17:35 hrs: Parvez Hossain Emon and Tanzid Hasan to open the batting for Bangladesh while Kartik Tyagi will start proceedings for India.
17:07 hrs: Tanzim Hasan Sakib has taken the wicket of Sushant Mishra and India are all out for 177. This is not the total that India would have hoped for but a good show from the bowlers can still clinch the encounter.
17:03 hrs: India have lost their plot completely. The fourth wicket went down on 156 and India have been losing wickets at regular intervals. Have they done enough to win the title? Only time will tell.
16:56 hrs: Third wicket for Avishek Das! What a collapse! Kartik Tyagi is caught behind and India are 172 for the loss of nine wickets. Six wickets for 16 runs - this is not looking good!
16:50 hrs: Another wicket! India have lost the plot completely. Second wicket for Avishek Das and Atharva Ankolekar is castled for 3. India 170 for the loss of eight wickets.
16:45 hrs: Another run out! There was no run there but both Atharva and Bishnoi went for it and Shoriful takes down the stumps. BAN U19 are all over IND U19 now.
16:36 hrs: Huge miscommunication! Both batsman end up at one end. But who is out? A tough one for the third umpire. Both Jurel and Atharva reached the same crease at the same time but one of them has to go. And it looks like the umpires have told Jurel to walk back. A forward push by Jurel, he thought there was a run in it but Atharava thought otherwise. To be fair to Atharava, he did not take a start but there was no stopping Jurel. He just kept on running.
16:30 hrs: Pull shot for four! Banged in short by Shoriful, Jurel was up to the task. He pulls it with authority to get a boundary.
16:25 hrs: Two-in-two for Bangladesh! Shoriful is over the moon. What a turnaround.Swinging in, a low full toss and Veer walks across, ends up playing all round it. Was it doing too much? But the umpire raises his finger, a golden duck for Siddhesh Veer.
16:23 hrs: Shoriful gets Yashasvi! Huge moment in the U19 World Cup final, Shoriful has got the big wicket of Yashasvi Jaiswal. A length delivery from Shorful, Yashasvi goes for heave but ends up getting a top edge that loops up in the air lands straight in the hands of Tanzil Hasan. But what an innings from Yashasvi, he departs for 88.
16:21 hrs: FOUR! The first lose delivery from Shoriful today. He wanted to bowl the cutter but lost control and ended bowling a loosener to Yashasvi, who just helps it along past fine leg for a boundary.
16:16 hrs: 150 up for India! FOUR! Yashasvi Jaiswal drills it on the ground and it bouncer over the cover fielder and races away to the boundary. Hie is very strong through that region.
16:12 hrs: Yashasvi Jaiswal into the 80s! A top edge but it lands safely and Yashasvi Jaiswal comes back for a couple, that will take him into the eighties. He has been the difference between the two sides so far.
16:04 hrs: Superb shot for FOUR! Boy this Yashasvi Jaiswal is some player. Once again a bit too full for comfort from Rakibul and Yashavi doesn't need a second invitation. He knew there was noone deep in the off-side, he hammers it past the inner ring for a boundary.
16:02 hrs: 4-run over! Just four singles from that over of Shamim. Jurel will take his time to get his eye in but one gets the feeling one of these two needs to just push for the boundaries now.
15:57 hrs: Sublime from Jaiswal! Tossed up outside off stump, Jaiswal gets a big stride in and strokes it effortlessly past the cover fielder and into the fence. The first boundary that Rakibul has conceded today.
15:55 hrs: Tidy over from Sakib! Only 3 runs from it, he has given away only 25 runs in his 8 overs and has picked up the important wicket of Tilak Varma.
15:48 hrs: Rakibul gets Priyam Garg! Soft dismissal, Garg would be mighty disappointed with that shot, Rakibul can't believe his luck. Nothing special about that ball, Garg plants his front foot and chips it straight to the cover fielder, who makes no mistake.
15:43 hrs: Good start from Priyam Garg! IND U19 captain Priyam Garg has started off well. He is the only Indian batsman who started off fluently. This is an important stage in the game.
15:36 hrs: Bangladesh get the breakthrough! A fine catch in the boundary by Shoriful. A short delivery outside off from Sakib, Tilak takes the aerial rout but finds the deep point fielder, BAN U19 have broken the partnership, Tilak departs for 38.
15:32 hrs: SIX and India's 100 is up! That came out of nowhere, a slog over mid-wicket and it lands over the ropes for the first six of the U19 World Cup final. That shot brings up India's 100 in 28.1 overs.
15:29 hrs: Fifty for Yashasvi Jaiswal! What a player, his fourth one of this U19 World Cup and boy did India need one today. BAN U19 were excellent at the top but Yashasvi put his head down, whethered the strom and has now taken India in a good position.
15:26 hrs: Another four! A poor delivery from Shamim, he has been the most expensive Bangladeshi bowler today and here's another example why. He drifted down to the pads, all Tilak had to do was tap past the fine leg fielder to collect a boundary.
15:24 hrs: Hridoy doing a good job! Only 3 runs from the over. Towhid Hirdoy is doing a fine job with his part-time off-spin bowling. He has given only 8 runs in his 3 overs.
15:20 hrs: Welcome boundary! Tilak Varma breaks the shackles with a boundary! Width provided by Avishek and no half measures from Tilak. The ball flies over the point fielder for a four, IND U19 needed this one badly.
15:14 hrs: Slow and steady progress for India! Jaiswal and Tilak have been very patient so far. Only 5 boundaries for India in 23 overs but the bowling from BAN U19 has been good.
15:08 hrs: Bowling change! Hridoy, the one who has already saved close to 10 runs in the field has been introdcued into the attack to bowl his off-spin. This can be an opportunity for India U19 to take some runs.
15:05 hrs: Another good over! Shoriful backs up Rakibul's 2-run over with an equally good one. There is no respite for IND U19 batters at the moment.
15:02 hrs: Superb from Rakibul! What a spell this is turning out to be from left-arm spinner Rakibul Hasan, another 2-run over. He has been excellent with his line and lengths, has given away only 8 runs in his 4 overs.
14:58 hrs: Good Support for India U19 and Bangladesh U19
14:55 hrs: Bowling change! Medium pacer Shoriful has been brougth back into the attack after his openign burst. So BAN U19 sensing they need a wicket, they cannot let this partnership go on any further.
14:52 hrs: Productive over for India! 11 runs from it including two authoritative boundaries. IND U19 are getting a move on, this has been a good partnership so far betwen Yashasvi and Tilak.
14:50 hrs: Fifty up for India! Yashasvi decides to take the aerial rout and gets good connection. A flighted delivery from Shamim, Yashasvi bends down and plays the slog sweep, one bounce, two bounces and four. That also brings up the fifty for India 16.1 overs
14:48 hrs: Tidy over from Rakibul! Only two singles this time. Rakibul has been on the money from the word go.
14:45 hrs: Six singles! That's more like it from Yashasvi and Tilak. They cannot get bogged down in the middle. They will have to find a way to keep the scoreboard ticking and this was one of those overs.
14:40 hrs: Spin from both ends! Left-arm spinner Rakibul Hasan starts well, gives 2 runs from his first over.
14:36 hrs: A 6-run over! No boundaries but India get 6 runs from the Avishek Das over. Slowly but steadily, India trying to get a move one.
14:31 hrs: First sight of spin! Off-spinner Shamim has been introduced into the attack. He has a job to do. He has to back up the good start given by the seamers and he does so, only two runs from his first over.
14:27 hrs: Driven through covers for FOUR! Pure class from Yashasvi Jaiswal. Slightly overpitched from Avishek, Yashasvi gets the big stride in and just strokes it through the covers for a boundary. He is the man for India.
14:23: First Powrplay completed! And India have reached 23 for 1. This is India's lowest first powrplay score in this World Cup.This has been Bangladesh's period of play. Sakib has been brilliant with the new ball. Though Avishek picked up the wicket but it was his bowling that put the pressure on India. The good thing for IND U19 is that Yashasvi Jaiswal is set.
14:18 hrs: Superb timing and FOUR! You cannot get better than this. A full delivery on the pads and Yashasvi just strokes it through the vacant area and the ball races away to the boundary, no chance for the fielders.
14:14 hrs: Tilak is ready! The Indian physio has strapped up Tilak's knee and looks like he is fine and ready. It will be interesting to see if this injury affects his running or not.
14:12 hrs: Injury scare for Tilak! That hit him on the unprotected area. Tilak was looking for a sharp single but the throw from the mid on fielder hit his knee. He was down on the ground immediately and the physio came running in.
14:09 hrs: Yashasvi shows his class! A terrific shot from Yashasvi. First time Sakib has erred in length today, it was a bit short and Yashasvi was up to the mark. He rocked back quickly pulled it past the square-leg fielder for a boundary.
14:03 hrs: That's why he was brough into the attack! A wide delivery outside off stump, Divyansh Saxena plays it uppsihly and Mahmudul Hasan Joy takes a simple catch at point. Bangladesh have got their first breakthorugh, this was on the cards really.
14:00 hrs: A suprise change! Right-arm seamer Avishek Das has replaced Shoriful, a bit suprising decision by Akbar. Shorful was giving a hard time to both the Indian oepners.
13:57 hrs: Fiery Sakib! Almost a hat-trick of maidens from Sakib, if he hadn't bowled that wide in the last ball. And he hasn't shied away from having a go at the Indian openers either, something which he can perhaps avoid, especially when he is not getting any response from them.
13:53 hrs: First 5 gone! And it has belonged to Bangladesh. They have given nothing away to India after opting to bowl first. Shoriful and Sakib have been terrific with the new ball and they have been backed up by some excellent fielding by Hirdoy at covers. India 7 without loss.
13:49 hrs: Terrific shot and fielding! A fuller length delivery from Shoriful, Divyansh punches it with utmost precision but Hridoy with a stunning effort at extra cover, saves a certain boundary.
13:42 hrs: Indian openers off the mark! Both Yashasvi and Divyansh have opened their accounts with singles that should calm the nerves a bit. It has been tensed start to the final.
13:40 hrs: 2 maidens! What a start this from Bangladesh new ball bowlers. They have been on the money and have also had a few things to say to both the Indian openers.
13:37 hrs: Heated moments! Sakib bowls a good ball, Divyansh pushes it straight back to the bowler and Sakib hurls a throw towards the batsman. Divyansh is not amused, he says a few words and the umpire rightly has a word with Sakib.
13:35 hrs: Maiden to start! You cannot ask for a better over from your fast bowler after you opt to bowl. What a brilliant over from Shoriful. He beat Yashasvi's bat twice, also had a few words to say but overall let the left-hander know that he won't have it easy in the final.
13:29 hrs: The players have made their way into the centre. India openers Yashasvi Jaiswal and Divyansh Saxena are in the middle. It will be left-arm seamer Shoriful to start for Bangladesh.
13:25 hrs: The India and Bangladesh players lineup for the national anthem. We will start with Bangladesh's anthem first, followed by India's.
13:20 hrs: Predictions! Former India batsman Mohammad Kaif and former India U19 World Cup winning captain Unmukht Chand have predicted a score of around 270 for India.
13:10 hrs: Wishes from PM! "There was rain last night, we are playing three seamers and we believe there is something in this wicket, hope we can exploit the conditions. It feels very special, it's a long journey for us. We have been working very hard for the last two years. We had a goal to play the final and we are here. She (PM of Bangladesh) is very kind, texted us and wished good luck," said Bangladesh U19 captain Akbar Ali.
13:06 hrs: India U19 (Playing XI): Yashasvi Jaiswal, Divyansh Saxena, Tilak Varma, Priyam Garg(c), Dhruv Jurel(w), Siddhesh Veer, Atharva Ankolekar, Ravi Bishnoi, Shashwat Rawat, Kartik Tyagi, Akash Singh
Bangladesh U19 (Playing XI): Parvez Hossain Emon, Tanzid Hasan, Mahmudul Hasan Joy, Towhid Hridoy, Shahadat Hossain, Avishek Das, Akbar Ali(w/c), Shamim Hossain, Rakibul Hasan, Shoriful Islam, Tanzim Hasan Sakib
13:00 hrs: The toss! Bangladesh have won the toss and they have opted to field first.
12:48 hrs: Rain threat! There is rain good chance of rain during the final on Sunday. There is a reserve day on Monday but forecast for tomorrow is not that goo either. Let's hope the rain Gods stay away and we can have a cracker of a final.
12:40 hrs: Battle of the unbeatens! It doesn't get bigger than this, it's the final of the U19 World Cup and we have two teams who are unbeaten in this tournament. India are making their seventh appearance in the final. Bangladesh, on the other hand, are playing their first final in any ICC tournament.
12:35 hrs: Hello and a very warm welcome to the live coverage of the U19 World Cup 2020 final between India U19 and Bangladesh U19 at Potchefstroom in South Africa.
Close