Highlights: India defeat Australia by 37 runs in first T20 at Adelaide
Australia need to chase 189 runs to win the first Twenty20 international against India in Adelaide on Tuesday.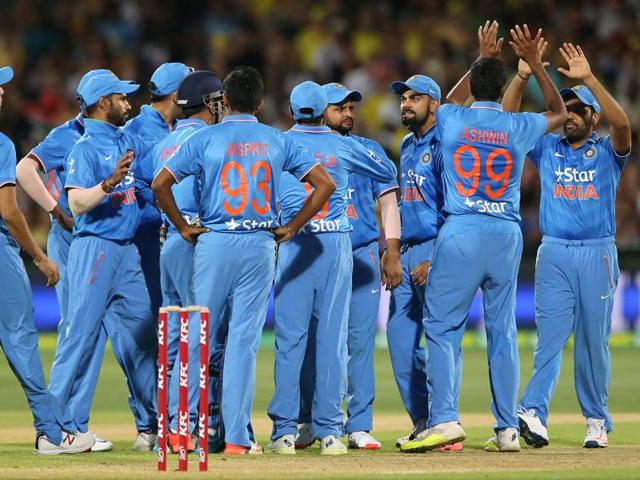 Updated on Jan 26, 2016 05:41 PM IST
India defeat Australia by 37 runs in Adelaide to take a 1-0 lead in the three-match T20 series on Tuesday.
19.3 Bumrah to Boyce
The debutants combine to get Boyce out. Bumrah does him in with the slower ball, Pandya takes an easy catch at mid-off.
Over 19: Nehra concedes only 4 runs as India inch closer to victory. Aus 151/8
18.2 Nehra to Richardson
Full and straight, Richardson mows across the line, Nehra hits the off stump
Over 18: 11 runs and a wicket from the Bumrah over. Aus 147/8
17.2 Bumrah to Faulkner
Bumrah has come back with a replay of how he dismissed Faulkner in the ODI. Yorker, at the stumps, and Faulkner looks to sweep, and is bowled.
Over 17: Pandya gets the wicket of Matthew Wade and concedes 7 runs. Aus 136/7
16.1 Pandya to Wade
Pandya is on a hat-trick. Slower ball, on a length, in the slot, Wade looks to go for a six but skies it. Jadeja takes it calmly at deep midwicket
Over 16: 5 runs off the over. Aus 129/5
Over 15: Pandya claims the wicket of Chris Lynn, but gives away another huge over as he concedes 12 runs. Aus 124/6
14.6 Pandya to Lynn
Pandya has his wicket. The wide line has worked. This is another wide he has ruined. Second time in this over he has gone and played a delivery that would have been called a wide. The last time he nearly got caught at deep cover, this time he finds extra cover. Yuvraj takes an overhead catch.
Over 14: An important wicket for India as Australia could manage to score only 4 runs. Aus 112/5
13.3 Ashwin to Watson
Nehra takes the nervous catch. India must think they are home and dry. Watson, under pressure, goes for the big sweep, and Ashwin's bounce takes the top edge. It is a skier, and Nehra somehow manages to never look comfortable under those.
Over 13: A decent over by Jadeja as Australia scores just 5 runs off it. Aus 108/4
Over 12: 10 runs off the Yuvraj over. Aus 103/4
Over 11: Jadeja strikes for India. Aus 93/4
10.6 Jadeja to Head
Jadeja has got another wicket. India have Australia where they want them. Like rabbits in headlights against spin. Head has not got a loose ball so far and tries to manufacture a sweep. Misses. Looks pretty dead. The umpire has no hesitation
Over 10: A wicket for Ashwin in the over. Aus 91/3
9.2 Ashwin to Finch
The umpire didn't get to watch the previous delivery so Finch gives him an action replay sans the inside edge. He moves well across the stumps to try to sweep an offbreak, and is beaten again.
Over 9: 7 runs off the over and Australia also loses the wicket of Steve Smith. Aus 89/2
8.6 Jadeja to Smith
Smith gets a long send-off from Kohli. Smith looks to work this to leg, gets a massive leading edge to extra cover where Kohli takes the catch and gives it to Smith.
Over 8: Bumrah conceeds 19 runs in the over. Aus 82/1
Over 7: 7 runs off the over by Jadeja. Aus 63 /1
Over 6: A wicket for Bumrah in a good over for India. Aus 56/1
5.1 Bumrah to Warner
Bumrah has the wicket. He has clearly looked like India's most impressive bowler. Just difficult to read his pace with that unorthodox action. Warner sees a short ball, looks for the pull, but it hurries on to him, and he drags it from outside off and is caught at mid-on
Over 5: 10 runs off the over. Aus 47/0
Over 4: Tidy over by Bumrah. Aus 37/0
Over 3: Another expensive over from Nehra. Aus 34/0
Over 2: A big over for India as Ashwin concede 16 runs in his first over. Aus 22/0
Over 1: Steady start by the Aussies as they score six runs off the Ashish Nehra over. Aus 6/0
Australia need to chase 189 runs to win the first Twenty20 international against India in Adelaide on Tuesday, after an unbeaten knock of 90 by Virat kohli and a couple of big hits from skipper Mahendra Singh Dhoni in the final over took India to 188/3 in the first innings.
Rohit Sharma and Shikhar Dhawan got India off to a flier before both fell in the fifth over to Shane Watson. Kohli's 88, 4i from Suresh Raina and a four and a six by Dhoni in the last over took India close to the 190 mark.
(For Live scores, updates and commentary, click here)
Earlier, Aussie T20 skipper Aaron Finch won the toss and opted to bowl first.
Australia won the preceding five-match ODI series 4-1, while India will look to get some wins under their belt ahead of the World T20 at home in March.
Read | Adelaide T20 highlights: Kohli 90 powers India to 188/3
Close Story