India vs Australia 1st Test Day 3 in Adelaide Highlights: India lead by 166 runs at stumps
Dec 08, 2018 02:43 PM IST
Highlights:Cheteshwar Pujara and Virat Kohli thwarted Australia in a diligent partnership to push India to a position of strength and a 166-run lead at the close of day three of the first test on Saturday. ((Full Scorecard)). Follow India-Australia live updates below -
14:00 hrs IST
India end day three at 151/3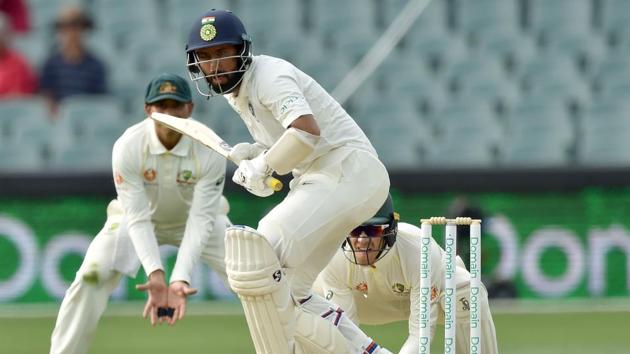 Ajinkya Rahane and Cheteshwar Pujara negotiate the last few overs without much trouble and take India to a lead of 166 runs at the close of play. Rahane (1*) and Pujara (40*) end day three of the first Test at 151/3.
Stumps on day three! The big wicket of Kohli late in the day, but Pujara is still unbeaten on 40 with India leading by 166: https://t.co/lTUqyqRMzW #AUSvIND pic.twitter.com/z0VOOKhZqu

— cricket.com.au (@cricketcomau) December 8, 2018
13:40 hrs IST
Big wicket for Australia
Nathan Lyon finally gets his first wicket! Virat Kohli tries to defend a turning ball, but edges it to Finch at short leg. He goes after making a hard-fought 34.
Massive moment late in the day! Nathan Lyon has now dismissed Virat Kohli six times in Test cricket; the most by any bowler.#AUSvIND | @bet365_aus pic.twitter.com/VhHxfYToT2

— cricket.com.au (@cricketcomau) December 8, 2018
13:26 hrs IST
Kohli and Pujara take their stand to 70
Kohli and Pujara have produced just what the doctor ordered. They took their time to get set and now they are slowly beginning to play a bit more freely. Pujara is looking good for another fifty-plus score as India's lead crosses 160.
13:17 hrs IST
Pujara smashes one through midwicket
Pujara is enjoying batting against Travis Head. The number three batsman rocks back and hits the ball through the midwicket region for a boundary. India's lead goes past 150.
13:06 hrs IST
Pujara clips one through fine-leg
Cummins strays a delivery on the leg stump and Pujara says thank you very much. He clips the ball through fine leg for a boundary. India take their lead to 140.
12:51 hrs IST
Kohli drives Lyon
Lyon seems to be getting a little tired. He has wavered his lines in the last couple of overs and Kohli doesn't mind cashing on. He drives a delivery through the covers for two runs.
Admirable from Kohli. An innings against his natural instinct to dominate. But India needs it

— Harsha Bhogle (@bhogleharsha) December 8, 2018
12:43 hrs IST
Pujara hits a boundary behind square
Lyon pitches the ball a little short and Pujara latches on to it. He smashes the ball behind square for a boundary. India's lead inches towards 150.
12:35 hrs IST
Kohli and Pujara take their stand to 30
Kohli goes on the backfoot and pulls a Lyon delivery through the midwicket region. The Indian captain and Pujara take their partnership to 30 off 101 balls. Both batsmen are standing like rocks in the middle and letting nothing get through them. India take their lead to 123 runs.
12:25 hrs IST
Pujara survives again!
Pujara steps out and shuns off the ball by Lyon with his pads. The Australians go up to appeal and umpire Nigel Llong raises his finger. Pujara reviews almost immediately and replays show that the ball would have missed the stumps. Pujara survives through his second review.
A close call and Pujara survives on review again! #CloseMatters#AUSvIND | @GilletteAU pic.twitter.com/18rMESseGc

— cricket.com.au (@cricketcomau) December 8, 2018
12:15 hrs IST
Kohli opens his arms
Virat Kohli clips a delivery off Cummins through mid-wicket for two runs. The skipper, who is batting very cautiously against Lyon, is just beginning to open his arms against the pacers. India lead by 116 runs.
12:03 hrs IST
Nasty blow for Finch
Kohli tucks a delivery off Lyon onto the leg side and the ball hits Finch's neck after a bounce. The short leg fielder flinches with a pain but comes back to his mark quickly.
11:58 hrs IST
Virat Kohli reaches 1000 Test runs in Australia
Even when Kohli has a play and miss day, he is reaching milestones. With five runs in this match, the skipper reaches 1000 Test runs in Australia.
11:55 hrs IST
Play and a miss for Kohli
Kohli is just struggling a bit here. Lyon turns the ball outside the off-stump as Kohli goes for a drive. The captain misses it completely as the ball moves between bat and pad.
11:47 hrs IST
Third session underway
Nathan Lyon is ripping the ball in the first over of the last session. Testing times for Kohli and Pujara. If India can get through this session without losing too many wickets, they will be well ahead in this Test match.
11:29 hrs IST
India take tea at 86/2
The visitors are in the driver's seat in the Adelaide Test. Pujara (11*) and Kohli (2*) took India's lead past 100 just before tea and are looking good to take their team to a big lead. One partnership will seal the deal for India.
That's tea! A big wicket for Hazlewood a short time ago, but India go to the break at 2-86 and their lead now 101.

Kohli (2) and Pujara (11) the not-out batters: https://t.co/lTUqyqRMzW #AUSvIND pic.twitter.com/GJFZXbeLVr

— cricket.com.au (@cricketcomau) December 8, 2018
11:23 hrs IST
India's lead reaches 100
Pujara and Kohli take India's lead to 100. The Indian captain has had a cautious stay so far. He has played and missed a few deliveries, will take his time to settle down in this tour.
11:09 hrs IST
KL Rahul falls for 44
It isn't going to be Rahul's day again. The opener goes for a big drive and nicks the ball off Hazlewood to wicket-keeper Paine. Rahul was looking good, but couldn't hold himself back on this occasion. Guess who's in next? The Indian captain himself.
11:05 hrs IST
Pujara goes for a review
Lyon gets the ball to breeze past Pujara's bat and the Australians go up for an appeal. Umpire Nigel Llong raises his finger, but Pujara asks for a review. Nothing on Hotspot or Snicko, Pujara survives!
The Aussies thought they had the big wicket of Pujara, but it wasn't to be! #AUSvIND@SpecsaversAU #SpecsaversCricket pic.twitter.com/Z5rSIB4NjW

— cricket.com.au (@cricketcomau) December 8, 2018
11:00 hrs IST
Rahul and Pujara look solid
KL Rahul and Cheteshwar Pujara are watching the ball brilliantly. They are playing with a positive mindset but respecting the good deliveries as well. India's lead gets closer to hundred.
10:48 hrs IST
Lyon bowls on the rough
Nathan Lyon seems to be the only threatening bowler among the Australians. He is pitching the ball on the rough and keeping Rahul and Pujara on their toes. The Indians will have to be positive against the spinner.
10:40 hrs IST
Murali Vijay falls for 18
Finally, the Australians find the breakthrough. Mitchell Starc angles a delivery outside the off-stump and Vijay edges it to Peter Handscomb at second slip while trying to have a feel for the ball. India currently lead by 78 runs.
10:32 hrs IST
KL Rahul dropped
Dropped! The Australians are just making this harder for themselves. KL Rahul looks to fend a delivery off Lyon on to the leg side. Finch dives to his left at leg gully to latch on to the catch but fails to hold on.
10:14 hrs IST
India's lead crosses 50
Pat Cummins and Josh Hazlewood are letting their feelings known to KL Rahul and Murali Vijay respectively as they are trying to get under the skins of the batsmen. But Indian openers are ignoring are not falling for it and they just keep on increasing India's lead.
10:07 hrs IST
Rahul-Cummins duel lighting up the match
Rahul seems to itching to take the attack to the Aussie bowlers and once again he tried to heave the ball on the off-side off Pat Cummins. The ball takes a big outside edge and goes over the slip cordon for a boundary. Cummins had some things to say to Rahul but the India opener just wasn't interested.
KL Rahul isn't holding back!

Live coverage here: https://t.co/lTUqyqRMzW #AUSvIND pic.twitter.com/xr86289CpO

— cricket.com.au (@cricketcomau) December 8, 2018
10:00 hrs IST
Super shot from Rahul
KL Rahul picks his first boundary of the innings as he drives the ball through the covers off Josh Hazlewood. Apart from the leg bye which went for a boundary, this is India's first boundary off the bat. So far so good for the India openers.
09:52 hrs IST
Bowling change
Josh Hazlewood has now bowled four overs and all four have been maidens. First bowling change of the day for Australia as Pat Cummins replaces Starc into the attack. He gives away three runs in his first over.
Four overs for four maidens in this spell from Josh Hazlewood.

Live coverage here: https://t.co/lTUqyqRMzW #AUSvIND pic.twitter.com/sjvwRsvsnL

— cricket.com.au (@cricketcomau) December 8, 2018
09:46 hrs IST
First four of the innings
Mitchell Starc concedes the first four of the innings and it comes off the pads of KL Rahul. The Aussie bowlers have kept things very tight so far in the innings but Indian openers have batted well as well. Rahul and Vijay are trying to put on a good partnership after getting off to a decent start.
09:39 hrs IST
No loose deliveries from Aussie pace duo
Starc and Hazlewood have bowled three overs each and they haven't conceded a single boundary yet. Rahul and Vijay aren't looking to take the attack to them either and are just going with the flow at the moment. Their idea seem to be wear out the ball as well as the bowlers.
09:31 hrs IST
Vijay, Rahul seem cautious early on
Both Vijay and Rahul have been out of form for quiet sometime now and big innings are due of them. So far, they have negated the Aussie pacers well and India would want them to continue in the same vein.
09:22 hrs IST
Starc & Hazlewood on the money straightaway
Mitchell Starc and Josh Hazlewood are on the money straightaway as the duo give away just two runs (combined) in the first two overs. Early signs are that the ball is moving nicely both ways and the Indian openers need to be wary of it.
09:15 hrs IST
Match begins
Mitchell Starc has the new ball in his hands while Murali Vijay and Kl Rahul will start the proceedings for the visitors. The out-of-form Indian openers will look to get off to a steady start in the innings
09:00 hrs IST
Delayed start to second session
The official word is that second session will begin 15 minutes from now i.e 9:15 AM IST considering it doesn't rain any further. At the moment, the covers have been taken off and the ground is being prepared for the match.
Updated session times:

Session 2: 2:15-4:25pm
Session 3: 4:45-6:30pm

Play can be extended by up to 30mins to get the 61 overs in #AUSvIND https://t.co/lTUqyqRMzW

— cricket.com.au (@cricketcomau) December 8, 2018
08:50 hrs IST
Rain update
Since rain abruptly ended the first session, it hasn't subsided and it seems that the second session will see a delayed start as well. We will update you once we have an official word from the stadium.
08:35 hrs IST
Kohli's dancing skills
As the players are enjoying their lunch break, we bring you Virat Kohli's dancing skills in the slip cordon. It was rather entertaining to watch.
08:15 hrs IST
Lunch
Rain has returned at the venue and that means that lunch has been called by the officials. Tim Paine doesn't look happy as he and his team make their way back into the hut. He seems to be making a case that Australian batsmen also played under this bit of rain. Indian openers will now comeback after lunch to take strike.
08:05 hrs IST
Australia all-out
Mohammed Shami takes two in two as after getting rid of Travis Head, he removes Josh Hazlewood for 0. He will have a chance to complete his hat-trick in the next innings. As for India, they have taken a 15-run first innings lead. Indian batsmen will look to add to this lead with a good performance now. We will have 15 minutes for play before lunch now.
08:01 hrs IST
Big wicket for India
Mohammed Shami has picked his first wicket of the innings as he gets rid of Travis Head for 72. The southpaw edges the ball into the hands of keeper Pant. Australia are nine down now.
07:59 hrs IST
Huge six from Lyon
Mohammed Shami comes into the attack and he too is taken for runs by Nathan Lyon. Shami bowls short and Lyon pulls the ball for a huge six over square leg. The Australia crowd is loving it.
07:55 hrs IST
Bowling change
R Ashwin has been introduced into the attack for the first time today as he replaces Jasprit Bumrah into the attack. Lyon hits a boundary towards square leg to welcome Ashwin into the bowling attack. This partnership just keeps on increasing and frustrating the Indian bowlers.
07:49 hrs IST
Rain lingering around
As the players are going ahead with their business, rain can be seen coming down slowly in the backdrop. The umpires seem to be happy with the conditions as they haven't opted to stop the match yet.
07:43 hrs IST
Aus eating away India's lead
Travis Head is batting really well at the moment and along with Nathan Lyon, the duo have put on 12 runs off 20 balls already. The hosts are closing in on India's total with every passing over.
07:38 hrs IST
Lyon frustrates Indian bowlers early on
Nathan Lyon is playing all kinds of shots at the moment — cover drive, straight drives and defensive shots as well. Bumrah also produced an edge off the bat of Lyon but it went for runs past the gully fielder.
07:30 hrs IST
Match resumes
Jasprit Bumrah bowls two dot balls to Nathan Lyon to complete his over after the rain delay. Ishant Sharma is now back into the attack as India look to end the innings as soon as possible.
07:15 hrs IST
Play to resume in 20 mins
Then rain has finally stopped and if it stays like this then the match will begin in the next 20 minutes. Fingers crossed folks.
07:10 hrs IST
No respite from rain
There is nothing to update at the moment folks as it is still raining in Adelaide.
06:52 hrs IST
Rain is back, again!
It has started to rain again and the covers are back on at the Adelaide Oval. Frustrating times these for the players as it was turning out to be a great opening Test.
06:48 hrs IST
Passing showers it seems
The rain has stopped already and the covers are being taken off now. It was a passing shower it seems. Fingers crossed folks as the play could resume sooner thane expected.
06:45 hrs IST
Rain update
Rain is still coming down hard and the groundstaff had brought in bigger covers this time unlike in the morning. Heavy rain is expected now it seems. Not a good sign this for the fans and players alike.
06:37 hrs IST
Rain playing spoilsport again!
The players are back in the hut as rain has returned in Adelaide. This after Jasprit Bumrah got rid of Mitchell Starc in the fourth over of the day. Stay tuned folks as we will update you with all the details.
And the players are now making their way off the field as the covers come back on... #AUSvIND

— cricket.com.au (@cricketcomau) December 8, 2018
06:34 hrs IST
Bumrah strikes!
India have managed to break this partnership as Jasprit Bumrah has gotten rid of Mitchell Starc. The southpaw went for big shot down the ground but ended up edging the ball into the hands of the keeper. Australia are eight down now.
06:31 hrs IST
Hosts cross 200
Head and Starc are taking singles and doubles comfortably at the moment and because of that they are eating away the Indian lead. Australia have also crossed the 200-run mark and now trail by just 47 runs.
06:26 hrs IST
Good over from Bumrah
Jasprit Bumrah too starts in a tidy fashion as he gives away just three runs. However, more than runs, Indian bowlers will be focussing on getting rid of this Australian tail before they could do some serious damage.
06:21 hrs IST
Good start for Ishant
Ishant Sharma concedes three runs from the first over of the day. After bowling couple of wayward deliveries Ishant got back into his groove and trouble Starc outside his off-stump. Bumrah will now bowl the second over of the day.
06:15 hrs IST
Match begins
The players are making their way into the middle now and the match is about to begin on Day 3. Ishant Sharma has the ball in his hands while Mithchell Starc and Travis Head will start the proceedings for Australia.
06:08 hrs IST
Interesting option till the match begins
You can take a read at India's History in Australia Part Three till the time match begins in Adelaide. Also, there are couple of links inside the story if you wish to read the first two parts as well.
05:54 hrs IST
Good news folks!
The official word from the venue is that if there is no further rain, then the play will begin at 6:15 AM IST. Lunch will take place at 8:15 AM IST.
Play will commence at 11:15AM if there is no further rain. Lunch will be at 13:15PM local. No overs lost #AUSvIND pic.twitter.com/5jjzDRysTp

— BCCI (@BCCI) December 8, 2018
Good news - if there is no further rain, the first session will commence at 11:15am local time (around 25 mins away). Lunch scheduled for 1.15pm and no overs have been lost #AUSvIND

— cricket.com.au (@cricketcomau) December 8, 2018
05:40 hrs IST
Finally, rain stops
The rain seems to have stopped finally and the ground staff are making their way into the middle to make it ready for the match. The players are also warming up in the middle.
The rain has stopped and the sun is breaking through. Hopefully we'll have a start shortly #AUSvIND pic.twitter.com/PVIEU533OM

— cricket.com.au (@cricketcomau) December 7, 2018
05:30 hrs IST
Rain update
Latest visuals from the venue show that it is still raining in Adelaide. It seems to be one of those day where rain dampens the mood of fans and players alike. At the moment, no play can take place as rain is still coming down hard.
05:15 hrs IST
Laxman feels Lyon will trouble India
"This will almost convert into a subcontinent type of wicket, it will keep on deteriorating and it will become tough for strokeplay. Even today (Friday) we saw the ball was coming slow, so strokeplay will become tough especially when the bowlers are disciplined like they have shown over the two days. From India's point of view, they have to bat really well tomorrow. And the bowlers have to get the three wickets tomorrow and stop them from crossing 250 and then once they get the chance to bat they have to post a big total. It is still not a bad wicket, but the most challenging bowler tomorrow will be Nathan Lyon."
05:00 hrs IST
Aus bowling coach after end of 2nd day's play
"I thought they bowled really well - the run rate's only two and a bit, so I thought they bowled really well. We stuck at it pretty well. It was a tough day. It wasn't easy to score, so I thought we fought well.Travis Head batted well, Peter Handscomb looked good and Mitchell Starc batted well at the end. I think we're in a decent position," Ryan Harris said.
04:50 hrs IST
Start of day delayed
The official word from the venue is that the start of play will be delayed. It is being said that the rain should be gone in the next 45 minutes of so.
The resumption of play has officially been delayed here but officials are confident the rain will clear in the next 45 mins or so. Will provide more updates as they come to hand #AUSvIND pic.twitter.com/3doU1Uviqq

— cricket.com.au (@cricketcomau) December 7, 2018
04:38 hrs IST
Rain threat looming large
While there is no official word from the venue regarding the delay in the start of the match, things are not looking good at the moment.
Under a cloud cover at the moment the Adelaide Oval 🌧️🌧️ #AUSvIND pic.twitter.com/KMjSAsTIWR

— BCCI (@BCCI) December 7, 2018
04:28 hrs IST
Ashwin fights back for India
Far from getting excited after having Australia in a spot of bother, Ravichandran Ashwin said the first Test is "extremely well poised" and every run in the remaining days will be worth its weight in gold. "I thought we really bottled them up, soaked them up and put on pressure from both ends. We don't isolate it as a fast bowling or spin bowling pack. We identify it as a bowling unit together because one cannot exist without the other. Today was another perfect attrition day for us."
04:22 hrs IST
Early morning showers in Adelaide
While the forecast remains clear, the venue sees some early morning showers. The pitch has been covered as a precautionary measure.
Adelaide ... stinking hot one day, raining the next 🤦‍♂️ #AUSVIND pic.twitter.com/9dKuGjPHMP

— cricket.com.au (@cricketcomau) December 7, 2018
04:15 hrs IST
Cool Head keeps Aus in the game
Travis Head hit a stubborn half-century to keep Australia in the hunt after their top order slumped under sustained pressure from India's bowlers, leaving the first Test in Adelaide finely poised. Batting on his home ground, Head kept his cool in the humid conditions to be 61 not out at stumps on day two, with Mitchell Starc unbeaten on eight. His efforts helped steer Australia to 191-7 in reply to India's 250.
04:00 hrs IST
Hello and welcome
A very warm welcome to the live blog of the third day of the first Test between India and Australia being played at the Adelaide. At end of second day's play, Australia trail India by 59 runs and they have three wickets left in their first innings. The visitors will look to bundle out the hosts early on the third day.