India vs Australia 1st Test, Day 3 Highlights: Burns' fifty hands 8-wicket win to Australia
India vs Australia 1st Test Day 3 Highlights: After bowling out India for their lowest score in Tests, Australia chased down a paltry 90-run target to win the first Test in Adelaide on Saturday. Opener Joe Burns scored an unbeaten fifty as the hosts ended with 93 for 2 in 21 overs in their second innings. Earlier, India had folded their second innings in their lowest ever Test total of 36/9 in the morning session. Pat Cummins and Josh Hazlewood ran through the Indian top-order on Day 3 of the first Test in Adelaide. Cummins removed Jasprit Bumrah early and then got the big wicket of Cheteshwar Pujara (0) to push India back. Josh Hazlewood then dismissed Mayank Agarwal and Ajinkya Rahane in his first over. Virat Kohli was the next to go in Cummins' over as India were reduced to 19 for 6. Hazlewood struck two more wickets off two balls to get rid off Wriddhiman Saha and Ravichandran Ashwin. India lost 7 wickets this morning for just 15 runs as the day-night Test took a dramatic turn. With this win, Australia take a 1-0 lead in the 4-match Test series.Follow live score and updates of IND vs AUS 1st Test Day 3 Highlights: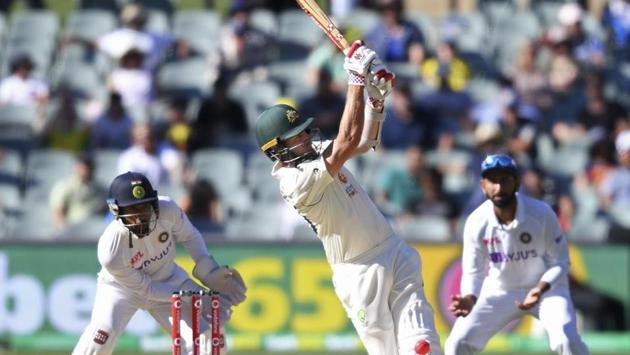 Updated on Dec 19, 2020 01:47 PM IST
Hindustan Times, New Delhi |
hindustantimes.com
13:25 hrs IST
Australia win by 8 wickets
Joe Burns smashes a maximum to complete his half-century and hand a comprehensive 8-wicket win to Australia. The hosts take 1-0 lead in the 4-match Test series.
13:22 hrs IST
Yadav to Burns - FOUR
FOUR! Another boundary from Joe Burns. Fuller delivery outside off and Burns plays a cracking square drive behind point to notch four runs.
13:18 hrs IST
Ashwin to Labuschagne - OUT!
OUT! Another Aussies wicket but that doesn't hamper Australia's chase. Dipping length ball just outside off, and an impatient Labuschagne walks out to play it over midwicket. It goes up in the sky and caught by Agarwal at mid-on. AUS - 82/2 after 19.5 overs, need 8 runs to win.
13:06 hrs IST
Matthew Wade departs
That's a bizarre dismissal but India would take that as a consolation prize. Wade moves down the line and Ashwin spots him. The batter manages to put his bat on the flick and the ball goes to hit Prithvi Shaw's right leg at short leg. It rolls down quickly to Saha and no chance for Wade to make it in time. The Indian wicketkeeper does the rest.
13:03 hrs IST
Injury Update
Hnauma Vihari, who was hurt oh his shoulder by Matthew Wade's pull shot, is off the field and is seen clutching his right shoulder in the dug-out, reports Cricbuzz.
12:57 hrs IST
Ashwin to Burns - FOUR, dot, FOUR
Seems like Joe Burns is in a hurry to end this chase. A couple of boundaries from the Aussie opener to take the hosts closer to victory. Burns is certainly presenting a strong case of his selection in the Boxing Day Test.
12:50 hrs IST
Hanuma Vihari gets hurt
Wade's pull shot against Ashwin hits right shoulder of Hanuma Vihari at short leg and the latter is down with pain. It was short delivery from Ashwin and Wad swept it hard.
12:43 hrs IST
50-run partnership between Burns and Wade
The Aussie opening duo - Joe Burns and Matthew Wade - brings up the 50-run partnership for the first wicket. The first half-century stand between these two this series.
12:38 hrs IST
Ashwin bowls a good over
Ravi Ashwin bowls a good over amid the run fest. He conceded 5 dot balls and just one run in that over. But Australia are half-way through the chase, and need 39 more to win.
12:32 hrs IST
Ashwin into the attack
India make a bowling change and bring Ashwin to replace Bumrah in the attack. The off-spinner was the highest wicket-taker in the previous innings,which was yesterday. He scalped 4 crucial wickets including the one of Steve Smith.
12:28 hrs IST
Umesh Yadav to Wade - FOUR, dot, FOUR
The Aussies seemed to have turned the T20 mode on in Test cricket. After Bruns, Wade smashes a flurry of boundary to take the hosts closer to win. Both the openers dealing with the Indian attack so comfortably. The visitors look frustrated though.
12:25 hrs IST
Bumrah to Burns - FOUR
FOUR! Another one from Joe Burns. The Aussie opener is just nailing the Indian pace attack - that doesn't have Mohammed Shami at the moment. He gets another shot ball and plays a cracking pull shot. Great intent from Burns in the chase.
12:22 hrs IST
Yadav to Burns - FOUR
FOUR! Another boundary for Australia and for Burns. The opening duo are getting there slowly and steadily. A short ball from Umesh Yadav and Burns pull it through mid-wicket. Cracking shot this. AUS - 29/0 after 7 overs.
12:16 hrs IST
Bumrah to Burns - FOUR
FOUR! Joe Burns gets into the groove. Back of a length in the corridor, straightens a touch as Burns defends with an open face to get a boundary through the gap between slip cordon and gully.
12:10 hrs IST
Second session begins
The second session on the third day of the first Test begins as Australian batsmen Matthew Wade and Joe Burns walk out to complete the chase. They need 75 runs more to win. Jasprit Bumrah comes into the attack.
12:00 hrs IST
Lowest team total in D/N Tests
India - 36 vs Australia in Adelaide, 17 Dec 20
England - 58 vs New Zealand in Auckland, 22 Mar 18
Zimbabwe - 68 vs South Africa in Port Elizabeth, 26 Dec 17
West Indies - 93 vs Sri Lanka in Bridgetown, 23 Jun 18
Sri Lanka - 96 vs Pakistan in Dubai, 06 Oct 17
11:55 hrs IST
200 Test wickets for Josh Hazlewood
Josh Hazlewood gets his 200th Test wicket today in Adelaide. He now becomes the 18th Australian bowler to reach this landmark.
11:50 hrs IST
Quickest to 150 Test wickets by Australia
Clarrie Grimmett: vs England
Dennis Lillee: vs New Zealand
Shane Warne: vs England
Stuart MacGill: vs Sri Lanka
Pat Cummins: vs India
11:40 hrs IST
1000 Test runs for Mayank Agarwal
Mayank Agarwal gets 1000 runs in Test cricket. He becomes the 3rd quickest Indian to reach this landmark in terms of innings batted.
11:30 hrs IST
End of first session
First session on Day 3 of the first Test in Adelaide comes to an end. The Australians wreaked havoc with the ball, bowling out India for their lowest Test total - 36. At the time of the break, Australia were 15/0 and Matthew Wade (14) and Joe Burns (0*) were at the crease. They need 75 runs to win.
11:15 hrs IST
Joe Burns, Matthew Wade are out to bat
The Australian chase begins as openers Matthew Wade and Joe Burns are out to bat. They need 90 runs to win to maintain their record in day-night Tests. Umesh Yadav begins the attack for India.
11:04 hrs IST
India record their lowest Test score of 36
Shami is walking off so that will be the end of India's 2nd innings. They are 36 for 9, the previous lowest total in Test in cricket was 42 against England in 1974. Australia need 90 runs to the first Test.
10:59 hrs IST
Shami is hurt
This is bad, very very bad. Mohammed Shami has been hit on his wrist and its his bowling hand and looks to be a in a lot of pain. The physio has walked out and he is having a look at the India seamer. This is the last thing that India need at this stage now.
10:54 hrs IST
A lucky four
FOUR! Lucky runs there for India! Short delivery on middle, Umesh Yadav looks to pull but gets a top edge. It goes towards fine leg for a boundary.
10:49 hrs IST
5 wickets of Hazlewood, India 9 down
OUT! CAUGHT! 9 down are India! A lead of 84 runs is what they have. What is happening here. Hazlewood gets a 5-fer. What a time to get to it. Josh bowls it around off, and gets it to nip away from Vihari. Hanuma who looks to have a feel for the ball can only manage to get thick outside edge which is gobbled up by the keeper who goes to his right and pouches it.
10:45 hrs IST
India avoid lowest ever total
FOUR! Hanuma Vihari crunches one through the off side, it has just enough to reach the fence the second boundary of Day 3, more importantly it has ensured India won't be bowled out for the lowest ever total in Test cricket. They have crossed New Zealand's 26 and are now at 30 for 8. Now the next target should be to score more than 42, which is India's lowest total in Test cricket.
10:41 hrs IST
Golden duck for Ashwin
OUT! Josh Hazlewood has got his four of the day. Another one bites the dust.
10:38 hrs IST
Scrap the previous update, Saha departs
OUT! Wriddhiman Saha has to go for 4. India 26/7, still need 1 run to cross the lowest ever score in Test cricket. It was a nothing delivery on leg stump and Saha just flicked to straight to short mid-wicket fielder.
10:30 hrs IST
Saha, Vihari looking good
India haven't lost a wicket for 4 overs and they have also scored 7 runs - this shouldn't have been something to talk about but considering the fact they lost 5 wickets for 4 runs before that, the effort from Saha and Vihari does look good.
10:20 hrs IST
Saha off the mark
Such has been the scenario this morning that you feel getting off the mark is an achievement in itself. Wriddhiman Saha has got off the mark with a couple of runs and India have crossed the 20-run mark.
10:10 hrs IST
Four and out, Virat Kohli departs!
Brilliant effort in the field from the debutant Cameron Green! Pat gets his 4th wicket and he is on fire here. The third umpire is called for fair catch. The soft signal is OUT. Looks to be clean from one angle but the third umpire is having a closer look there. Has he taken the catch cleanly. looks to be so. Yes, the big screen shows OUT. Kohli takes a walk back for one last tme with the bat on this tour. India 19/6
10:05 hrs IST
Rahane out for a duck
What is happening here? Another one gone and this time it's Ajinkya Rahane, almost a carbon copy of the Agarwal dismissal earlier in the over. Pitches on length, moves away slightly and gets the outside edge. Rahane is out for a duck too. Two wickets in the first over for Hazlewood. India 15/5
10:02 hrs IST
Hazlewood strikes
Josh Hazlewood starts well, starts brilliantly, gets the wicket of Mayan Agarwal with a superb delivery. India have now lost 3 wickets for no runs and are tottering at 15/4
9:56 hrs IST
Pujara out for a duck
That's a HUUUUUGGGGEEE wicket for Australia. Pat Cummins bowls a peach of a delivery to remove Cheteshwar Pujara for a duck. The pressure was building, you could sense something happening and it did. What a delivery from Cummins, just pitches around off stump, moves away ever so slightly, Pujara does not much wrong apart from the fact that his bat was slightly angled towards the leg side, gets the outside edge and Paine does the rest. India 15/3
9:54 hrs IST
Three maidens in a row
Australia really tightening screws here. Cummins and Starc are bowled not given a single run since getting Bumrah's wicket. Three maidens on the trot now.
9:44 hrs IST
Starc bowls a good over
Australia have started well, Mitchell Starc impeccable with his line and lengths. This is an important period of play for sides, Australia need to make quick inroads into the Indian batting line-up and Agarwal and Pujara need to build a solid platform for India.
9:39 hrs IST
Cummins gets Burmah
OUT, caught and bowled. The three card trick there, two short and one full and Bumrah falls for it. But he has done his job by surviving last night. Cummis too has done a good job for Australia by removing the nightwatchman early. India 15/2
09:35 hrs IST
First boundary of the day
Mayank Agarwal gets a loose one from Starc and he opens the face of the bat - in the air, but too much on it - and it races for a boundary.
09:30 hrs IST
Ind vs Aus 1st Test Day 3: Action begins - LIVE!
Mayank Agarwal and the nightwatchman Jasprit Bumrah step out in the middle for India. Here comes Mitchell Starc on the attack for Australia. A fascinating day of Test cricket is in store.
09:25 hrs IST
A look at Day 3 pitch
This is what the pitch looks like on Day 3. Thoughts?
This is what the pitch looks like ahead of play on Day 3. #AUSvIND pic.twitter.com/5d4aP1myJ4

— BCCI (@BCCI) December 19, 2020
09:15 hrs IST
India vs Australia 1st Test Day 3 - Live!
The question on everyone's mind would be if India would send Cheteshwar Pujara or Virat Kohli after the first fall in the day. If Bumrah is the one to go, we may actually see Kohli step out above Pujara.
09:10 hrs IST
Can Bumrah frustrate Aussies?
For Jasprit Bumrah, it is imminent to stick in the middle for long. If Bumrah plays 7-8 overs, it would add to Australia's frustration.
09:05 hrs IST
Action begins in 25 minutes
The Live action of India vs Australia 1st Test Day 3 begins in 25 minutes. India will be hoping to get off to a good start. Australia will be eyeing wickets.
09:00 hrs IST
Day 3: What to expect
The conditions are expected to favour the bowlers more and more the Test progresses so tonight will be the bowlers' day. This game could easily turn out if India lose a flurry of wickets in the first session - and hence first session is really really crucial.
08:50 hrs IST
Problems with Prithvi Shaw
Prithvi Shaw has really struggled in the match and he is facing his share of criticism for his performance in the Adelaide Test.
"It's a real concern. You see the first innings dismissal .... the backlift is coming from the second or third slip. These guys (Australian pacers) are too good. You are talking about the best bowlers and they are not going to let Prithvi Shaw get away with that backlift," former England opener Nick Knight said after the close of the second day's play on Extraaa Innings, studio show for the Border-Gavaskar Trophy Test series on Sony Six channels.
08:45 hrs IST
Controversy over Shane Warne's remarks
Shane Warne's remarks on commentary regarding Cheteshwar Pujara has not gone down well on social media and he is facing quite a backlash.
08:40 hrs IST
Virat Kohli's final day of 2020
This could be Virat Kohli's final day of batting in 2020. He would be travelling home for the birth of his child after the Test, so he would hope to bat for as long as possible.
08:35 hrs IST
Ojha not pleased with Bumrah as nightwatchman
Pragyan Ojha is not pleased with Jasprit Bumrah being sent as nightwatchman. "Bumrah with the ball is a bigger asset than going out there and batting. I would not have sent him (as the nightwatchman). Maybe I would have sent somebody else but not Bumrah because he is your number one bowler," Ojha said on Sports Today.
08:30 hrs IST
Work for Mayank Agarwal
Mayank Agarwal got off to a good start in the first innings, but he could not carry on. As the pitch continues to deteriorate for batting, Mayank would be hoping to carry on for long this time around.
08:25 hrs IST
Jasprit Bumrah in a new role
After Prithvi Shaw fell early, India decided to send Jasprit Bumrah as the nightwatchman - this would open up a chance for Australia to get an early wicket in the day. India would hope that Bumrah can defend and tire out Aussie bowling attack at least for a few overs.
08:20 hrs IST
Steve Smith falls for R Ashwin's straight trap, writes Abhishek Paul
Abhishek Paul writes: "Smith, arguably the greatest Test batsman right now, has never been an easy victim to off-spin. According to Cricviz data, he has scored 1344 of his 7227 Test runs (his tally going into the first Test) against off-break bowlers at an average of 84. This is the highest tally against a single type of bowler after the 3861 runs he has scored against right-arm pacers. Against Ashwin too, he averaged 116 (348 runs off 570 balls) in 14 innings going into the Test series. Before Friday, Ashwin has claimed Smith only thrice. One of those dismissals came at a series-deciding Test in Dharamsala in 2017. Ashwin pulled out the same plan again."
08:15 hrs IST
India vs Australia 1st Test Day 3 - LIVE!
Hello and welcome to our live blog on Day 3 of the first Test between India and Australia. After a splendid bowling performance on Day 2, the Virat Kohli-led Indjian team has taken an advantage in the match, taking a solid lead of 62 runs by the end of Day 2. India lost Prithvi Shaw once again early, but the visitors will hope to put on a competitive total on board for Australia to chase. If India bat through the day, they would be well on a course to win. Can Australia bounce back?
Close Story