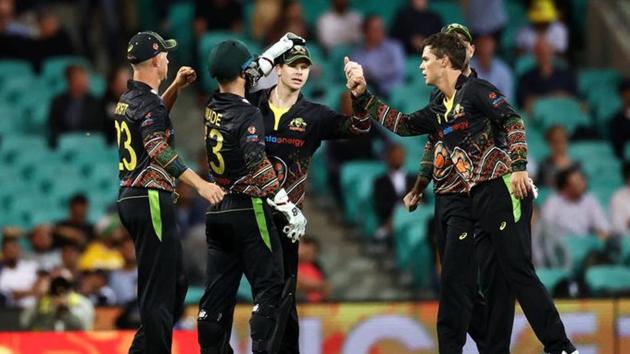 India vs Australia 3rd T20I Highlights: Australia pick up consolation win by 12 runs in Sydney
India vs Australia 3rd T20I Highlights: Mithcell Swepson claimed a match-winning 3-wicket haul helping Australia to defeat India by 12 runs in the third and the final T20I in Sydney on Tuesday. Sent in to bat, Australia scored 186 for five in their stipulated 20 overs. A 53-ball 80 from Matthew Wade and a well made fifty from Glenn Maxwell guided Australia to 186/5 in 20 overs against India in the third T20I in Sydney.The Australian innings largely dominated by Wade's power-hitting after Sundar got rid of Aaron Finch (0) very cheaply. He was the dominant partner during the 65-run stand with a scratchy Steve Smith (24) but played the second fiddle once Maxwell (54) came to bat. In reply, skipper Virat Kohli smashed a 61-ball 85 but but India could only reach as far as 174/7 in their pursuit of 187 in 20 overs.Follow India vs Australia Highlights 3rd T20I at Sydney Cricket Ground here:
Hindustan Times, New Delhi | By hindustantimes.com
UPDATED ON DEC 08, 2020 05:42 PM IST
17:20 hrs IST
Australia win by 12 runs
With 27 required off the last over, Washington Sundar and Shardul Thakur produced some big shots but were not enough to take the game home. India finish with 174 for 7 as Australia win the game by 12 runs. India win the 3-match T20I series 2-1.
17:18 hrs IST
Washington Sundar departs
Right after hitting a boundary, Washingto Sundar gets caught at deep point by Andrew Tye. India 7 wicket down, need 23 to win from 4 balls.
17:16 hrs IST
India need 27 off last balls
India nee 27 runs off the last six balls to win this game. Washington Sundar has the strike and Shardul Thakur will be at the non-striker's end. Sean Abbott will bowl the last over.
17:13 hrs IST
Tye to Thakur - SIX
SIX! A massive hit from Shardul Thakur over backward square for a six. India now need 27 off the last six balls.
17:10 hrs IST
Tye to Kohli - OUT
Andrew Tye has done the job for Australia. He gets the big man Virat Kohli. Full and wide, Kohli slices a square drive and Daniel Sams throws himself forward to grab that low catch. Kohli departs on 85, IND - 151/6 after 18.1 overs.
17:03 hrs IST
Zampa to Hardik Pandya - OUT
Big wicket for India. The man-in-form Hardik Pandya has been dismissed too soon by Adam Zampa. Pandya tried to play that against spin and gets a thick edged. It lobbed in the air and goes directly to Aaron Finch.
16:55 hrs IST
Sams to Hardik Pandya - SIX
SIX! Now Pandya joins the party and hammers Daniel Sams for a maximum over sweeper cover. 20 runs from that over, India - 131/4 after 16 overs.
16:52 hrs IST
Daniel Sams to Kohli - SIX, SIX
Virat Kohli making some brave moves now. Back to back big sixes from the Indian skipper to ease off the pressure. Crunched over over deep mid-wicket and then a ABD shot over fine leg for another six. Absolutely insane from the skipper.
16:49 hrs IST
300th six in T20s for Kohli
4th IND to smash 300 sixes in T20s after
Rohit Sharma -380
S Raina- 311
MS Dhoni- 302
V Kohli- 300*
16:46 hrs IST
Abbott to Kohli - SIX
SIX! That's huge from the Indian captain. He shuffles across, gets in line and tonks it over mid-off for a mighty six. 300th maximum for Kohli in T20Is.
16:43 hrs IST
Stats Alert
2nd duck for Iyer in T20Is, both are golden ducks
vs SL, Indore,2017
vs AUS, Sydney, 2020
16:40 hrs IST
Swepson strikes again, Shreyas Iyer departs
Iyer's misery in the shortest format continues. Swepson strikes again and Shreyas Iyer gets out on a duck. Wrong'un from Swepson, Iyer inches forward and does not read it and gets trapped in front. Big appeal and umpire gives that out. IND - 100/4 after 12.6 overs.
16:35 hrs IST
Swepson to Samson - OUT
OUT! Samson miss hit a full-toss straight to long-on and gets caught by Steve Smith. Samson departs for 10, IND - 97/3 after 12.3 overs
16:30 hrs IST
Fifty for Virat Kohli
25th T20I fifty, joint most fifty plus score in T20Is
7th fifty vs AUS
1st T20I fifty in 2020
9th fifty as a captain
5th half century in AUS and 3rd at Sydney most by a player at this venue.
16:24 hrs IST
Swepson to Dhawan - OUT!
OUT! Shikhar Dhawan's innings comes to an end.
16:21 hrs IST
Swepson into the attack
Mitchell Swepson is back into the attack after a very tight first over. He conceded just six singles in his previous over and would look forward to restrict the duo of Kohli and Dhawan.
16:18 hrs IST
Powerplay scores for IND in this series
42/1- 1st T20I at Canberra, 1st T20I
60/1- 2nd T20 at Sydney, 2nd T20I
55/1- 3rd T20I at Sydney, 3rd T20I
16:15 hrs IST
End of Powerplay, fifty-up for India
Dhawan ends the sixth over with a boundary and India manage to get 55 runs in the powerplay. A total of 15 runs from this over of Sean Abbott, IND - 55/1 after 6 overs.
16:12 hrs IST
Abbott to Dhawan - FOUR
FOUR! Dhawan is now playing bold as he hits the first boundary today against the Aussies. A fuller delivery outside off, Dhawan wants to swing through midwicket. But finds the edge that flies over third man for a boundary.
16:09 hrs IST
Five overs gone, IND - 40/1
India have bounced back well after losing KL Rahul in the opening over. They have piled up 40 runs in 5 overs. Virat Kohli (25) is at the crease along with Shikhar Dhawan (9*)
16:06 hrs IST
Tye to Kohli - FOUR
Another boundary from the Indian skipper. Too short and wide, and Kohli plays a fine upper cut to bring up the boundary.
16:03 hrs IST
Sams to Kohli - FOUR
FOUR! First boundary for India in the chase. Kohli walks down the line and whips it over mid-wicket for a boundary.
16:00 hrs IST
Smith drops Kohli on 9
Indian skipper Virat Kohli lofts against Maxwell but couldn't connect it well. The ball goes straight to Steve Smith at deep midwicket and he drops a sitter. Kohli gets a life.
15:58 hrs IST
Stats Alert
2nd duck for KL Rahul in T20Is after 40 innings. Last time he was dismissed on duck was his debut match vs Zimbabwe at Harare in 2016.
15:56 hrs IST
Bowlers to dismiss Rahul for multiple times
Glenn Maxwell
Chris Jorda
Khary Pierre
Ish Sodhi
Nathan Coulter-Nile *2
15:52 hrs IST
Brilliant first over from Maxwell
4 singles, one dot and a wicket of KL Rahul - that's how Maxwell bowled the first over in India's stiff chase. India - 4/1 after the first over.
15:48 hrs IST
KL Rahul departs
Maxwell strikes in the first over and gets rid of KL Rahul in the second ball of the India's chase. Shorter ball, Rahul hammers this over deep midwicket but didn't get the elevation. Gets caught by Steve Smith and walks back on a duck. IND - 0/1 after 0.2 overs.
15:45 hrs IST
KL Rahul, Shikhar Dhawan are out to bat
KL Rahul and Shikhar Dhawan are out to chase 187 runs for India. Glenn Maxwell begins the attack for Australia.
15:33 hrs IST
India need 187 to win
Innings Break!

Half-centuries from Wade (80) and Maxwell (54) as Australia post a total of 186/5 on the board.#TeamIndia chase coming up shortly. Stay tuned!

Scorecard - https://t.co/w2btSXTjYW #AUSvIND pic.twitter.com/Oy4BLZ9iMJ

— BCCI (@BCCI) December 8, 2020
15:28 hrs IST
End of Australia innings
Natarajan bowled a dot ball to finish the final over. Australia end up scoring 186 for 5 in their quota of 20 overs. India need 187 to win.
15:25 hrs IST
Moises Henriques departs
Natarajan bowls a full toss and Henriques punches it down towards long on. Runs a single and tries for the second. But falls short of the crease. Nice flat throw from the deep and Rahul does the rest.
15:22 hrs IST
Natarajan to Maxwell - BOWLED
BOWLED! Natarajan cleans up Maxwell with a Yorker. The batsman shuffles across to reverse-sweep but misses it completely. Wickets goes for a walk, Maxwell departs for 54.
15:19 hrs IST
Last over of Australian innings
Australia have put 175 runs in 195 overs after losing three wickets. Moises Henriques is the new batsman in while Maxwell will have the strike in the last over. Natarajan come into the attack.
15:15 hrs IST
Maxwell dropped again
A wide yorker form Shardul Thakur and Maxwell tried it driving it cheekily through short thrid man. The ball went directly to Yuzvendra Chahal but he fumbled. He couldn't follow-up on the juggle and drops the catch.
15:12 hrs IST
Fifty for Glenn Maxwell
A well made made fifty for Glenn Maxwell. It's his 8th T20I fifty and 2nd against India. Australia: 168-2 after 18 overs
15:08 hrs IST
Shardul to Maxwell - SIX
After getting dropped on 38, Maxwell charges with full power against Shardul Thakur and tonks a gigantic maximum over the square leg boundary.
15:05 hrs IST
Most sixes vs IND in T20Is
Evin Lewis -28 in 8 innings - 322 runs
Glenn Maxwell - 27 in 15 innings - 412* runs
Kieron Pollard- 26 in 10 innings - 292 runs
15:02 hrs IST
Stats Alert
With 2nd six in the 15th over, Maxwell now has 27 sixes vs India which is 2nd most by a batsman in T20Is.
14:58 hrs IST
15 overs gone, Australia - 139/2
Matthew Wade and Glenn Maxwell are going super strong against the Indians. They have been too lucky to have dodged a couple of dismissal chances. Wade playing on 69* while Maxwell is unbeaten on 35.
14:55 hrs IST
Chahal to Maxwell - SIX
SIX! Maxwell goes after Chahal again. Goes down the line and smokes it over Chahal's head for a maximum.
14:52 hrs IST
Thakur to Wade - SIX
SIX! Wade is turning unstoppable now. Slower ball from Chahal and Wad clobbers it over wide of long-on for a maximum.
14:48 hrs IST
Chahal's no ball saves Maxwell
Maxwell played the sweep against Chahal but the ball went straight up in the air. Rahul rushed towards square leg and took the high catch. As Maxwell started to walk back, TV umpire played the trump card. Chahal had overstepped and it was a no ball.
14:45 hrs IST
Maxwell plays the switch-hit again
FOUR! Maxwell unleashes one of those switch-hits to punish Yuzvendra Chahal. Chahal saw that coming but couldn't do much. Maxwell gets it powerfully over the fielder at backward point for a four.
14:42hrs IST
Thakur to Maxwell: FOUR
FOUR! Maxwell joins the party and hits a boundary. Shuffles across right paddles over short fine leg using the pace of the ball.
14:38 hrs IST
Thakur to Wade - SIX
SIX! First maximum off Wade's willow. Not the kind of start Shardul wanted. Length ball and Wade picks it up early and deposits over mid-wicket for a massive six.
14:35 hrs IST
India miss another chance
Natarajan traps Wad in the front and appeals but umpire doesn't give LBW out. Kohli takes a review but they ran out the 13-sec time frame. Kohli chats with the umpire but doesn't matter. Replay shows three reds though.
14:33 hrs IST
3rd T20I fifty for Matthew Wade, 2nd against India
Two 50s on the trot for Matthew Wade! #AUSvIND pic.twitter.com/a49KnI4gOJ

— cricket.com.au (@cricketcomau) December 8, 2020
14:30 hrs IST
Fifty for Matthew Wade
* 3rd fifty in T20Is, all vs IND and 2nd at Sydney Cricket Ground.
* 3 fifties in 3 innings as an opener vs IND for Wade and is joint 2nd most fifty plus score by an opener vs IND in T20Is
14:26 hrs IST
Sundar to Smith - OUT!
Sundar finally gets Smith, adding to the woes of Australia. Cleans him up beautifully. He tossed it higher, slower outside off. Smith gave himself room but to drive through cover but gets beaten. Wickets rattled, Smith walks.
14:25 hrs IST
Rahul fumbles, Smith gets a life
There was a chance to dismiss Steve Smith but Rahul's fumble turned that down. Smith moved down the line but the missed to connect the ball. Rahul fails to collect and misses the wicket opportunity. The Aussie No 3 had all the time on earth to return safely to the crease.
14:22 hrs IST
Fifty run stand between Wade and Smith
The partnership between Matthew Wade and Aaron Finch is building strong which the tourists need to break before it turns dangerous. Wade is nearing his fifty while Smith is getting into the groove.
14:19 hrs IST
Sundar to Wade - FOUR
FOUR! A boundary for Australia after a gap of 20 balls. Sundar kept it short, Wade pulls it off through back foot through mid-wicket for a boundary.
14:16 hrs IST
Stats Alert
Deepak Chahar in the first over in T20Is vs in IPL since 2018
In T20Is - Wicket: 1, Balls: 48, Runs: 76, Economy Rate: 9.50
In IPLS - Wickets: 8, Balls: 258, Runs: 290, Economy Rate: 6.74
14:13 hrs IST
Powerplay for AUS in this series vs IND
3rd consecutive instance of scoring fifty runs and above in the powerplay
53/0 at Canberra, 4 Dec 2020
59/1 at Sydney, 6 Dec 2020
51/1 at Sydney, 8 Dec 2020
14:10 hrs IST
End of Powerplay, fifty-up for Australia
Australia go past the 50-run mark as the first Powerplay ends. The hosts have scored 51 runs in the first six overs after losing a wicket. Australia - 51/1 [Wade 34*, Smith 10*] after 6 overs
14:06 hrs IST
Natarajan comes into the attack
Here comes the leading wicket-taker of the series - T Natarajan. The Tamil Nadu paceman has been a find for Team India in this tour. He has scalped 5 wickets so far from 2 matches.
14:03 hrs IST
Five overs gone, AUS - 45/1
Australia have quickly recovered from the early loss of skipper Aaron Finch. Matthew Wade (32) is batting strong and is accompanied with Steve Smith (6). Australia 45/1 after 5 overs.
13:58 hrs IST
Chahar to Wade - FOUR, FOUR
back to back boundaries from Matthew Wade. he has already showcased his muscle power in the last encounter. He is replicating the same today as well.
13:52 hrs IST
Stats alert
Finch gone for a duck
5th duck in T20Is
2nd vs IND, both have come in the last 5 innings vs IND
Both his dismissals in this series, Finch has been dismissed by spinners Chahal in the 1st T20I and Sundar, today
13:49 hrs IST
Sundar to Finch - OUT
OUT! The Australian skipper goes for a two-ball duck. He had just returned from an injury and fails to leaves an impact. Good length ball, Finch hits hard and gets caught by Pandya at mid-off. Washington Sundar gets his first wicket in the series.
13:47 hrs IST
Sundar to Wade - FOUR
Wade continues to hit those boundaries. He just jumped to swivel across the gap through mid-wicket for a boundary. He is simply setting the momentum again.
13:44 hrs IST
Wade hits a boundary
FOUR! This times, it was beautiful pull from Wade. Absolutely beautiful. A short ball from Chahar and Wade crushes it through mid-wicket.
13:42 hrs IST
Chahar to Wade - FOUR
FOUR! Welcome boundaries for Australia. A miss hit from Mathew Wade, a thick top edge though, balloons in the air and goes through an empty third man region for a boundary.
13:39 hrs IST
Aaron Finch, Matthew Wade are out to bat
Aarin Finch and Matthew Wade are out to bat for Australia. Deepak Chahar begins the attack for India.
13:36 hrs IST
India eye 10th consecutive T20I win
India have won 9 consecutive wins in T20Is since 7 Jan 2020, which is joint 3rd most consecutive wins by a team in T20Is, considering Tied+W as wins. Going by wins only at the home of opposition (excluding neutral venues), India are also on the winning streak of 8 T20Is in the home of opposition starting from 6 August 2019 to till date
13:31 hrs IST
In-match stats
· 169: Average 1st innings total at Sydney Cricket Ground in T20s is 169 from completed innings.
· 3/3: India have played 3 T20Is at this venue and won all of them.
· 0/11: India have not lost any T20I in their last 11 matches.
· 8: Virat Kohli has won 8 consecutive T20Is as captain of India.
· 10*: India are also currently running on the winning streak of 10 T20Is outside India.
· 10*: Similarly, Virat Kohli is also running on the winning streak as captain of India in T20Is outside India from 25 November 2018 to till date. (Please note Tied+W are considered wins in these lists)
· 6: If IND manages to win the 3rd T20I, it will be IND's 6th instances where IND has inflicted a whitewash in a bilateral series with min. 3 matches. (Please note Tied+W are considered wins in these lists)
· 3/3: India have played 3 T20Is at this venue and won all of them.
· 0/11: India have not lost any T20I in their last 11 matches.
· 8: Virat Kohli has won 8 consecutive T20Is as captain of India.
· 3: Aaron Finch is 3 sixes away from completing 100 sixes in T20Is and can become 6th batsman and 1st Australian to do so.
· 1: 1 more sixes Shikhar Dhawan needs to complete 50 T20I sixes.
· 1: Virat Kohli needs 1 more six to complete 300 sixes in T20s. He can become the 4th Indian to reach this landmark after Dhoni, Raina and Rohit.
· 8: sixes KL Rahul needs to complete 200 T20 sixes.
· 35: runs S Dhawan needs to complete 8000 T20 runs
· 6: wickets Josh Hazlewood needs to complete 50 T20 wickets.
· 3: runs D'Arcy Short needs to complete 3000 T20 runs.
13:27 hrs IST
Australian skipper Aaron Finch at toss
Finch said, "We would have bowled first as well. It's a used wicket and hopefully we'll bat well tonight. We did see a bit of turn in the last game and expect the spinners to play key role in the middle overs. No balls are something that's killed us over the last few games and we want to control that going forward. Somewhere around 190 is what we are after and you got to be careful as this is a tough ground to defend."
13:22 hrs IST
Indian captain Virat Kohli speaks at the toss
India skipper Virat Kohli said, "We gonna bowl. Shorter boundaries and we had a good game last time. For the bowling line-up as well, we wanted to be more professional and test ourselves. It's been a really good year for us in terms of T20 cricket, if we keep staying ahead of the opposition, and as a group we want to make sure we keep getting those results and win games of cricket."
13:17 hrs IST
India vs Australia 3rd T20I live: Australia Playing XI
Aaron Finch(c), Matthew Wade(w), Steven Smith, Glenn Maxwell, D Arcy Short, Moises Henriques, Daniel Sams, Sean Abbott, Mitchell Swepson, Andrew Tye, Adam Zampa
13:15 hrs IST
IND vs AUS live: India Playing XI
KL Rahul(w), Shikhar Dhawan, Virat Kohli(c), Sanju Samson, Hardik Pandya, Shreyas Iyer, Washington Sundar, Shardul Thakur, Deepak Chahar, T Natarajan, Yuzvendra Chahal
13:13 hrs IST
One change for Australia
Good news for Australia! Captain Aaron Finch was the one who walked out for the toss. He will take over the captaincy from Matthew Wade. Finch has come in place of Marcus Stoinis, who 'woke up a bit sore'.
13:12 hrs IST
India unchanged
India captain Virat Kohli confirmed that they are fielding an unchanged XI for the third and final T20I against Australia today at the SCG.
13:10 hrs IST
India vs Australia 3rd T20I Toss: India opt to bowl
India win toss and opt to bowl first against Australia at the Sydney Cricket Ground.
13:00 hrs IST
Aaron Finch might play
Broadcaster Erin Holland just said that Aaron Finch and Josh Hazlewood - both missed the last game - might be back in Australia's XI today. If Finch plays then will take over the captaincy from Matthew Wade.
12:55 hrs IST
Will India give Manish Pandey a game?
Manish Pandey missed the last game because of a little niggle and Shreyas Iyer did well in the 5 balls he batted in the last T20I. It will be interesting to see who India picks today. One would like to believe, Sanju Samson will get another game.
12:50 hrs IST
A milestone awaits Virat Kohli
India captain Virat Kohli, who already achieved two captaincy milestones in the last T20I, is on the verge of another milestone. Kohli needs to hit one six today in the 3rd T20I against Australia to complete 300 sixes in T20s. He will become the 4th Indian to reach this landmark after Dhoni, Raina and Rohit.
12:40 hrs IST
India firm favourites to make it 3-0
In the last 7 encounters between these two sides in Australia, India have won six. If India manage to win the 3rd T20I, it will be India's 6th instance where they would have inflicted a whitewash in a bilateral series with minimum 3 matches. This will be India's 2nd whitewash against Australia, both in Australia.
12:30 hrs IST
Will Aaron Finch play?
Australia head coach Justin Langer did suggest that Aaron Finch might be available for today's India vs Australia 3rd T20I but it will be interesting to see if they would want to risk Finch for a dead rubber. There are also talks of resting Steve Smith keeping the Test series in mind.
12:25 hrs IST
Who needs Bumrah and Shami when you have Natarajan
Whou would have thought India would be eyeing a clean sweep in Australia without the help of two of their best fast bowlers Jasprit Bumrah and Mohammed Shami? Bumrah has not featured in the T20I series and chances of him playing the final are also slim while Shami played only in the first match and was rested for the next. In their absence, left-arm medium pacer T Natarajan has taken centrestage. The 29-year-old who was deemed as a death over specialist after his returns in the IPL has shown the depth in his bowling. In his debut tour, Natarajan has emerged as the go-to bowler for captain Kohli, which has allowed India to rest Shami and Bumrah before the Test series.
12:18 hrs IST
IND vs AUS 3rd T20I live: Hardik Pandya the new finisher
Hardik Pandya may have bowled only once in the five limited-overs fixtures in Australia and chances of him bowling today are the slimmest but he as managed to hog the limelight with his batting. After returning as the top-scorer for India in the ODI series, Pandya showed why should rated as one of the best T20 finishers currently with a brilliantly paced innings. Pandya was always brutal against the spinners but what has made him a grand success in this tour is his fearless batting against the seamers. He has improved his batting against the short ball which has now opened up a lot of scoring areas for him.
12:10 hrs IST
Recap of 2nd T20I
Australia put up 194 on the board riding on stand-in captain Mathew Wade's brilliant 58-run innings. T Natarajan was brilliant with the ball for India. He picked up 2 for 20. In reply, KL Rahul and Shikhar Dhawan gave India a good start which was backed by a partnership between Kohli (40) and Dhawan (52). But after both of them were dismissed and the required rate nudged to 13 runs per over it was Hardik Pandya who brought out his big-hitting abilities. He hit Daniel Sams for two sixes in the last over to seal the match and series for India.
12:00 hrs IST
India vs Australia 3rd T20I live score
Hello and welcome to the live coverage of India vs Australia 3rd T20I at the Sydney Cricket Ground today. India already have the series in their pickets thanks to a six-wicket win on Sunday and they will look to go all out for a whitewash.
Close