India vs Bangladesh, ICC World Cup Warm-up Cricket Match 2019 in Cardiff, Highlights: India win by 95 runs
May 29, 2019 08:20 AM IST
Highlights: India bowl Bangladesh out for 264 runs and win the match by 95 runs. Kuldeep Yadav was the pick of the bowlers with figures of 3/47. Earlier, KL Rahul and MS Dhoni scored centuries as India posted 359/7 in 50 overs. The Indian batting line-up put up a majestic performance against Bangladesh. Rahul has ended the number four debate once and for all with a scintillating hundred. (FULL COVERAGE) Follow highlights here:
23:35 hrs IST
India win by 95 runs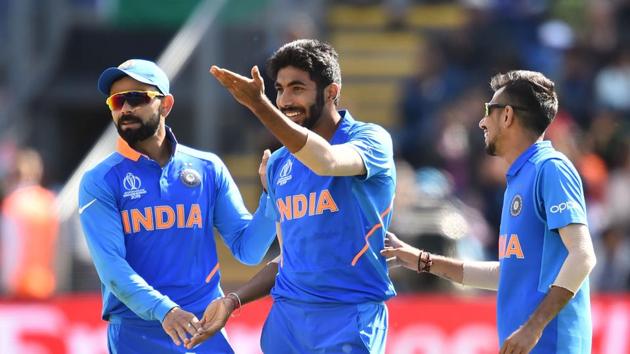 Chahal runs Mehidy out for 27 runs in the last over as India wrap up the match. The Men in Blue bowl Bangladesh out for 264 runs and win the match by 95 runs.
23:25 hrs IST
Chahal dismisses Saifuddin
Saifuddin presents a catch to Kuldeep and gets out for 18 runs. Bangladesh lose their ninth wicket as India get ready to walk into the ICC World Cup with a confident win.
22:54 hrs IST
Bangladesh lose their eighth wicket
The Indians are looking to wrap up this match quickly. Sabbir inside-edges a delivery from Jadeja on to the stumps and gets out for 7 runs. Bangladesh: 216/8 in 40.2 overs.
22:51 hrs IST
Mosaddek Hossain goes for a golden duck
Bangladesh seem to be losing wickets in clusters today. Mosaddek misjudges the googly from Kuldeep and is stumped easily by Karthik. The chinaman has turned his form around! Bangladesh: 216/7 in 40 overs.
22:49 hrs IST
Mushfiqur goes for 90
Mushfiqur was on his way to a well-crafted century, but it wasn't to be. He goes for a big heave and misses the ball completely. The ball hits the stumps as Kuldeep picks up his second wicket.
22:33 hrs IST
Kuldeep dismisses Mahmudullah
Kuldeep flights the ball brilliantly and Mahmudullah is bowled out for nine runs. India are knocking the final nails on the coffin as Bangladesh move to 191/5 in 35.4 overs.
22:21 hrs IST
Chahal takes two wickets in two balls
Chahal takes two wickets in two deliveries! First he gets Liton stumped for 73 runs and then he traps Mithun LBW for a golden duck. Bangladesh: 169/4 in 32 overs.
21:54 hrs IST
Liton Das scores fifty
Liton smashes Chahal for a boundary and brings up his half-century off 66 deliveries. Bangladesh: 125/2 in 24 overs.
21:36 hrs IST
Liton and Mushfiqur take Bangladesh past 100
Liton and Mushfiqur have put on a steady partnership so far. They are looking to take this game deep and hit the big shots later on in the innings. Bangladesh: 104/2 in 20.4 overs.
21:12 hrs IST
Liton and Mushfiqur steady the innings
Liton and Mushfiqur have steadied Bangladesh's innings with a 25-run partnership so far. They will need to score centuries if they are to win this match.
20:50 hrs IST
Shakib goes for a golden duck
Bumrah delivers a perfect yorker and bowls Shakib out for a duck in his first delivery. Bangladesh: 49/2 in 9.5 overs.
20:49 hrs IST
Sarkar departs for 25 runs
Sarkar nicks a delivery off Bumrah and gets out for 25 runs. Karthik takes a simple catch behind the stumps. Bangladesh move to 49/1 in 9.4 overs.
20:37 hrs IST
Liton strikes Bumrah for a boundary
Liton picks the length early and smashes a delivery from Bumrah for a boundary. Bangladesh are still in this match. They move to 41/0 in 7.2 overs.
20:14 hrs IST
Liton and Sarkar start confidently
Liton and Sarkar are not hesitating from hitting boundaries at the moment. Bangladesh move to 22/0 in 3 overs.
19:30 hrs IST
India post 359/7 in 50 overs
Jadeja smacks Shakib for a six and a four as India post 359/7 in 50 overs. It has been a majestic batting performance by the Indian team. It was much needed after their debacle against New Zealand in their first warm-up match.
19:26 hrs IST
Dhoni departs for 113 runs
Dhoni goes for a big heave and misses the ball completely from Shakib. The ball hits the stumps as Dhoni goes for 113. India: 348/7 in 49.2 overs.
19:20 hrs IST
Dhoni scores century
Dhoni hits a big six and brings up a century off 73 balls. The wicketkeeper-batsman has played a free-flowing innings laced with 8 boundaries and 6 sixes.
19:11 hrs IST
Hardik falls for 21
Hardik smashes Shakib for a four and six in the 48th over, but his luck ran out soon as he strikes a delivery straight to Rahman. He goes for 21. India: 325/6 in 47.3 overs.
18:52 hrs IST
KL Rahul departs for 108
A little too many experiments for Rahul. The batter tries to play a tricky shot and gets out bowled for 108 to Rahman. This innings will do Rahul's confidence a world of good. He'll need to find a way to be consistent throughout the main tournament.
18:45 hrs IST
Century for Rahul
Rahul tucks a delivery from Rahman and brings up his century off 94 balls. The Karnataka batsman has ended the number four debate once and for all. India: 255/4 in 42 overs.
18:43 hrs IST
Rahul nears century
KL Rahul played a splendid innings so far. The number four batsman has struck some beautiful shots and is on his way to a century.
18:33 hrs IST
Rahul on song
This has been a special innings from KL Rahul as he has looked in tremendous touch. Bangladesh wanted to test him with the shorter delivery but his back foot game has been on point. A great show from the right-hander.
18:23 hrs IST
MS Dhoni scores fifty
MS Dhoni strikes Mosaddek Hossain for a boundary and brings up his half-century off just 40 balls. The wicketkeeper-batsman has been in top form today. These are good signs for India ahead of the World Cup.
@msdhoni batting in a higher gear than normal even early in his innings. I sense he's testing out a new game plan for himself

— Cricketwallah (@cricketwallah) May 28, 2019
17:43 hrs IST
Rahul scores fifty
KL Rahul brings up his half-century off 45 balls. The Karnataka batsman has surely cemented his place in the number four slot ahead of the ICC World Cup. India: 135/4 in 26 overs.
17:29 hrs IST
Rahul in fine form
A boundary over point and then a glorious straight drive - This is brilliant batting by KL Rahul. Bangladesh have bowled short to him and he is loving it. Easy outing for the right-hander as India are 111 for the loss of four wickets.
17:22 hrs IST
Shankar departs
Second wicket for Rubel Hossain as Vijay Shankar is caught behind for 2. The ball was outside off stump and Shankar ended up edging the delivery to Mushfiqur Rahim, This is not good news for him! IND 102/4
17:13 hrs IST
Test for Shankar, Rahul
The two contenders for the No. 4 spot - Vijay Shankar and KL Rahul - are out in the middle and this is a perfect chance for them to shine. A good innings in this game can guarantee their spot in the No. 4 position and India also need a good partnership right now in order to reach a good total. IND 88/3
17:06 hrs IST
Virat departs
A huge wicket for Mohammad Saifuddin and Bangladesh as Virat Kohli is bowled out for 47. A full length delivery and the Indian cricket team skipper made a complete mess of it. India 83/3 after 18.4 overs.
16:54 hrs IST
Virat on song
Virat Kohli is looking in great form and with three boundaries in the last two overs, he is nearing his half century. A great shot through the covers followed up by a glance through fine leg. IND 75/2 after 17 overs.
16:44 hrs IST
Stat Attack
Runs per over conceded by bowling sides in ODIs
Since #CWC15 #CWC2015
4.53 - Afghanistan
5.17 - Bangladesh
5.31 - India
5.40 - S Africa
5.42 - Pakistan
5.54 - N Zealand
5.63 - Australia
5.71 - W Indies
5.83 - England
5.84 - Sri Lanka#CWC19 #CWC2019#IndvBan

— Mohandas Menon (@mohanstatsman) May 28, 2019
16:38 hrs IST
Rohit out
Rohit Sharma's innings comes to an end as he is castled by Rubel Hossain after scoring 19 off 42 balls. The ball took his inside edge and crashes into the stumps as India lose their second wicket.
16:31 hrs IST
Slow Batting
12 overs gone. India are 46 for the loss of one wicket. This has been a really slow partnership till now but considering the conditions, 250 may look like a challenging total.
16:19 hrs IST
Rohit, Virat steady
Virat Kohli and Rohit Sharma are rebuilding the innings slowly after Shikhar Dhawan's dismissal but the run rate has been quite disappointing. They need to accelerate a bit with both batsmen set at the crease. IND 30/1
16:08 hrs IST
Pandya injury
Hardik Pandya faced an injury scare ahead of the warm-up match against Bangladesh after being hit in his left underarm while taking throw downs in the nets during a practice session, as reported by the official broadcaster. Read full story here.
15:58 hrs IST
Bangladesh bowlers
Brilliant bowling by the Bangladesh bowlers as the Indian batsmen are finding it difficult to score freely. Two half chances for them as Rohit Sharma's edge fell short of the slip fielder and then, Virat Kohli's shot missed the fielder by inches. India 11/1
15:50 hrs IST
Dhawan out
Mustafizur Rahman strikes for Bangladesh as Shikhar Dhawan is dismissed for 1. The ball came back sharply and the LBW appeal was enough to convince the umpire. IND 5/1
15:41 hrs IST
Match Resumes
The game resumes once again and the skies are much clearer at the moment. Cautious batting by Rohit Sharma and after the first over, India are 4 for no loss.
15:30 hrs IST
Covers coming off
Good news! The rain has stopped, the covers are coming off. We can expect the match to resume shortly!
15:13 hrs IST
Rain stops play
This is quite unfortunate as rain has stopped play once again. It is raining quite heavily and looks like it will take some time to resume play.
15:09 hrs IST
Game time
The players are out in the middle and we are moments away from the start of the match. Rohit Sharma and Shikhar Dhawan will be opening the innings for India while for Bangladesh, Mustafizur Rahman will bowl the first over.
14:58 hrs IST
Slight Drizzle
Slight drizzle in Cardiff as the covers are still on and it seems that the start can be delayed by a bit. Not a good news for India as they will benefit from this game ahead of their opening match on June 5.
14:54 hrs IST
Match Recap
Bangladesh won the toss and elected to bowl against India in their second World Cup warm-up match here on Tuesday. Kedar Jadhav is still recovering from the shoulder injury but Vijay Shankar is back in the Indian team.
14:49 hrs IST
Onus on spinners
Jasprit Bumrah got the side off to a bright start against New Zealand, but the spinners were not quite in the groove. Bangladesh have better players of spin and hence, the task is cut out for Kuldeep Yadav and Yuzvendra Chahal to find their rhythm before the sterner test of the main tournament.
14:42 hrs IST
Bangladesh Playing XI
Bangladesh (Playing XI): Tamim Iqbal, Soumya Sarkar, Liton Das, Shakib Al Hasan, Mohammad Mithun, Mushfiqur Rahim(w), Mahmudullah, Mosaddek Hossain, Sabbir Rahman, Mohammad Saifuddin, Mehidy Hasan, Mashrafe Mortaza(c), Mustafizur Rahman, Rubel Hossain, Abu Jayed
14:38 hrs IST
India Playing XI
India (Playing XI): Rohit Sharma, Shikhar Dhawan, Virat Kohli(c), Lokesh Rahul, Vijay Shankar, Hardik Pandya, MS Dhoni(w), Dinesh Karthik, Ravindra Jadeja, Bhuvneshwar Kumar, Kuldeep Yadav, Mohammed Shami, Jasprit Bumrah, Yuzvendra Chahal
14:33 hrs IST
Bangladesh win toss
Bangladesh have won the toss and skipper Mashrafe Mortaza has opted to field in the warm-up encounter against India. For India, Vijay Shankar returns while Kedar Jadhav is still out of action.
14:28 hrs IST
Openers need to start well
The conditions were very tough at the Oval for the first match and the ball was swinging and seaming around which saw India's top order being blown away. However, the pitch and conditions at Cardiff could be much better and this should allow the Indian openers to dig in play a substantial innings. Both Rohit Sharma and Shikhar Dhawan have to give India good starts right through the competition as the team is hugely dependent on the top order.
14:24 hrs IST
Pandya injured?
According to some reports, the practice session on Monday saw an injury scare come India's way as Hardik Pandya was hit under the arm while taking throwdowns. There have been no confirmation from the authorities but if it is true, it can be a huge blow to the Indian cricket team.
14:18 hrs IST
Batting Woes
India's last practice match against New Zealand was shameful and the team lost 179 runs in 39.2 overs after losing 77 balls to six wickets. India's batting order flop in this match Rohit Sharma and Shikhar Dhawan's opening pair added three runs. Virat Kohli, who captained the World Cup for the first time, could also make himself 18 runs in 24 balls. The fourth order puzzle team could not be settled again. Lokesh Rahul returned after making six runs on this order.
14:05 hrs IST
Areas for India to focus on
India need to get few things right and build momentum when they take on Bangladesh in the second warm-up game at Sophia Gardens, Cardiff. We take a look at three aspects which this Indian team should address leading into the main tournament.
Read about it here.
14:00 hrs IST
Hello and welcome
After the loss against New Zealand, this is the match for India to get their combinations right. It also presents an opportunity to the top-order to bat deep into the innings and find form. And then there is the middle order woes, which refuse to go away. Kedar Jadhav and Vijay Shankar could get a game and this could be the chance for KL Rahul to put his name for the playing XI against South Africa.
Hello and welcome to the live coverage of the match between India and Bangladesh