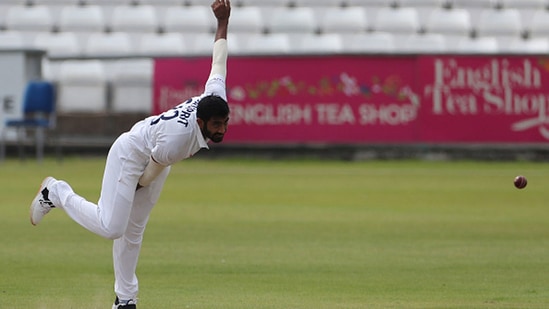 India vs County Select XI highlights, Day 3: Ravindra Jadeja shines with twin fifties as match ends in draw
India vs County Select XI live score, Day 3: Follow live updates and scores of India vs County XI practice match in Durham.
UPDATED ON JUL 22, 2021 09:25 PM IST
India vs County Select XI highlights, day 3: The three-day warm-up game between Indians and County XI has ended in a draw. Mayank Agarwal, Cheteshwar Pujara, Hanuma Vihari and Ravindra Jadeja received good practice as all four batsmen had a decent hit out on Day 3 of the warm-up game. Rohit Sharma did not bat which meant that India opened the innings with Agarwal and Pujara. Agarwal scored a crisp 47 while Pujara batted well for his 38. Jadeja then scored his second half-century of the match and walked off retired for 51. Vihari remained unbeaten on 43 as the Indians declared their second innings on 192/3. The County XI in their second innings were 31/0 in 15.5 overs when the players decided to shake hands.
Follow India vs County XI highlights, day 3 here
The players shake hands: The warm-up game, as expected, ends in a draw. Well, it was expected to get over at 5:00 PM local time (9:30 IST) but the players called it off 10 minutes before. And rightly so. The purpose of the match was achieved in the first innings and with the condition of the light deteriorating, calling it off mutually seemed the best call.
Runs have dried up: Guess it's only a matter of time before the players mutually decide to call things off. Hameed and Libby look in no rush. Siraj and Umesh in the attack, hoping to get a few County XI wickets down before the match is over.
Edged and Four: Wide and full outside off from Bumrah and Jake Libby tentatively has a go at it. Fortunately for him, the ball flies over the slip cordon and races away to the boundary. County XI 22/0.
Final session underway: By the looks of it, we have about an hour's period of play. If that's the case, Indian bowlers would look to finish the match with some more wickets under their belt. None the less, it's been a fabulous warm-up game. Hardly have we seen a 12th man come out as a replacement. Shows how seriously the teams have taken this practice-game. County XI 17/0 after 7 overs, yet to score after tea.
Tea on Day 3: County XI 17/0 in 2nd innings at tea interval, need another 267 runs to win against Indians. One maiden from Bumrah as Hameed helps himself to a boundary. A minimum of 28 overs left in the day but we could all expect an earlier finish.
The fourth and final innings begin: The final passage of play begins as Haseeb Hameed and Jake Libby walk out with just a little over a session remaining in the game. Bumrah begins the proceedings for the Indians as the County XI open their account with three runs.
The declaration has come: With 33 overs left in the match, the Indians have decided they've batted enough. They've declared their second innings at 192/3, with a lead of 283 runs over the County XI. Play to resume shortly as both teams take the innings break. Indians to have a crack at SCXI
FIFTY for Jadeja: The Indian all-rounder will raise his bat for the second time in this match. A very good fifty for Jadeja, his second of the match. And looks like he is retiring out for 51. Indians 182/3
SIX: Jadeja goes down town. A flighted delivery from the left-arm spinner Patterson-White and Jadeja dances down the track to hit it straight over long on. The first six of India's second innings.
150 up for India: Jadeja, Vihari have taken India past 150. It looks like there has been in the approach of the Indian batsmen. Perhaps a message on during the drinks break to up the ante a bit.
Slow progress: It has been a very slow but steady progress for the Indians after lunch. The County XI bowlers have been disciplined with their lines and lengths and Vihari and Jadeja have shown full respect to them. Indians 134/2
Steady start: Both Jadeja and Vihari seem to be in no hurry to up the ante. India have decided to get bat out the rest of the overs in this match. Indians 124/2.
2nd session, Day 3: Welcome back! We are minutes away from the start of the post-lunch session of the final day of this India vs County XI first-class match.
As we slip into the lunch break, we are seeing India captain Virat Kohli padding up to have a net session. India head coach Ravi Shastri is also out there to keep an eye on the proceedings.
Lunch on Day 3: Indians 113/2 (& 311) at lunch on day 3, lead County XI by 204 runs in Durham
100 up for India: A couple to Vihari and that will bring up India's hundred in the second innings. Their lead has swelled up to 191 runs now.
Ravindra Jadeja walks out for India at No.4
Pujara departs: What time Carson is having. He's got Pujara in both innings now. So after a solid start, India lose both their openers to the off-spinner. Pujara goes for 38. Indians 98/2
Hanuma Vihari has walked out to bat at No.3, still no sign of Rohit Sharma
Mayank Agarwal is out: The Indian opener won't get to his fifty. Mayank Agarwal departs for 47. IT's the off spinner Carson who gets the breakthrough for the County XI. Indians 87/1
Shot of the day! Another shot one outside off and this time Pujara cuts it with with brutal force. The ball races away to the deep point boundary for a four. Indians: 76/0
Four: Cut away by Pujara. He is very strong there, you can't bowl short and wide and expect to get away when Pujara's batting. Young Rhodes just found out. Indians 62/0
Fifty up for India: Pujara hits a boundary and follows it up with a couple to bring up India's fifty in the second innings.
Carson greeted with a boundary: Lovely from Mayank Agarwal, early signs that Indian batsmen won't allow the County XI spinners to settle into a rhythm in this innings. Indians 40/0
Good start for India! This has been a solid start by Indian openers Mayank Agarwal and Cheteshwar Pujara. Indians 30/0 after 8 overs, they lead County XI by 121 runs
Upper Cut, FOUR: Splendid shot from Mayank Agarwal. Craig Miles generates some serious pace. Agarwal, at first looked in two minds whether to leave it or have a go. In the end, he taps his bat at it and the ball goes flying over the slip cordon for a second boundary of the innings. Indians 16/0 after 4.1 overs.
First four of the innings: Lyndon James drags the ball outside off and Mayank Agarwal gets to the pitch of it and drives it elegantly for his first four of the innings. Indians move to 10/0 after 2 overs.
Indians are away: Mayank Agarwal off the mark as he and Pujara complete three runs. Pujara opens his account as well with a couple. Indians 5/0 after the 1st over
Pujara and Agarwal open for Indians: No Rohit Sharma. That's a puzzle. In fact, it's Mayank Agarwal and Cheteshwar Pujara, who have opened the innings for the Indians on Day 3.
Hello and welcome to the live coverage of the India vs County Select XI match in Durham. It's the final day of the practice match and the last opportunity for the Indian batsmen to get some quality batting practice in the middle before the Test series against England.
Topics
Close