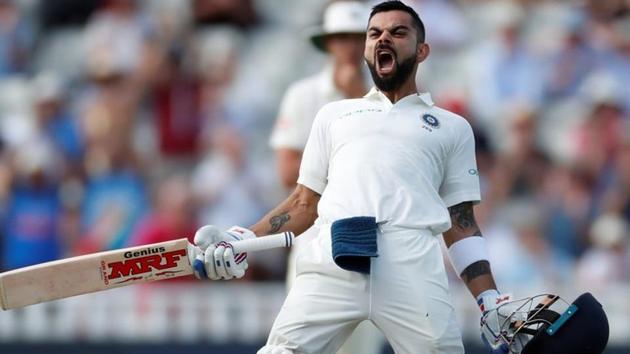 India vs England: Batting coach Sanjay Bangar hails Virat Kohli's discipline after Edgbaston masterclass
Sanjay Bangar refused to compare Virat Kohli's show to Sachin Tendulkar's 241 not out in the Sydney Test of 2003-4, when he didn't play the cover drive at all.
UPDATED ON AUG 03, 2018 08:52 AM IST
Virat Kohli's masterclass against swing bowling to score his first century in England was an example of 'terrific discipline', India batting coach Sanjay Bangar said on Thursday.
The India skipper struck a glorious 149 to banish questions about his technique against the moving ball after a poor 2014 tour. It lifted the visitors within 13 runs of England's first-innings 287 despite a batting collapse.
Kohli refused to take the bait as James Anderson, who got him out four times in 2014, kept up a line just outside off-stump, a tactic he had succumbed to the last time. Kohli faced 41 dot balls out of the 43 he faced against Anderson in his 15-over spells split only by the lunch break and one over by spinner Adil Rashid. He left 26 deliveries from Anderson alone.
Bangar refused to compare Kohli's show to Sachin Tendulkar's 241 not out in the Sydney Test of 2003-4, when he didn't play the cover drive at all.
"It's not always great to compare two performances, but this knock Virat played will give him a great satisfaction -- purely the job satisfaction every professional aspires for. The stand-out part of this innings was, he was always playing close to his body and waited for the right chances.
ALSO READ | India vs England: Virat Kohli dedicates first century on English soil to Anushka Sharma
"The way he batted with the tail was a lesson, giving them a bit of confidence, giving them the strike when required. And when the field came up, he went for his strokes.
"You saw how Virat had to play through various phases where run making wasn't that easy. But he showed terrific discipline, and at times you need to forget what has happened with the previous ball and focus on the ball that is coming.
"At times you will look ugly but that is something you have to adapt to."
He criticised other batsmen for throwing their wickets away.
"England is used to playing in these conditions, we don't really play in these conditions too often, (and still) the gap is a mere 18 runs. Definitely the game is well-placed."
What can other batsmen learn from Kohli's 22nd Test century? "He showed terrific discipline. At no instance did he reach out for the ball, and probably a couple of our batsmen did, which caused their downfall. That is something we've been speaking about, practicing quite a lot.
ALSO READ | India vs England - Sam Curran: Know about the man who sliced through Indian top order
"A lot of cricket has to be played, but Virat's innings has narrowed the gap massively. At one stage we were staring down the barrel, but because of his brilliance and commitment shown by batsmen around him - contributions might not look too many from Hardik, Ashwin, Ishant, Umesh, but they stitched together partnerships and supported Virat beautifully."
He praised Kohli for finding answers to tough situations.
"He's a versatile player. At times, quality players keep assessing their games and where they want to progress. The awareness required under certain conditions may differ from South Africa to Australia to England, but he does that really well. Again, terrific discipline, and when he bats in that fashion, he more often than not gets the team into good positions.
"Today he converted. His first hundred in England, and he had to wait a long time to get to this, but he made sure to continue even after that. Passing an individual landmark doesn't mean much to him, more than that if it's a good day for him, he makes sure it's a great day for him and the team."
Close