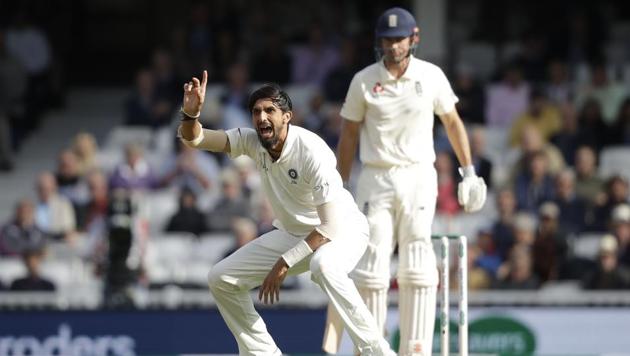 India vs England: Best bowling attack India have had - Michael Holding
Holding believes the Indian pacers can deliver on the Australia tour at the yearend as well despite the Kookaburra ball not being half as seam-friendly as the Dukes ball used in England.
UPDATED ON SEP 12, 2018 08:59 AM IST
Ask him about returning to the Oval, and Michael Holding dismisses it. "Just another ground to come and work — I don't think about what I did in my career." It was 42 years ago at the venue that the West Indies pace legend produced some of the most fearsome fast bowling ever seen, against Tony Greig's team. His career-best 14/149 had nine victims bowled and three out leg-before. But every ground Holding has entered in this series, people still seek him out for autographs or selfies.
Seven years ago, Andy Roberts, spearhead of that 1976 attack, dismissed India pacers as "spinners" on their 2011 Caribbean tour. "Did I say something wrong?" he had enquired when asked to confirm. Ishant Sharma was part of that side. But the current bunch is miles ahead, in pace, consistency and variety.
Holding, doing TV commentary here, also watched the India pacers in South Africa in January. He believes they can deliver on the Australia tour at the yearend as well despite the Kookaburra ball not being half as seam-friendly as the Dukes ball used in England.
Excerpts -
On interacting with fans:
People admire what you did. They want to show their appreciation somewhere and associate with you. The only time I have a problem is when people are hung over, and get a little bit, whatever the word is.
On India's pace attack:
This is an outstanding Indian pace attack. You know, everyone has said this is the best bowling attack, not just the pace attack, they have seen India have. I can go beyond, to the early 1970s, and certainly this is the best bowling attack India have had.
Fast bowlers are very, very important. Everybody knows when you have three-four fast bowlers, good fast bowlers, not just people who take a long run up, they can win Test matches. India have variety in spin as well. This is a great squad India have – very, very, very good bowling attack. Of course, Bhuvneshwar Kumar didn't play, and I think he is one of the best.
On the pacers' consistency, fitness:
This Indian team is very, very fit. Just looking at them, when they spend an entire day in the field, the fast bowlers can come back at 6 pm and still bowl at top pace. They are fit, strong, consistent. Mohammed Shami has bowled extremely well this series. He and Ishant Sharma have been consistent throughout.
On variety among pacers:
They are all different – different heights, different skills. Bumrah bowled from pretty wide of the crease, Shami gets a lot closer. Shami is not as tall as the others, they can complement each other and bring different skills.
On the mindset of current pacers:
Well, I don't like comparing other people with myself and the team we had. But one thing I would say is all fast bowlers were a bit quicker. And that creates more problems. I don't think you would have found too many batsmen batting outside of their crease to the fast bowlers.
As soon as Bumrah came into the team (in 3rd Test) and showed his pace, you saw the difference it made. That is always very, very important. Pace intimidates. Even if you don't bowl bouncers, the fact that you are quick and can bowl bouncers, can do damage – that is intimidation.
On India's challenge on Australia tour:
The challenge in Australia is going to be able to do something with the ball in those harsh conditions. The Kookaburra ball won't do anything near as much as the Dukes ball. The seam and the shine won't last as long, hardness won't last as long. There won't be a lot of swing or lateral movement. Their challenge will be to find ways of getting wickets under those conditions.
I've always said, the fast bowler who comes to England and does not take wickets should find another job. Outside of England, it's a lot more challenging and you have to find ways of getting people out. They did a good job in South Africa. I see no reason why they should not do as good a job in Australia.
Close