India vs England Day 3 at Edgbaston, as it happened: Virat Kohli, Dinesh Karthik take India to end of day 3
Updated on Aug 10, 2018 11:58 PM IST
The Test is tantalizingly poised with India needing 84 more runs to win and England needing five wickets. Both teams will fancy their chances of taking a 1-0 lead going into the second match of the series. Pacer Ishant Sharma took five wickets and spinner R Ashwin scalped three batsmen as India bowled out England for 180 in their second innings. Sam Curran, with his 63-run knock, led a stunning rearguard fight to help the hosts extend their lead to 193 after the hosts were down 87 for seven at one stage. In a shaky start, India lost five batsmen before skipper Virat Kohli (43) and Dinesh Karthik (18) combined for a crucial unbeaten sixth-wicket partnership. If India manage to overhaul the target, it will be their only seventh Test win on the England soil. Here's how the action unfolded on day 3 of the first Test between India and England at Edgbaston: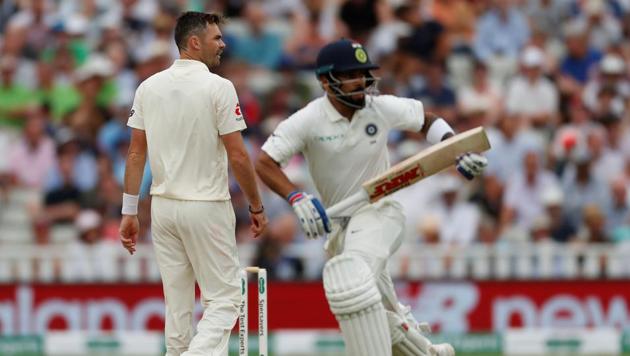 Hindustan Times, New Delhi |
Sayan Ghosh & Shayne Dias
23:52 hrs IST
End of Day 3
Chasing 194, India finish day 3 at 110 for the loss five wickets. Virat Kohli is unbeaten on 43 and is assisted by Dinesh Karthik who is on 18.
23:16 hrs IST
Spin introduced
Adil Rashid with his leggies for the first time this innings. Ashwin got the ball to spin early on and England would hope for the same with Rashid.
23:14 hrs IST
Sun breaks through
After clouds dominated proceedings right throughout the day, sun has finally had its day. It is peeping through those very clouds and Edgbaston is basking in full glory.
23:05 hrs IST
Karthik looks far more settled
After a jittery start, Dinesh Karthik now seems to move with more certainty and is more precise with what he wants to against the different challenges thrown towards him. He needs to keep his focus for a minimum of 20 more minutes today.
22:46 hrs IST
Kohli battles on
The Indian captain has been disciplined all innings and is not getting lured into playing at anything which is not under his eyes. Karthik has to stick around with his captain.
22:34 hrs IST
James Anderson breaks through
Beautiful bowling, on the perfect length, seaming away, draws a false stroke from Ashwin who edges behind and then walks back.
22:27 hrs IST
Ashwin with the license?
England have kept the Indian batting on a tight leash, this promotion could well mean that India are looking at few quick runs to arrest the momentum. Ashwin likes playing his strokes.
22:19 hrs IST
Ashwin promoted
R Ashwin comes in ahead of Dinesh Karthik and Hardik Pandya and starts off with a confident drive through covers. Possibly, an aggressive move from India.
22:16 hrs IST
Rahane departs
A faint edge, and the ball carries to Jonny Bairstow. It was short outside off, feeble shot by Rahane, ball kisses the under edge and just about carries to the keeper.
22:06 hrs IST
England lose review
Curran bowls one outside off, it angles back in, Kohli is hit on the pads, not out says the on-field umpire, England refer, but the ball is sailing over the stumps. India 63 for 3 chasing 194.
22:03 hrs IST
Probing stuff from Anderson
Much like it always it, James Anderson never offers any freebies and is always on the money asking the batsmen plenty of questions, forcing them to play almost always.
21:54 hrs IST
England on top
The ball has been seaming and the conditions are not very easy and the hosts have made full use of what is on offer. India need another Kohli special.
21:42 hrs IST
Stokes strikes
Ben Stokes bowls an absolute peach to get rid of KL Rahul. The ball pitched on middle stump and then seamed away enough to catch the edge of Rahul. Nothing the batsman could have done there.
21:37 hrs IST
Curran on the money
After an impressive first innings, Sam Curran has started right on the money in the second dig as well. He is getting the ball to swirl back in and is causing problems for KL Rahul.
21:27 hrs IST
Rahul-Kohli steady
After the loss of the openers, both Rahul and Virat Kohli are being very watchful, more so against Stuart Broad who is getting the ball to go both ways off the surface.
21:20 hrs IST
Kohli-Anderson battle begins
Anderson persisting with his fourth stump line, he has pulled back his length. Kohli is watchful with his strokes and is trying not to waft at deliveris.
21:08 hrs IST
Captain Kohli walks out
As was the case in the first innings, Virat Kohli walks out and finds India in a jam. The ball is doing a lot out there and this burst has to be negated.
21:05 hrs IST
Broad looking ominous
Stuart Broad has been on fire, he pitches the ball up entices the drive and Dhawan makes the same mistake all over again, goes at it with hard hand, edges it and Bairstow does the job. India in a spot of bother
20:57 hrs IST
First jolt to India
Broad picks up Murali Vijay with an in ducker as the right hander shouldered arms. The ball jagged back him and caught him in front of the stumps. No review taken and rightly so.
20:47 hrs IST
So far so good from India
Both openers are cautious and are trying to leave as many balls as possible. Broad and Anderson are masters in these conditions and there is enough assistance out there for them to work with.
20:29 hrs IST
Out come the Indian openers
The chase is about to start. James Anderson leads the England team out. Shikhar Dhawan and Murali Vijay walk out to face the music
20:12 hrs IST
England all out for 180
Umesh gets the final wicket as Curran edges one to Dinesh Karthik, gets dismissed for 63. India need 194 to seal the first Test match.
20:04 hrs IST
Ishant breaks through
Ishant pitches on up, Broad drives, the ball takes the edge and flies to Shikhar Dhawan at first slip who eventually holds one after a couple of drops. Nine down for England.
20:02 hrs IST
Has the momentum shifted?
The Curran innings has put England back in contention and things are looking rather flat for India. The bowlers are getting the ball to move around but the edges are not coming. With the lead nearing 200, it might well be advantage England!
19: 51 hrs IST
Curran slams 50
He backs away, takes the ball over covers on the up, gets to his 50. What a crucial innings from the young man
19: 44 hrs IST
Curran tees off
The young left-hander is playing an absolute blinder as he tonks Ashwin for two successive sixes. England rattling along
19: 41 hrs IST
Runs hurtling along
Sam Curran keeps the runs coming for England, albeit in a streaky manner. These are vital runs and might well prove to be the difference in the end.
19: 36 hrs IST
Lead crosses 150
England at 139 for the loss of eight wickets; lead crosses 150.
19: 31 hrs IST
Umesh gets rid of Adil Rashid
England lose the eighth wicket as Umesh gets one to nip back in, ball clatters the stumps, lead stands at 148
19:22 hrs IST
Play to resume
The batsmen are out in the middle and the game has resumed. This will be crucial for India as they need to get the remaining wickets before tea and as off now, England are 131/7.
19:06 hrs IST
Bad light
The match is stopped due to bad light and this can be a problem for England. Sam Curran and Adil Rashid were both set in the middle and this lapse in concentration can give India a great chance of dismissing them. England 131/7, lead by 144 runs.
19:01 hrs IST
Butterfingers Dhawan
Shikhar Dhawan misses once again and this time, the lucky batsman is Adil Rashid. It was a straight forward chance at first slip but Dhawan could not finish the catch. This can hurt India as the slip catching has been quite pathetic on certain occasions. England 120 for the loss of 7 wickets.
18:52 hrs IST
Dealing in edges
The ball is flying off the edges right now but none of them are finding any fielders. Sam Curran and Adil Rashid is living dangerously but these are valuable runs and these boundaries can come back to hurt India in the fourth innings. England 121/7
18:44 hrs IST
Chance dropped
A big opportunity goes begging as India drops yet another catch. Sam Curran edged it straight to the third slip but Shikhar Dhawan was unable to react in time as England continue to get lucky boundaries. England 115/7
18:37 hrs IST
Still not game over
India have performed really well on Day 3 but it is not game over yet for the hosts. A target of 150 will be quite tricky for India considering England's bowling attack and the visitors' woeful record when it comes to the fourth innings. England 103 for the loss of seven wickets.
18:30 hrs IST
What a spell!
This has been pure magic from Ishant Sharma and the four wickets can clinch the game for the visitors. With a lead of 109 runs, England will not be happy with the situation and this match can get over by early tomorrow morning. England 100 for the loss of 7 wickets.
18:18 hrs IST
Ishant breathing fire
Ishant Sharma has removed England's last recognised batsman immediately after lunch. Jos Buttler has to go back and India are on top right now with England seven wickets down. These are desperate times for the hosts with Adil Rashid joining Sam Curran in the middle.
17:39 hrs IST
India on top
England lead by 99 runs and it is currently India's game to lose. 5 wickets came in the first session for the visitors and it looks like the bowlers will make short work of the tail-enders. It may be too early to predict but this game can end by the end of Day 3!
17:33 hrs IST
England six down!
Another wicket for Ishant Sharma and this time, it is Ben Stokes. It is like a constant loop - balls flying off the edge and catches been taken in the slips. This time, it is Virat Kohli who completes the catch as England are 86 for the loss of six wickets at lunch.
17:29 hrs IST
Ishant Sharma strikes again!
Second wicket for Ishant Sharma and Jonny Bairstow is the batsman who ends up his giving away his wicket. An edge and yet another catch in the slips thanks to Shikhar Dhawan. England 86/5
17:20 hrs IST
Gayle picks England over India
Chris Gayle believes that England are the favourites to win the Test series against India. "I believe England are the favourites because they are playing under familiar conditions, but at the same time I would say it's not that easy against this Indian team," Gayle said.
17:10 hrs IST
Malan departs
Four wickets down! Ishant Sharma strikes as Dawid Malan departs for 20. It was a straight ball from Ishant and Malan ended up edging it to Ajinkya Rahane in the slips. England 70 for the loss of four wickets.
17:06 hrs IST
Kim Jong-Un in the house
The crowd seems to be having fun and they have a special guest it seems as a person impersonating North Korea President Kim Jong-Un has been spotted with his nuclear rocket in the stands.
Kim Jong-Un spotted at Edgbaston #ENGvIND #EngInd #KinJongUn pic.twitter.com/rDXlzq9rcU

— Smällclöne (@Smallclone) August 3, 2018
16:56 hrs IST
Malan, Bairstow fight back
The partnership between Dawid Malan and Jonny Bairstow is now 26(51) and this can be a big partnership for the hosts. They lost two quick wickets early in the day but the two batsmen have somewhat steadied the innings. England 65 for the loss of 3 wickets.
16:47 hrs IST
Ashwin remains prime threat
Ravichandran Ashwin is looking as dangerous as ever. The ball is turning quite a bit and with two catches falling short, it is actually unlucky that the off-spinner did not get any other wickets. England 57 for the loss of three wickets.
16:34 hrs IST
Shaky wicket-keeping
Ishant Sharma is getting a lot of swing in the air and Dinesh Karthik is - to put it in a mild way - not loving it. He fumbled a chance down the leg side and then, struggled to keep his hold on a low delivery. England 52 for the loss of 3 wickets.
16:26 hrs IST
Ashwin - The Danger Man
Ravichandran Ashwin has been absolutely brilliant today and he came really close to dismissing Dawid Malan and Jonny Bairstow in the same over. Bairstow's shot fell agonisingly short of KL Rahul at leg slip and then Malan was almost castled by Ashwin on the final ball of the over. England 50-3
16:19 hrs IST
Ashwin removes Root
Ashwin strikes again! This time he gets the big wicket of Joe Root. who departs for 14. He nudges at a ball down the leg side and because his connection wasn't a solid one, it flies to KL Rahul.
16:12 hrs IST
Root looking to break shackles?
Joe Root - who has played a patient knock thus far - hits Ashwin off all people for a boundary through the cover region. Is he going to try and break now. The sooner India can get his wicket, the better. England are 37/2 after 14 overs.
16:03 hrs IST
Ashwin, Shami seek wickets
Both Mohammed Shami and Ravichandran Ashwin are probing patiently in search of another wicket... or two. Root and Malan hold firm thus far. England are 30/2 after 12 overs.
15:52 hrs IST
Ashwin's magic
Both of Ravichandran Ashwin's victims in the second innings were left handers and in walks another left-handed batsman in Dawid Malan. Thanks to the early wicket, India have the advantage at the moment but Joe Root can change the game any time. England 25 for the loss of two wickets.
15:46 hrs IST
Jennings out
New day, same stuff! Ravichandran Ashwin gets the first wicket of the day as he dismisses Keaton Jennings for 8. Jennings edged the ball to the slips and KL Rahul made no mistake in completing the catch. England 18/2
15:40 hrs IST
Boundaries on both ends
Keaton Jennings and Joe Root got one boundary each and England are off to a good start. The ball is not moving dangerously at the moment and the England batsmen have not faced any tricky delivery till now. 6 overs gone, India are 15 for the loss of one wicket.
15:35 hrs IST
Pitch Report
"Exactly similar conditions what we had yesterday. It is always overcast and cool breeze blowing but by the time the match begins, the sun will be out and it will be a lot warmer. This pitch hasn't changed much. It tells you about the surface. It is not going to drastically change as the match goes on. Nothing too different from day two to day three."
15:30 hrs IST
Game Time
Joe Root and Keaton Jennings are out in the middle and Ravichandran Ashwin will resume bowling. Can India strike early or we will get to see another magic knock from Joe Root?
15:25 hrs IST
Gayle - Virat Kohli's new fan
Virat Kohli has a fan in Chris Gayle after he scored a brilliant hundred on Thursday. It was a captain's knock from Virat. The best part was how he batted with the tail. That is the perfect start you want in a series," Gayle told reporters during an interaction at a promotional event on poker. While the other Indian batsmen came a cropper, Gayle expects that Kohli's will certainly lift the spirits.
15:17 hrs IST
Poor start for England
England, which started the day by adding just two runs to its overnight 285-9, ended it by closing on 9-1 in its second innings after offspinner Ravichandran Ashwin bowled Alastair Cook for 0, in a virtual repeat of the opener's first-innings dismissal.
15:08 hrs IST
Weather Alert
It's Muggy in Birmingham ..... #ENGvIND

— Michael Vaughan (@MichaelVaughan) August 3, 2018
15:02 hrs IST
England bowling
The Day 2 may have belonged to the brilliance of Virat Kohli, but it will be unfair to not talk about the England bowlers. Sam Curran returned career's best figures of 4/74 while pace spearhead Anderson (2/41), Adil Rashid (2/31) and Ben Stokes (2/73) accounted for the rest of the wickets. Curran was at his best as he bulldozed his way through the Indian top-order.
14:56 hrs IST
Ashwin's bunny
Ravichandran Ashwin has now dismissed Alastair Cook nine times - the joint highest along with David Warner. When it comes to dismissing Cook in Test matches, South Africa pacer Morne Morkel tops the list with 12 instances.
14:47 hrs IST
Practice time
Day 👌#ENGvIND pic.twitter.com/ZeTZQKOIGP

— BCCI (@BCCI) August 3, 2018
14:43 hrs IST
Bharat Army's new chant
The 225-ball 149 earned Kohli praises from fans and experts alike with the Bharat Army – official Indian cricket team supporters group – coming up with a chant for the charismatic cricketer. In a video posted by The Bharat Army, the fans can be heard chanting: "We've got Kohli, Virat Kohli, I just don't think you understand, he's MS Dhoni's man, he smashes Pakistan, we've got Virat Kohli!"
14:15 hrs IST
'Not my best knock'
Virat Kohli's innings of 149 was really special for all the Indian cricket team fans, but the skipper believes that it comes second to his century against Australia in the 2014 series at Adelaide. "This knock comes second to Adelaide. The Adelaide knock remains very special to me because it was in the second innings and we were chasing a target. I had total clarity that we were going for the target and not once did I think that I will not go for the chase," Kohli told BCCI in an interview.
14:12 hrs IST
Welcome to Day 3
Hello and welcome to the Day 3 of the first Test match between India and England at Edgbaston. The game is evenly placed at the moment with both teams looking to gain advantage. Day 2 belonged to Virat Kohli as he slammed his first century on English soil and brought India back into the game after losing wickets in a heap. Ashwin joined the party late in the third session as he dismissed former England skipper Alastair Cook for a duck.
Close Story
Personalise your news feed. Follow trending topics