India vs England: Ravi Shastri questions performance of past greats while defending poor show in England
Updated on Sep 05, 2018 10:44 PM IST
Ravi Shastri brushed aside criticism that Virat Kohli's team is not living up to overseas challenges, after the 1-2 loss in South Africa. Kohli had said the team must learn to 'cross the line'.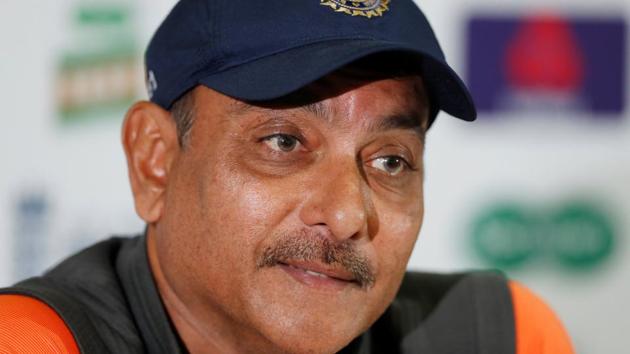 India coach Ravi Shastri has rejected criticism of the current team's failings in the last two Test series in South Africa and England, instead countering that the previous teams in the last two decades with stalwarts had done less.
"Nothing to take away (from England), the endeavour of this team is to travel well, compete and win. If you look at the last three years, we have won nine matches overseas and three series," he said in a media interaction on Wednesday and India's credentials as No 1 had been questioned.
"I can't see any other Indian team in the last 15-20 years that has had the same run in such a short time, and you have had some great players playing in those series."
Virat Kohli's team has faced criticism after losing the fourth Test in Southampton within four days to concede the series 1-3 with the final Test at the Oval starting on Friday becoming only relevant as Alastair Cook's farewell and a chance for the visitors to get a win to narrow the series margin to 2-3.
India lost their last two series in England – 0-4 in 2011 when Sachin Tendulkar, Rahul Dravid and VVS Laxman played towards the end of their careers and lost 1-3 in 2014 when the batting hopes were on Kohli, Cheteshwar Pujara and Ajinkya Rahane.
The nine matches Shastri referred to were in Sri Lanka (two in 2015 and three in 2017), South Africa (1 in 2018), West Indies (2 in 2016) and England (Trent Bridge).
ALSO READ: 'Dravid had agreed to become batting consultant before chat with Shastri'
THIRD LOSS IN ROW
India's last overseas series win against a major Test playing nation came in 2007, a 1-0 effort under Dravid's captaincy in England. They have never won a series in Australia or South Africa. India's last Test win in Australia goes back to 2008, at Perth under Anil Kumble's captaincy.
India won a Test in South Africa in 2010 and 2013-14 as well.
Shastri criticised poor shot selection and lack of match awareness for the fourth Test defeat, but said India will fight on.
"In shot selection, (it) left a lot to be desired; we blew a very good position straightaway after tea on day two," he said ahead of the final Test starting at The Oval on Friday. "That's an area where you can tighten, be aware of what the team needs, being aware of the match situation, that will be a big help."
ALSO READ: Southampton debacle completes a decade of heartbreak against spin for India
MENTAL TOUGHNESS
He felt India need to tighten up mentally than in terms of technique.
"You've got to get tough mentally. We've run teams close overseas and we have competed. But now it's not about competing, we have to win games from here. The endeavour is to understand where you made the mistakes and take it head on and try to correct it.
"The scoreline says 3-1, which means India have lost the series. What it doesn't say is India could have been 3-1 or it could have been 2-2. And my team knows it. They would have hurt and rightly so after the last game.
"But this is a team that will not throw in the towel. It will come out there and look to compete and not be on the first flight home. Rest assured, and that's exactly what we will do."
He backed Hardik Pandya against criticsm that he has not been consistent with the bat or ball to be called a Test all-rounder and said India would be flexible about fielding five bowlers again or a sixth batsman.
"When you're young, you've got to be thrown into the deep end. You've got to persevere and see, if it works or it doesn't. If it doesn't work, there'll be another option. But you have to give that opportunity when you think there is that talent there. And stick with that.
"You always have to be flexible. You can't be rigid in your thinking. You've got to be flexible, you've got to see the conditions, see what they will be like day after tomorrow. And then take the call."
Personalise your news feed. Follow trending topics