In Malahide, Bhuvneshwar Kumar brews an Irish spell
Published on Jun 27, 2022 08:49 PM IST
The India swing bowler was masterful in helpful conditions that proved too tough for Ireland to handle in the rain-hit first T20 on Sunday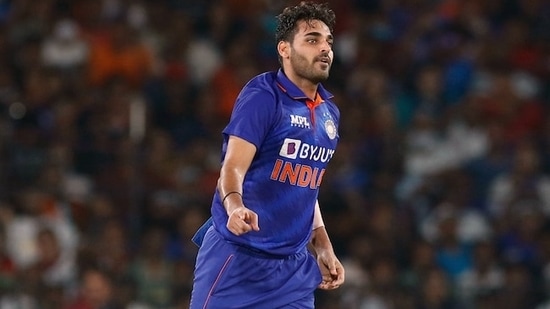 Batters are always in for a tough time if there are overcast skies hanging above a pitch that has been under covers due to rain. At Malahide in Dublin on Sunday, Bhuvneshwar Kumar thus was primed for runaway success even before he had bowled the first ball against Ireland.
But when the conditions are so much in favour of seamers, there is also the risk of the balance tipping over. Controlling the swing can be an issue. And if there is too much moisture, the ball might get wet and stop seaming. How the pitch plays is important too. "After the first over, Bhuvi said it was stopping a bit," India captain Hardik Pandya said in the post-match press conference after their seven-wicket win in the rain-curtailed T20I.
Yet Kumar still did his thing. A first-over wicket maiden, three runs in the second followed by a 14-run third over, Kumar held out just like he always does, finishing with an economy that is almost always a notch lower than the other bowlers. All he needs is to find the right length. And on Sunday, it took him just one ball—the first delivery that pitched short of good length and strayed a little down the leg to Paul Stirling. When Ireland captain Andy Balbirnie came on strike, Kumar had already produced an outswinger and an inswinger. Kumar repeated the sequence. First ball, an outswinger, and Balbirnie barely managed to open the face of his bat and guide it to point. To the next ball—an inswinger—Balbirnie was caught in his crease, staying leg-side and leaving a yawning gap between bat and body for the ball to knock over his off-stump.
Also Read | 'Fingers were stiff': Chahal reveals how he dealt with 'cold' weather vs Ireland
Ireland are still a young cricket nation. But in their country, at the only venue they have hosted a Test, they are not exactly novices. For Kumar to boss with the ball even there speaks of a degree of skill almost unmatched in contemporary circles. It's also a timely reminder of his practicality, especially in the power play if India have Jasprit Bumrah, Mohammed Shami, and now Harshal Patel, to take care of the slog overs.
"We all know his calibre," Pandya said. "He keeps doing the same thing but is always swept under the carpet. There isn't much talk about him. The consistency with which he has performed demands a lot of respect. For me, Bhuvi has been top-class."
Also Read | 'Ben Stokes wouldn't mind if Virat Kohli leads India in Rohit Sharma's absence': Graeme Swann ahead of Edgbaston Test
Kumar has an economy of 8.34—his worst after New Zealand (9.41)—in the only two T20Is he has played in England till date. This exhibition of seam bowling, though cut short and against an inexperienced side, may have given a peek into what can be expected of Kumar in the rest of the tour.
Test match lengths are a luxury when you play T20 on featherbeds in the subcontinent. But in the UK, Kumar is looking to explore. "Doesn't matter what format it is, if you get this kind of wickets, it is always good to bowl Test match line and length," he said after the match. And when Bhuvi is fully fit and in this kind of rhythm, batters also don't get time to tackle him.
Personalise your news feed. Follow trending topics