India vs New Zealand Highlights, 2nd ODI: Jadeja's knock in vain as India lose by 22 runs
India vs New Zealand Highlights 2nd ODI: Follow Highlights of the 2nd ODI between Ind and NZ at the Eden Park in Auckland.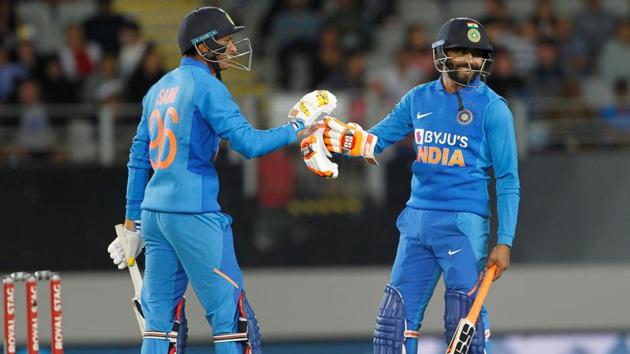 Updated on Feb 08, 2020 03:50 PM IST
Highlights, India vs New Zealand 2nd ODI: Ravindra Jadeja tried to go big in the final over, but gets caught in the deep. India were bundled out for 251, losing the match by 22 runs. Jadeja was supported towards the end by Navdeep Saini, who hammered 45 off 48 balls before he was cleaned up by Jamieson. Shardul Thakur was cleaned up by Colin de Grandhomme after India crossed the 150-run mark. Shreyas Iyer registered a half century but was dismissed by Bennett as he gave away an easy catch to keeper Latham. Colin de Grandhomme put an end to Kedar Jadhav's struggling innings, leaving India gasping for breath with five down under a 100. Tim Southee had given India a body blow by cleaning up captain Virat Kohli after India lost openers Mayank Agarwal and Prithvi Shaw early in reply to New Zealand's 273 for 8 batting first in the 2nd ODI at the Eden Park in Auckland.
India vs New Zealand scorecard, 2nd ODI at Auckland:
15:50 hrs: Winning captain, Tom Latham: "Obviously, a great victory today. Last game the batters won the game, today the bowlers did the job. I think that total was okay, it was a funny wicket. We managed to take wickets upfront and the bowlers kept taking wickets. We've had some close games with India, delighted to get the win. It was just about juggling, Tim was struggling with illness as well. That epitomises the team. Kyle on debut was fantastic. Delighted for him. It'll be great to win 3-nil from here. Fingers crossed, and hopefully we keep learning."
15:45 hrs: Losing captain, Virat Kohli: "Two pretty good games, great for the fans. Particularly impressed how we finished the game. First half we let things slip away. I think Saini and Jadeja showed great character, as I said one-day cricket in this calendar year is not as relevant like T20Is and Tests. A game where we could have taken chances and capitalised. We could definitely consider changes, we have nothing to lose now. No messages were sent to Jadeja or Saini. We didn't know Saini can be as good with the bat. We want guys to figure out situations themselves."
15:43 hrs: Man of the match - Jamieson: "Bit of a high at the moment. Still kind of sinking it. The game kind of ebbed and flowed. It was pretty simple: we were just trying to get it through 50 overs. Just trying and stick with Ross. Relief was the feeling to get the first wicket out of the way and not give too many runs. International cricket is quite high intensity, but it was pretty cool."
15:31 hrs: OUT! Jadeja tries to go big, gets caught in the deep. India 251 all out - lose by 22 runs.
15:27 hrs: RUN OUT! Yuzvendra Chahal has been run out after a confusion in the middle. India one wicket away from defeat. IND 251/9
15:22 hrs: 12 runs in the 47th over - India need 28 to win in 18 balls now. Required run rate still over 9. Bennett comes into the attack.
15:16 hrs: Required run rate - 10. India need 40 runs to win in 4 overs. Ravindra Jadeja will be the key here. FIFTY! Two quick singles off Jamieson in the first two balls, and Jadeja brings up his half century. He brings out the sword.
15:11 hrs: GONE! Saini's cameo comes to an end as he is cleaned up by an inswinger from Jamieson. He departs for 45. India 229/8
15:10 hrs: SIX! What a massive hit from Navdeep Saini - he gets full force of the bat on this one and the ball travelled a long way into the stands for the maximum.
15:04 hrs: FOUR! FOUR! Back-to-back boundaries from Navdeep Saini - this is his third boundary in the over. Colin de Grandhomme has been taken to the cleaners now.
15:02 hrs: FOUR! Navdeep Saini plays an inside out over the long-on for a boundary. India need 63 off 40 to win the match.
14:56 hrs: CHANCE! A quick single from Navdeep Saini could have proven to be too costly to India - it almost saw him getting run out. But he managed to reach the crease owing to a poor throw from the fielder.
14:51 hrs: SIX! Navdeep Saini joins the party! Wide and short from Neesham, Saini got full swing off his bat and the ball travelled past the boundary ropes for another maximum. India nearing 200-run mark.
14:44 hrs: SIX! A bouncer from Jamieson and Ravindra Jadeja has pulled it to deep backward square leg for the maximum. India need a few more of these.
14:38 hrs: The runrate has crossed 8-run mark. Ravindra Jadeja needs to find a way to get a few boundaries going.
14:30 hrs: Jamieson returns to the attack as New Zealand look to crample India's resistance. Jadeja remains India's final hope at the moment.
14:25 hrs: FOUR! Navdeep Saini hammers Neesham for a boundary first ball. Neesham has proven to be expensive today and India will not mind the bowler bowling a couple of more overs here.
14:10 hrs: OUT! Colin de Grandhomme has cleaned up Shardul with a slower delivery. Pitched it well up, and the ball just went inside. India lose their 7th wicket. IND 153/7
14:05 hrs: FOUR! FOUR! Wide and high to Shardul, he smashes hard on the ball, and it goes to midwicket fence for a boundary. He hammers the next one over the bowler's head for a straight boundary. India cross 150.
13:56 hrs: A flick for four! A juicy half volley on the pads from Neesham and Shardul Thakur is a good enough batsman to take advantage of it. He flicks it over the in field and into the vacant area for a boundary.
13:51 hrs: Fifty and out! Shreyas Iyer departs immediately after getting to his fifty with a boundary. A nothing shot really. He had done all the hard work, was looking in sublime touch but then suddenly decides to manufacture a shot out of nothing. He turned an ordinary length delivery into a good one and got an outside edge to the keeper.
13:48 hrs: 14 run over! 7 of them extras including 5 wides. Just the kind of over India needed to put some pressure back on New Zealand. Jimmy Neesham has to do better than this, you don't wanna give a side like India a sniff.
13:38 hrs: Lucky boundary! Width provided by Southee. Jadeja went hard at it, got a thick outside edge and it went over the slips for his first boundary.
13:34 hrs: Good over from Bennett! Only 2 runs off it. Jadeja is watchful, he knows this is the last recognised pair for India.
13:24 hrs: SIX and a FOUR! Shreyas Iyer is in dream touch. Wickets might be tumbling at the other end but Iyer has decided not to die wondering. What fantastic batting this from India's No.4. If India have to win this one then he has to score big, just like he did the other night at Hamilton.
13:20 hrs: Southee gets Jadhav! A soft dismissal. It was full and wide, was there to be hit but Jadhav just scoops it to short cover. It was a result of some persistent pressure from New Zealand.
13:05 hrs: Jadhav breaks the shackles! Kedar Jadhav decides to go for it and manages to get past mid on for a boundary.
12:54 hrs: Iyer improvises! FOUR! We can never be short of action till the time Shreyas Iyer is in the crease. A short and wide delivery, Iyer moves in the crease, makes room and cuts it aerially over point.
12:47 hrs: BOWLED! KL Rahul has chopped it onto his stumps. It wasn't there to play the cut shot, was too close to the stumps and Rahul pays the price, Grandhomme is ecstatic. India 4 down for 71.
12:35 hrs: Up and over! Good shot from Shreyas Iyer and he will get four for it. He made room for himself and played with the field, knew that mid-off was up inside the ring and went over him.
12:30 hrs: Southee cleans up Kohli! Huge moment in the game, New Zealand's most experienced bowler has sent back India's most experienced batsman. Fuller length delivery, it comes back in ever so slightly but Kohli plays all around it. He wanted to flick it through mid-wicket but fails to make contact. New Zealand are on top.
12:25 hrs: Fifty up for India! Iyer runs it down to third man for a single, which bring sup India's fifty in 8.3 overs. The run rate is fine but they would have been happy if they hadn't lost both their openers.
12:18 hrs: Maiden from Jamieson! What a contest this is. A raw talent on his debut up against one of the greatest ODI batsmen of all time and so far Jamieson has given Kohli a run for his money.
12:13 hrs: Great start from Iyer! Pure class from Shreyas Iyer . He has started off exactly where he had left. A confident punch through the covers to get off the mark followed a depth touch past the slip cordon for his second boundary.
12:10 hrs: BOWLED! First ODI wicket for Kyle Jamieson and you cannot ask for a better delivery than that one. Brilliant seam position, it pitches just outside off stump, comes back in viciously to go through the bat and pad of Prithvi Shaw. He was guilty of playing a booming drive without covering the swing, but that's the way Prithvi Shaw plays. But hat a day Jamieson's having on debut.
12:05 hrs: Smashed by Prithvi Shaw! Too much width from Southee and Prithvi won't miss out on that one. He punches it through the gap with utmost precision. The young man has started off in a great fashion today.
11:56 hrs: WICKET! Mayank Agarwal goes back to the pavilion after edging Bennett's delivery to Ross Taylor in the slips.
11:47 hrs: India score 12 runs in the first over with Shaw hitting three boundaries.
11:45 hrs: Indian openers Prithvi Shaw and Mayank Agarwal have come out to bat. Shaw has slammed two consecutive boundaries off Hamish Bennett to start the innings.
11:13 hrs: Great finish for New Zealand! 14 runs off the last over from Jasprit Bumrah and New Zealand have recovered from the collapse in the middle. A 76-run stand between Ross Taylor and Kyle Jamieson.
11:03 hrs: 250 up for New Zealand! Another productive over, they have taken 8 runs Bumrah's over. This has been an absolute brilliant partnership after New Zealand suffered a collapse in the middle.
10:56 hrs: Jamieson hits his first six! Take that says Jamieson. He was waiting for that knuckle ball, rocked back and gave it a full whack. The ball sails over for the second six of the over. Just the over New Zealand needed.
10:53: SIX! Ross Taylor is playing a little gem here! A full toss outside off stump and Taylor slogs, gets it to go just over Jadeja at long-on for a six.
10:49 hrs: Fifty for Ross Taylor! He follows up his century with a fifty and now he has to stay there till the end to get New Zealand over the 250-run mark.
10:47 hrs: Good comeback from Saini! He bowls four consecutive dot balls after conceding 7 runs in his first two balls. Taylor might reconsider taking a single in the first part of the over from now on.
10:43 hrs: SIX! Taylor takes Saini on and gets the reward. That famous Taylor heave over mid-wicket. That ball was in the slot and Taylor doesn't hold back, he gets the connection and it sails over for a six.
10:38 hrs: A good effort from Jasprit Bumrah in the end but he probably could have caught that one had he not ran around it. A full and wide delivery from Shardul, Taylor gets a thickish outside edge and it flies to third man.
10:30 hrs: Chahal gets Southee! Another one falls. Full and around off, nicely flighted. Southee looks to play the slog but he has to drag this ball to the leg side. Hence, he mistimes it and finds Navdeep Saini at long on. New Zealand all set to fall short of playing their 50 overs.
10:20 hrs: Stat Attack!
New Zealand have lost their last 5 wickets (3-7) inside 30 runs
They were 157-2 and then lost 5 quick wickets in next 30 runs —187-7.
This is their worsts collapse of 3-7 wickets at home against India and 4th worst overall in ODIs against India.
2nd worst collapse of 3-7 wickets for New Zealand at Auckland. The worst is of 16 runs against Australia in 1997.
10:14 hrs: NZ collapsing in grand style! Caught and bowled! Chahal cannot believe his luck. It was a shorter delivery, Chapman had the right idea of working it through the on side but ends up chipping it straight back to the bowler. New Zealand 7 down.
10:10 hrs: Thakur gets his second! 3 wickets in 3 overs for India. A nothing shot from Colin de Grandhomme. It was a shorter delivery from Thakur and Grandhomme just played timid pull shot with no timing at all. That landed straight into the hands of Shreyas Iyer at deep square leg.
10:04 hrs: Jadeja finishes! That's end of Ravindr Jadeja's spell. What a terrific day he's had so far. 10 overs 1 for 35, simply outstanding from the left-arm spinner on this small ground.
9:59 hrs: Another run out! You don't take Ravindra Jadeja on. A disastrous call from the non-striker Jimmy Neesham. Just a tap from Taylor and it went straight to Jadeja at point, he had the luxury of a perfect bounce too. He kncoked stumps down and Neesham was nowhere in the frame. New Zealand have lost half their side now.
9:50 hrs: Jadeja traps Latham! OUT! New Zealand lose their captain Tom Latham and their review. A flatter delivery from Jadeja that went straight with the angle. Latham, just like Nicholls went for the sweep shot but missed it completely and what's worse for New Zealand is he went for the review and the replays showed three reds.
9:37 hrs: Martin Guptill is run out for 79! What a big moment in the game. There wasn't really a run in it but Ross Taylor just went off after playing that reverse dab. Credit to Shardul Thakur for getting to the ball in a flash and letting in a rocket return to KL Rahul. Guptill had no chance, he departs for 79. This is a huge wicket for India.
9:33 hrs: Pull shot for four! A short delivery from Thakur with no real venom. Guptill rocks back and rolls his wrists over it to pull it all along the carpet, a good end to the over from the New Zealand perspective.
9:25 hrs: Thakur sends back Blundell! Blundell tried to repeat the shot which gave him a boundary in the previous ball but this time finds Navdeep Saini at mid-on, who makes no mistake. India have got their second wicket. He would have better off had he went straight down the ground instead of swinging across the line.
9:21 hrs: A quiet period! The last three overs have yielded 12 runs and have largely been without any action. New Zealand are building up for a big total.
9:12 hrs: Run out chance missed! That could have resulted in a wicket had Shreyas Iyer picked up the ball cleanly. A defensive push from Martin Guptill, he had no intentions for a single but Blundell came charging down the wicket in search of one. Iyer, at point, failed to take advantage of the misunderstanding as he fumbled.
9:02 hrs: Punched down the ground for four! Tom Blundell shows his class, a top shot from the right-hander. It was a good length delivery from Saini, Blundell stands tall and punches it straight down the ground for his first boundary.
8:56 hrs: Catch? Six? Catch? It's a SIX! Guptill must've had his heart in his mouth there. He danced down the track to Chahal, did not get the desired connection but it just sails over Shreyas Iyer at long-off.
8:53 hrs: Fifty for Guptill! This is the first half-century for Guptill in 10 innings. His 36th one in ODIs, 5th against India, 21st at home, 6th at Auckland and 1st of 2020.
8:47 hrs: Chahal gets Nicholls! LBW! Nicholls did the right thing by going for the review as replays showed it was close but the umpire's call stays. Chahal has broken the opening stand. A flighted delivery from the wrist-spinner, Nicholls went for the sweep but the ball turned a bit and thudded onto Nicholls' back leg. Umpire Bruce Oxenford had a good hard look at it and decided to raise his finger.
8:39 hrs: Chahal DROPS Nicholls! Did that carry? Yes it did! Chahal would be disappointed with that one. Yes, it was hit hard straight back at him by Nicholls but it was at a good height and he got both hands to it. How costly will that turn out to be?
8:36 hrs: Guptill has clobbered that one! Brilliant shot from the opener. It wasn't all that shot from Chahal but Guptill was quick bend down on one knee and deposit it deep into the stands.
8:28 hrs: Guptill brings out the sweep! First time Chahal has drifted down the leg side and Martin Guptill has taken full advantage of it. He bends down and played a perfectly-placed sweep shot. This is now turning out to be an outstanding start from New Zealand.
8:15 hrs: Fifty up for New Zealand! A high risk shot from Nicholls and he gets the results. He went across the stumps and scooped that one from way outside the off stump to get it fine and away from the keeper Rahul.
8:08 hrs: SIX! Terrific shot from Martin Guptill. He played one earlier that went for four and now gets a lot of bat on it and it lands into the second tier. Bumrah's tactics of going short to Guptill is not working.
8:06 hrs: Back-to-back boundaries! Poor stuff from Bumrah. He strayed down the leg side twice and on both occasion Guptill glanced it fine to collect to easy fours.
8:03 hrs: Good start from Saini! Saini was brought into the attack in place of Thakur and the tall Delhi pacer starts well, gives just 2 runs in the over.
7:58 hrs: Shot from Guptill! What a reply from the NZ opener. Bumrah bowled a terrific bouncer to him in the previous ball but instead of getting subdued, Guptill decides to give Bumrah the charge and succeeds in getting another four.
7:56 hrs: FOUR! Great shot? Great delivery? We guess both. A snorter of a delivery from Bumrah and Guptill does well to somehow guide the ball over the keeper's head for a boundary.
7:52 hrs: Glorious shot from Nicholls! Just hold the pose there. What an excellent shot from Henry Nicholls. Nothing wrong with the delivery from Thakur. Pitched on the middle around the good length area, Nicholls gets a good stride forward and lofts it straight over the bowler's head to collect the first boundary for New Zealand.
7:48 hrs: Tight from Bumrah! Another good over.This has been an excellent start from both Bumrah and Thakur. New Zealand might have reassess the totals in their minds here.
7:43 hrs: Good decision by umpire Oxenford and good decision from India! A huge appeal from Shardul Thakur. He was convinced about that one but KL Rahul shook his head and Kohli went with his keeper, deciding not to review that one. And rightly so, replays confirm there was an inside edge from Guptill's bat before thudded onto his pads. But nevertheless, a very good delivery from Thakur.
7:39 hrs: Guptill and Nicholls are away! Both the New Zealand openers have opened their accounts. 2 runs from Bumrah's first over.
7:34 hrs: Good start! Just the one leg bye, so technically a maiden from Shardul Thakur to start with. This is an important match for the Mumbai seamer. He was taken to the cleaners the other night but the Indian team management has given him another opportunity today.
7:30 hrs: Shardul Thakur has the new ball in hand, he will be up against Martin Guptill.
7:28 hrs: The average first innings score at this venue is 264; last 5 completed (either all out or full 50 overs played) ODI innings.
9: Out of the 9 matches that India has played at this venue, they have won 4, lost 4 and tied once.
14: runs required by Ross Taylor to complete 4000 ODI runs in New Zealand.
1: If Tim Southee dismisses Virat Kohli, Virat will then become the most favoured victim for Southee in ODIs.
7:24 hrs: Pitch Report - Former New Zealand pacer Simon Doull reckons the 'pitch should have good bounce and some early movement for the pacers with the new ball'. Doull, however, was quick to add that once the batters see off the new ball there will be runs on offer.
7:19 hrs: "Would have bowled as well, looks like a good surface and we need to put the runs on the board. The record chase in Hamilton was good for us, need to do well with the bat here, build partnerships and gets the runs on the board," said New Zealand skipper Tom Latham.
7:16 hrs: "Pretty hard wicket, the new-ball might do a bit, smaller ground, short straight boundaries and it's difficult to defend. Need to bowl well, put the pressure on their batsmen and take some early wickets. Need to bring the intensity we had in the T20Is into the 50-over game," said India captain Virat Kohli.
7:13 hrs: New Zealand (Playing XI): Martin Guptill, Henry Nicholls, Tom Blundell, Ross Taylor, Tom Latham(w/c), Mark Chapman, James Neesham, Colin de Grandhomme, Kyle Jamieson, Tim Southee, Hamish Bennett
India (Playing XI): Prithvi Shaw, Mayank Agarwal, Virat Kohli(c), Shreyas Iyer, Lokesh Rahul(w), Kedar Jadhav, Ravindra Jadeja, Shardul Thakur, Navdeep Saini, Yuzvendra Chahal, Jasprit Bumrah
7:10 hrs: Debut for Jamieson! New Zealand have handed debut to tall fast bowler Kyle Jamieson in place of Ish Sodhi. While Mitchell Santner makes way for Mark Chapman. So no spinners for New Zealand today.
7:04 hrs: 2 changes for India! India have made two changes to their playing XI. Mohammed Shami has been rested. He has been replaced by Navdeep Saini and Kuldeep Yadav makes way for Yuzvendra Chahal.
7:00 hrs: Toss update! India opt to bowl first against New Zealand at Auckland.
6:55 hrs: Some numbers of Eden Park, Auckland
Highest team total: 340/5 by New Zealand against Australia in 2007
Lowest team total: 73 by New Zealand against Sri Lanka in 2007
Highest individual score: 146* by M Stoinis (AUS) against New Zealand in 2017
Best bowling figures: 6/28 by MA Starc (AUS) against New Zealand in 2015
Biggest partnership: 196* MS Dhoni and Suresh Raina (IND) for 5th wicket against Zimbabwe
6:50 hrs: A look at the pitch to start with. This is sure to bring smiles on the batsman's face. Bowlers? Good luck playing on this on a small ground.
6:45 hrs: Shardul or Navdeeep? Shardul Thakur conceded 80 runs in his 9 overs in Hamilton. It will be interesting to see whether he holds his spot in the side or Navdeep Saini gets a look in Auckland.
6:40 hrs: A debut for New Zealand? 6 ft 8 inches and the tallest fast bowler currently in New Zealand - Kyle Jamieson is set to make his ODI debut against India in the 2nd ODI at Auckland today.
6:35 hrs: Fielding a concern for India! Fielding and bowling let India down in the first ODI. Kuldeep Yadav dropped Ross Taylor and he went on to make an unbeaten 103. Apart from that Shami was guilty was guilty letting two boundaries go through his legs. "We are trying to get better but we were average. There is no doubt about that. We can get better," said India's fielding coach R Sridhar on the eve of India vs New Zealand 2nd ODI.
6:30 hrs: Hello and a very good morning to everyone! Welcome to the live coverage of the India vs New Zealand 2nd ODI at the Eden Park in Auckland.
Close Story
Personalise your news feed. Follow trending topics