India vs New Zealand, 2nd Test, Day 2, as it happened: Boult leads the way, India 90/6 at stumps, lead by 97 runs
Hindustan Times |
HT Correspondent
Mar 01, 2020 12:55 PM IST
India vs New Zealand, 2nd Test, Day 2, As it happened: Follow highlights from Day 2 of the second Test encounter between India and New Zealand in Christchurch.
As it happened: Shami, Bumrah and Jadeja combined to send New Zealand packing for 238 runs and thus India took a slender lead of 7 runs at the end of the first innings. There is a lot of assistance on this pitch and the task will be cut out for the Indian batting order. Southee and Boult got rid of the Indian openers to open up the match nicely.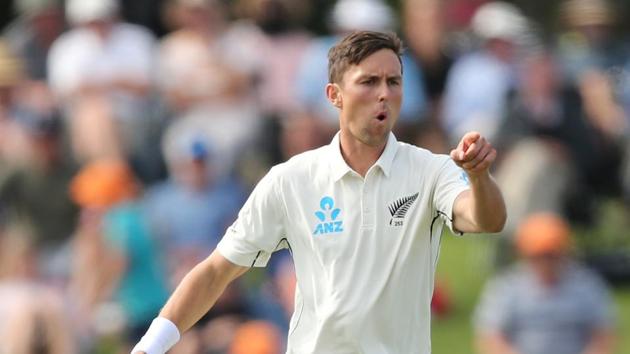 New Zealand came out all guns blazing and led by Trent Boult they reduced India to 90 for 6 at stumps. The visitors lead by 97 and would aim to get a score around 200 to put any pressure on the hosts. Rishabh Pant and Hanuma Vihari are at the crease and there is Ravindra Jadeja waiting in the wings,
11:34 hrs: That will be stumps - Trent Boult's two dismissals have brought New Zealand back into the contest. India are 6 down and they lead by 97 runs. The ball is still moving around but India need to get a lead in excess of 200 to put pressure on New Zealand.
11:29 hrs: Umesh has been taken out - A corker of a delivery by Boult, he gets one back a massive way and the ball keeps goes on to clobber the stumps. This game has turned on its head, India have lost 3 quick wickets and New Zealand are back on top.
11:23 hrs: Vihari has walked in - Another crucial phase for India. Wagner is back and he will target Vihari with short-pitched stuff. He was brilliant in the first innings, he took the aggressive option and was successful. How will he respond?
11:19 hrs: Boult has smashed Pujara's stumps - An absolute peach from Trent Boult, he comes from around the wicket, bowls a hooping inswinger, comes back in a mile to sneak between bat and pad of Pujara. India are 5 down, the lead is not yet 100.
11:07 hrs: Rahane has been castled - He shuffled across the stumps, Wagner bangs the ball in short, it does not rise as much and the right-hander has chopped it on to his stumps. Another big scalp for New Zealand, they have been relentless.
10:58 hrs: Stern examination by Wagner, Jamieson - This is superb, this is relentless by the bowlers. They are clobbering Rahane and testing his technique and resolve. The right-hander has been hit on the helmet, on the gloves and on the body so far.
10:47 hrs: Wagner is in the mood - He is running in and banging the ball in short. Immense problems for Rahane. He has copped a few here.
10:36 hrs: DROPPED! A very poor shot by Rahane, he pulls Wagner and well, de Grandhomme has spilled an easy chance at deep square leg. New Zealand are stunned, India has got a massive reprieve.
10:31 hrs: Kohli's miserable run in the series ends -
· 4th consecutive without scoring any fifty by Kohli in Tests.
o The last time Kohli went 4 or more consecutive innings without any fifty was in 2017.
o Between February 9 to 26 Jul 2017, Kohli had the previous run of 4+ consecutive innings of without any fifty in Tests (7 Innings).
§ Innings includes vs BAN, AUS and SL.
· Average of 9.50 in this series — 2nd lowest for Kohli in a Test series.
o His worst is of 9.20 in the Border-Gavaskar Trophy of 2016-17 in India.
· Colin de Grandhomme is the 6th new bowler in this season of 2019-20, whom Kohli has dismissed out of total 8 bowlers in Tests.
o Kohli getting dismissed by 6 new bowlers in this season is the most for him in a single season against bowlers whom he had never faced before 2019-20 in Tests.
· Only 4th time Kohli has been dismissed LBW in both the innings of a Test.
o vs AUS, Delhi, 2013
o vs NZ, Indore, 2016
o vs AUS, Bengaluru in 2017
o vs NZ, Hagley Oval, 2020
10:13 hrs: Rahane has to step up - This partnership needs to build for India, the lead is over 60 and they need to be together when the stumps are drawn. This match is very even at the moment.
10:07 hrs: Kohli has been taken out - Colin de Grandhomme has got one to nip back in, Kohli takes his front foot across and the ball cannons into the front pad and the skipper trudges off.
9:55 hrs: Kohli looking to dig in - India's lead has crept over 50 as Virat Kohli and Cheteshwar Pujara are looking to dig in a combat the conditions on offer.
9:27 hrs: Shaw has been bounced out - Tim Southee bangs one in, Shaw is in all sorts of a tangle, cannot get out of the way and ends up gloving it to second slip. This game is wide open, New Zealand have started brilliantly.
9:00 hrs: Boult strikes early - Lovely ball, lands on a length and seams back in to trap Mayank right in front of the stumps. India have been jolted early here, this ball is still moving around.
8:51 hrs: Shaw and Agarwal are out - India need a good start, the openers will have their task cut out. Southee will get this ball to move around on this surface
8:33 hrs: Pant runs, dives and takes a superb catch to end Kyle Jamieson's innings for 49. India have got a lead of 7 runs. This game is even at the moment, a cracking 2nd innings awaits us.
8:25 hrs: What a catch by Jadeja, Wagner nailed that pull shot, Jadeja leapt in the air at deep square leg, pulled out his left hand and took an absolute blinder.
08:07 hrs: New Zealand are slowly inching towards India's total as they trail by just 33 runs. One boundary each for Kyle Jamieson and Neil Wagner as the partnership is looking quite dangerous.
07:59 hrs: Dropped! Hanuma Vihari has dropped a sitter! Neil Wagner top edged the next ball from Shami towards fine leg but Vihari was unable to complete the catch. New Zealand 194 for the loss of eight wickets.
07:53 hrs: Mohammed Shami thought he has claimed his third wicket but the ball came off Neil Wagner's shoulder before Rishabh Pant completed the catch. India continue to hunt for the final wickets as New Zealand are 191/8.
07:44 hrs: India came out swinging after lunch but Colin de Grandhomme and Kyle Jamieson has steadied the boat for New Zealand. NZ 185/8
07:35 hrs: What a ripper! Ravindra Jadeja castles Colin de Grandhomme for 26. The batsmen was completely foxed by the late movement and the ball crashed straight into the off stump.
07:28 hrs: Kyle Jamieson was the star with the ball and now, he is showing good skills with the bat. India have struggled to dismiss tailenders in the past and Jamieson can be a tough nut to crack today. New Zealand 174/7
07:20 hrs: 20 Byes have been conceded so far by India in this innings - This is the nost byes conceded in an innings at Hagley Oval, Christchurch.
07:13 hrs: A tough day for Rishabh Pant as wicket-keeper. The ball is moving a lot in the air and it is difficult for the youngster to collect it properly everytime. 20 runs have already gone in byes and maybe 4 or 8 of them was his fault. New Zealand 163/7
07:03 hrs: BJ Watling has the most ducks in Test cricket for a New Zealand wicket-keeper. This was his 9th duck in Tests - one more than Brendon McCullum.
06:55 hrs: Two wickets in three balls! First, Ravindra Jadeja took a good catch to dismiss BJ Watling and two deliveries later, Jasprit Bumrah produced a peach of a ball to dismiss Tim Southee. New Zealand 154/7
06:48 hrs: 50 overs gone and New Zealand are 153 for the loss of five wickets.Good bowling from Jasprit Bumrah and Mohammed Shami who will looking to strike early.
06:41 hrs: Jasprit Bumrah started the second session with a wayward delivery and Colin de Grandhomme guided it to the square leg boundary. New Zealand 146/5
06:00 hrs: It's lunch on Day 2 of the Test match and New Zealand are 142 for the loss of five wickets. Five dismissals in the session and India will be quite happy with their bowling performance.
05:49 hrs: A good low catch for Virat Kohli and Henry Nicholls departs. Five wickets for India in the first session and two for Mohammed Shami now. New Zealand 133/5
05:38 hrs: Mohammed Shami has castled Tom Latham and his gritty innings comes to an end for 52. New Zealand 130/4
05:34 hrs: Fifty for Tom Latham. With wickets tumbling on the other end, it is tough for him to maintain his composure but he has done it in style. A half century off 119 deliveries. New Zealand 127/3
05:25 hrs: A good punch off the back foot and that is the first boundary for Henry Nicholls. Tom Latham is also looking quite confident on the other end and New Zealand are 127 for the loss of three wickets.
05:16 hrs: A superb catch by Umesh Yadav as Ravindra Jadeja dismisses Ross Taylor. Taylor wanted to hit it out of the ground but made a complete mess of the shot and Umesh completed a brilliant catch as New Zelaand are 109 for the loss of three wickets.
05:09 hrs: The change in line has worked well for the India fast bowlers on Day 2. They have maintained a line just outside the off stump and the batsmen have found it quite difficult to score freely till now. NZ 104/2
05:00 hrs: 100 comes up for New Zealand with a boundary straight down the ground for Tom Latham. NZ 101/2
04:54 hrs: 'So close yet so far' - Jasprit Bumrah was ready to start his celebrations but the ball missed Tom Latham's off stump by a whisker! New Zealand 96/2
04:43 hrs: A boundary for Tom Latham and New Zealand will look to steady their innings after the double strike. NZ 89/2
04:35 hrs: The pitch is assisting the India pacers and the movement is quite impressive off the seam. All Bumrah & Co need to do is to maintain their line and length at this moment. NZ 80/2
04:26 hrs: Huge wicket for India! Jasprit Bumrah strikes as Kane Williamson is caught behind for 3. A cheeky line outside the off stump and Williamson ended up nicking it to Rishabh Pant, New Zealand 69/2
04:20 hrs: Good bowling from Jasprit Bumrah as he has bothered Tom Latham with his bounce till now but still no wickets. That needs to change as soon as possible if India want to stage a comeback in Christchurch.
04:11 hrs: Umesh Yadav strikes for India as Tom Blundell is trapped LBW for 30. A late in swing for Umesh and the ball crashed into the batsman's back pad. New Zealand 66/1
04:08 hrs: Both Tom Latham and Tom Blundell are off the mark on Day 2 of the encounter and although Bumrah did bowl a couple of good deliveries, still no success for the visitors.
04:01 hrs: Umesh Yadav was the given the ball on the first over of the day and the two New Zealand openers negotiated with his deliveries quite cautiously. NZ 63/0
03:56 hrs: We are minutes away from the start of Day 2. New Zealand are in control at the moment but few early wickets can change the game for India.
03:42 hrs: India have missed the services of Ishant Sharma after the fast bowler missed the Test match due to an ankle injury. Umesh Yadav and Jasprit Bumrah were not that effective with the new ball and they need to improve on Day 2.
03:23 hrs: Kyle Jamieson was the wrecker-in-chief for New Zealand and he pointed out the weakness of India batsmen that he was able to exploit. "The wicket does not do as much as it does in Wellington. We had to stick there for long periods of time. The ball was still moving a little bit. They played a few more shots than they did in Wellington. The pitch probably allowed them to, but I guess their guys looked a bit indecisive against the short ball," Jamieson told reporters.
03:05 hrs: India were off to a good start thanks to some impressive strokeplay from Prithvi Shaw but they lost five wickets for 22 runs to lose the plot completely in the third session of play.
02:54 hrs: At the end of play on Day 1, Tom Blundell was on 29 while Tom Latham was batting on 27. They negotiated the pace threat quite well and will be looking to continue their fine run.
02:44 hrs: Kyle Jamieson completed a brilliant five-wicket haul to bowl out India for 242. Prithvi Shaw, Cheteshwar Pujara and Hanuma Vihari scored half centuries but the visitors kept losing wickets at regular intervals.
02:34 hrs: Hello and welcome to the live coverage of Day 2 of the second Test match between India and New Zealand in Christchurch. The visitors are on the backfoot after they were bowled out for 242 and New Zealand will resume their innings on 63/0.