India vs West Indies, 1st Test Day 2, Highlights: As It Happened
The Indian bowlers breathed fire as they never allowed West Indies any breathing space and prized out six wickets in 29 overs post their declaration. Earlier, three centuries, 2 half-centuries helped India post a dominant 649 runs in their first innings. West Indies toiled hard for very little. Skipper Virat Kohli brought up his 24th Test century. Rishabh Pant looked imperious, but then was dismissed by Bishoo for 92. Earlier, on Day 1, Prithvi Shaw smashed a sensational ton on his Test debut while Cheteshwar Pujara and Virat Kohli also slammed fifties as India reached 364/4 at stumps. Follow India vs West Indies, 1st Test Day 2, Highlights, below -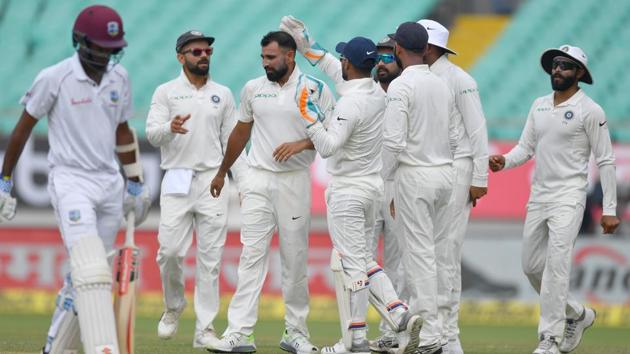 Updated on Oct 05, 2018 05:43 PM IST
16:36 hrs IST
India on top and are ruling the show
What a day for India, what a forgettable day for the visitors. The batsmen piled on the runs and misery, and then a tired and wilted Windies batting never looked settled.
6 wickets lost, not even 100 runs on the board. It is going to an uphill battle from here!
16:21 hrs IST
Kuldeep's turn to smile
Lovely ball, tossed up on off stump, Dowrich wanted to drive expansively through covers, leaves a big gap between bat and pads and the ball turns back in and clatters into the stumps.
16:15 hrs IST
Chase is looking to go for his strokes
If the ball is pitched up, Chase is looking to go big, he has connected a few so far, it seems to working for him, as of now!
16:07 hrs IST
Shaw at silly point
Reward for the debut century? Youngest member of the side is being shown so much love. Posted at silly point, he has already been clobbered twice there. Well, well!
15:54 hrs IST
Ahh, the jinx
Just as I say something positive, Jadeja trundles in, flights a ball on off stump, Ambris looks to thrash it over covers, gets an outside edge through to Rahane at slips. Shocking shot, to say the least
15:52 hrs IST
Windies need a partnership
Ambris and Chase have to put their heads down and grind it out and forge a partnership and bat till stumps today and then start the fight tomorrow once again
15:40 hrs IST
Ashwin in the groove
Back on home soil and Ashwin is already proving to be a threat. Getting the ball to jag around, getting the ball to straighten, he has that red thing on a ring, plenty of questions being asked!
15:30 hrs IST
And a run out
Complete breakdown in communication, Hetmyer tapped the ball to mid on and Ambris took off, both batsmen ended up shaking hands, Jadeja took the stumps out!
15:20 hrs IST
Ashwin strikes
Peach from the offie, pitched on off, does not turn as Hope looks to play for the turn, the ball sneaks past the outside edge and takes out the off peg
15:10 hrs IST
Hope looking good
Shami is making the ball move but Shai Hope is countering it well. Straight bat presented and the ball is driven crisply down the ground.
14:55 hrs IST
Shami breathing fire
Ha comes from around the wicket, length ball angled in, Powell shuffles and tries to flick it away, misses the ball and is trapped in front of the stumps. Umpire Gould gives him out, it has been referred.
But he is dead there, Powell departs, and he consumes a review in the process!
14:45 hrs IST
Shami strikes
Stunning ball from Shami, on the perfect length, Brathwaite neither forward nor back, ball decks back in takes the off stump. The check for the no ball, but Shami is just about ok.
14:38 hrs IST
Probing start by Shami
Right on the money from ball one. Aimed at the stumps, asking the batsman to play every ball, good start to the proceedings
14:31 hrs IST
We are back after Tea
India won the toss and have been dominant ever since. Three centuries and two half-centuries as West Indies were made to toil hard and look very mediocre.
How will the batsmen respond?
14:14 hrs IST
Century and the declaration
Suoerb knock by Jadeja, he was cautious to start with, then blazed away and got to his maiden century.
Kohli has seen enough and now wants to bowl. India declare their innings at 649.
13:54 hrs IST
Umesh departs
Length ball on off, Umesh belts it down the ground, connects well, but finds the long off fielder with precision. No declaration in sight!
13:50 hrs IST
Declaration imminent?
Perhaps, the captain is waiting for Jadeja to complete his century before he declares the innings? India have certainly motored along.
13:40 hrs IST
Here comes the acceleration
Plenty to cheer for the crowd as both Jadeja and Umesh have now started using the long handle to great effect. Runs coming along thick and fast
13:32 hrs IST
50 for Jadeja
Yes, the twirl of the sword surfaces. Stays back to a length ball spinning away and then dabs it past point. The local crowd cheers on as the dressing room applauds a solid innings
13:30 hrs IST
Kuldeep departs
Bishoo goes around the wicket, he lands the ball in the rough and gets it to spin back in. Kuldeep is on the backfoot, tries to defend it, but is trapped in front of the stumps.
13:22 hrs IST
India grinding West Indies down
They are keeping the strike ticking over, few boundaries here and there, West Indies are only hoping for the declaration to come soon.
13:06 hrs IST
No show of intent
Jadeja is still content in prodding, defending, and looking for singles. It is proving to be a strange session, meandering along, both sides content in what they are doing.
12:55 hrs IST
Turn...bounce...wicket
Woah, where did that come from? Tossed up on middle and off, Ashwin went back to defend, the ball spun, it bounced and it got the outside edge. Nice, Ashwin might not be too happy seeing the ball misbehave like that!
12:46 hrs IST
How will Jadeja and Ashwin approach this next phase?
The pitch does not have too much assistance for the bowlers and India could need plenty of overs to dismiss the visitors twice. Hence, the approach of Ashwin and Jadeja will be very interesting!
12:36 hrs IST
Kohli departs
He was looking to press on the accelerator and plunder runs. Good change of pace from Lewis as Kohli wanted to drive him over covers, but miscues it to the man at mid-on.
12:31 hrs IST
Kohli on the charge
First a slog sweep and then a flick of the bottom wrist, Kohli is looking to tee off and accumulate as many runs as possible in a jiffy. Exciting times ahead!
12:23 hrs IST
King Kohli scrips history
He becomes the first batsman to score more than 1000 Test runs in three consecutive years. What a stunning performance
12:11 hrs IST
Welcome back
Bishoo to start proceedings with the ball, Jadeja takes strike. What will be his approach?
How will Kohli go about his business?
11:35 hrs IST
Lunch, Day 2
Complete domination by India. Only 1 wicket lost, 142 runs scored.
West Indies looking flat and bereft of ideas.
Kohli got to his 24th hundred, Pant missed out on his second.
11:28 hrs IST
500 comes up
The sun is blazing down and West Indies are looking rather flat out in the centre. India cruising along and this is getting out of hand.
11:21 hrs IST
Tough chance grassed
Bishoo flighted the ball, Kohli smoked it down the ground, but Bishoo stuck his hands up and could not quite grab it. Chance there goes to ground
11:10 hrs IST
Jadeja joins Kohli
There is so much time left in the day and in this Test. Kohli could well look to bat once and bat big and then exert pressure on West Indies.
11:04 hrs IST
Pant departs
He wanted to bash the ball out of sight, Bishoo bowled it slow and outside the leg stump, Pant tried to muscle it away, outside edge taken and the ball goes across to the man at point. Easy catch and the partnership is broken!
10:59 hrs IST
Kohli seems to be having an extended net session
He has never looked hassled at all, no bowler has troubled him, the filed placements never challenged him as he kept milking the attack and kept accumulating runs. Top class effort!
10:56 hrs IST
Number 24 for Kohli
He has taken only 123 innings to achieve this feat is second fastest to Donald Bradman. Amazing run of consistency by the captain
10:46 hrs IST
Carnage since the drinks break
48 runs have been peeled off since the water break in 5 overs. Kohli is turning over the strike and Pant is grabbing all the attention.
10:42 hrs IST
A Pant party, folks
Kohli is giving the younger bloke the strike and then Pant is taking the bowlers to the cleaners. Down on knee, then biffs the ball over deep mid-wicket. Full swing of the bat and the ball sails over the ropes
10:36 hrs IST
Pant erupts
Down the wicket to Roston Chase, thumps him over mid-on. Then dances down the track again and belts a fullish over long off. He now wants a piece of this Windies attack
10:28 hrs IST
50 up for Pant
Woahh... block..block...bang... Edged one towards third man and then flicked a length ball angled in up and over deep mid-wicket. What a way to reach the 50!
10:23 hrs IST
Sedate phase of play
The Windies bowlers are looking to keep things tight and the Indian batsmen too are not looking to take any undue risks at the moment.
10:08 hrs IST
Testing over by Lewis
He has been impressive today. Banging the ball in, Lewis is asking different questions to Pant and this over was a good examination. Good probing over
9:59 hrs IST
50 runs partnership up for the 5th wicket
Good positive stand between the Delhi boys for the fifth wicket. They have been positive and have looked to tick the strike over at the same time. Nice start to the day for India
9:48 hrs IST
3000 runs for Virat Kohli in India
What a stunning way to achieve the landmark. Leaning into a length ball and then caressing it through covers with a bent knee and a high elbow. Ticked all the boxes there.
9:40 hrs IST
Windies are targeting Pant with the shorter length
Rishabh Pant likes to belt the ball around and the Windies bowlers want him to hook and pull the short stuff. He did not look very convincing yesterday and today could well be an extended examination.
9:30 hrs IST
Kohli to take strike, Shermon Lewis with the ball
Windies took the new ball in the 84th over, and the ball should be fairly new today. This is the time the visitors should look to attack.
9:26 hrs IST
Stage is set for Virat Kohli
The Indian captain put his head down and accumulated runs. They were not fluent runs, but they were Test runs and Kohli was prepared to grind it out.
09:07 hrs IST
Shaw's historic knock
At 18 years and 329 days, Prithvi Shaw became the youngest Indian and fourth-youngest overall to score a ton on his test debut during a knock of 134 off 154 balls against West Indies in Rajkot. In the process Shaw, who led India to the under-19 World Cup title earlier this year, also became the 15th Indian to hit a century on debut.
08:57 hrs IST
High praise for Prithvi Shaw
Congratulating Prithvi, Sachin Tendulkar tweeted: "Lovely to see such an attacking knock in your first innings, @prithvishaw! Continue batting fearlessly. #INDvWI." The teenage cricketer was also praised by Virender Sehwag who said: "It's been the Shaw show. Congratulations Prithvi Shaw, abhi toh bas shuruaat hai , ladke mein bahut dum hai #IndvWI"
08:47 hrs IST
Kohli's chance to shine
On Day 1, Virat Kohli played an unnaturally slow innings to take India's score beyond 350 after Prithvi Shaw's century. Kohli and his deputy Ajinkya Rahane (41) added 105 for the fourth wicket to continue India's progress before the latter was caught behind to off-spinner Roston Chase. With the skipper batting on 72, he will surely be looking to add another century to his resume.
08:36 hrs IST
'Didn't try anything different'
"I always try to play on my merits. In this match as well, I went with the same mindset. I did not make plans to do something different. While playing, I kept on remembering the innings I played during my first matches for India A." - Prithvi Shaw after his century.
08:28 hrs IST
Hello and welcome
Welcome to Day 2 of the first Test match between India and West Indies in Rajkot. Prithvi Shaw became the youngest Indian to score a century on Test debut as the hosts took opening day honours on Thursday. Shaw also became India's second-youngest century maker after Sachin Tendulkar as he blasted his way to a century in 99 deliveries in Rajkot. India were 364 for four at stumps after electing to bat first. Skipper Virat Kohli, on 72, and Rishabh Pant, on 17, were batting at close of play.
Close Story
Personalise your news feed. Follow trending topics