KXIP vs RR Highlights, IPL 2020: Rajasthan Royals cruise to seven-wicket win against Kings XI Punjab
KXIP vs RR, IPL 2020 Highlights: Chris Jordan bowled a wide which sealed Rajasthan Royals' seven wicket win against Kings XI Punjab in Abu Dhabi on Friday. Steve Smith and Jos Buttler showed intent to get RR closer to win after KXIP picked up the big wicket of Sanju Samson, who was run out for 48. He and Robin Uthappa added 51 runs for the second wicket before M Ashwin broke the partnership. This was after Ben Stokes scored a quickfire fifty and got out to Jordan. Batting first, Chris Gayle scored 99 to lift KXIP to 185/4 against RR. Gayle reached his half-century off 28 balls as he and Rahul batted splendidly to put on 120 runs for KXIP's second wicket. KXIP were dealt an early blow with Jofra Archer striking in his first over to dismiss opening batsman Mandeep Singh. Steve Smith has won the toss and decided that Rajasthan Royals will bowl against Kings XI Punjab in Match No. 50 of the 2020 Indian Premier League. KXIP are unchanged from their previous game, whereas RR have made one change to their XI, giving fast bowler Varun Aaron a chance.Follow the highlights of KXIP vs RR, IPL 2020 match here: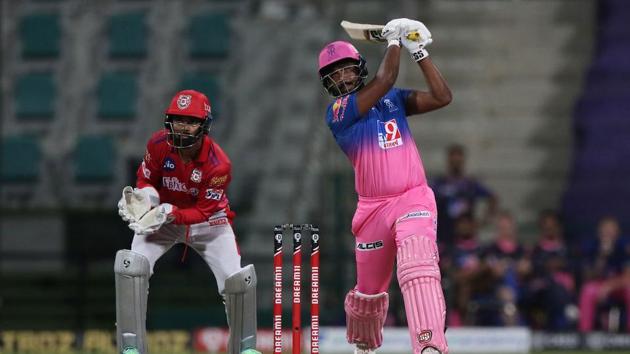 Updated on Oct 31, 2020 01:10 AM IST
Hindustan Times, New Delhi |
hindustantimes.com
23:04 hrs IST
ALL OVER! Rajasthan Royals win by 7 wickets
And that's how it's done. Jordan bowls a wide and with that, Rajasthan Royals have beaten Kings XI Punjab to still stay in the reckoning for the playoffs.
22:58 hrs IST
Smith dealing in boundaries
Rajasthan Royals seem to be in a hurry. Smith smacks back to back fours off Mohammed Shami and ends it with two more. Four fours in that over from Shami to make it 19 off it. 11 needed off 18 now.
22:55 hrs IST
SIX! Buttler is up and away
Jordan's slower ones have worked so far but not on that occasion. Buttler gets behind the line of that one and sends the ball sailing over long on. RR 156/3 in 16 overs, need another 26 off 23.
22:52 hrs IST
150 up for Rajasthan Royals
The difference between runs required and balls left in just nine, so still no reason to panic for the Royals yet. Jordan bowls a good over, allowing Smith and Buttler to score just 4 off it.
22:48 hrs IST
Live Updates: Score after 10 overs
In case you missed it, here's a quick recap of the first 10 overs of the Rajasthan Royals innings.
22:44 hrs IST
RUN OUT! Samson goes
OUT! Big wicket for KXIP as Sanju Samson is run out for 48. Smith takes a quick single but despite putting in a dive at the striker's end, Samson cannot avoid the casualty caused by a direct hit. RR 145/3, need 41 off 33 balls.
22:40 hrs IST
Runs keep coming for the Royals
And this time it's an outside edge off the bat of Steve Smith. RR reach 144/2 after 14 overs, with just 42 to get off 36 balls. Wow, they're pulling off quite the chase here.
22:38 hrs IST
ICYMI...
1000 Sixes! Gayle does the unthinkable in T20 cricket@IPL@henrygaylehttps://t.co/eDxRBXVFrQ

— HT Sports (@HTSportsNews) October 30, 2020
22:34 hrs IST
Samson keeps RR's Asking Rate in control
A 13 run for RR. Samson the man here for them, scoring a six and a four to finish the over from M Ashwin. That promises to bring the asking rate down further. Not quite sure if this ploy of operating two wrist spinners is the right way to go about it.
22:30 hrs IST
Bishnoi bowls a tight over
A boundary in that over from Steve Smith but KXIP won't mind it. But neither will the Royals who continue to score at more than 9.5 an over.
22:26 hrs IST
SIX and OUT! Uthappa falls
A ball after hitting a six, Uthappa tries to repeat, only this time, he holed out to Nicholas Pooran at deep midwicket. Pooran took the catch just inches inside the rope. Timely strike for KXIP and M Ashwin.
22:24 hrs IST
SLAPPED for Six! Uthappa gets in the act
It was proving to be a good start to the over by Ashwin, the first three balls going for 2 singles, but Uthappa has delivered a lusty blow that goes for SIX.
22:18 hrs IST
Use IPL 2020 Live Score: Samson lays into it, cracking SIX
This is the Sanju Samson who started the tournament. He's coming to the fore in the fag end of the tournament. Stands and drills Ravi Bishnoi for a six over sweeper cover. Excellent timing. He wants to win this match for RR, it seems. The 100 is up for RR. 103/1 in 10 overs, need another 83 off 60 balls.
22:16 hrs IST
14 off the over: RR in control
After a six off the first ball, Samson caps off the over with a boundary to make it another good over for the Royals. This game is alive and kicking as RR reach 93/1 in 9 overs.
22:14 hrs IST
SIX! Samson gets going
Arshdeep starts his third over and Samson connects it right of the middle of his willow. The balls flies over cow corner for a magnificent six.
22:12 hrs IST
KXIP vs RR Live Score: RR innings highlights - First five overs
Chasing a target of 186 runs in today's IPL match, Rajasthan Royals's score at the end of 5 overs was 54 runs without the loss of any wicket. Robin Uthappa and Ben Stokes started the chase for Rajasthan Royals and are still on the crease. More summary here...
22:10 hrs IST
Boundary for Uthappa
Alright then! First four for Robin Uthappa. RR are scoring at a healthy rate of 9.8 an over and need to keep it going. Poor fielding allows Uthappa a four and RR to reach 79/1 after 8 overs
22:05 hrs IST
Just five off the over
Well, as it turns out, KXIP have sensed the opportunity. Now is the time to squeeze in some tight overs and Murugan Ashwin has done just that with a tight second over. More spin introduced. Ravi Bishnoi comes in the attack. Leg spin from both ends.
22:00 hrs IST
OUT! Stokes perishes
Stokes hits Jordan straight to mid off and KXIP have been awarded a big wicket here. Probably a slower ball from Jordan which did it for Kings XI Punjab. RR lose their first wicket for 60.
21:57 hrs IST
KXIP vs RR, IPL 2020 Live Score: FIFTY for Stokes
And it's come off just 25 balls. Chris Jordan is the new bowling chance for KXIP but Stokes welcomes his fellow England teammate with a commanding six over long off.
21:55 hrs IST
Quickest 50 in IPL 2020
RR brought up their 50 runs off 4.2 over, which is the quickest by any team in this year's IPL. Five overs gone, RR 54 without loss
21:50 hrs IST
Stokes on fire
Another expensive over for KXIP as Stokes takes 16 runs off Murugan Ashwin's first over. After two dots, Stokes pummeled a boundary and two sixes as RR get to 48/0 after 4 overs.
21:45 hrs IST
Another good over
11 off Arshdeep's second over, which had two boundaries more from Stokes. He's been on quite the hot run has Stokes. RR reach 32/0 after 3 overs.
21:40 hrs IST
IPL 2020 Live Score, KXIP vs RR: SIX from Uthappa
It was quite the first over from Mohammed Shami, whose first one goes for 12. Stokes hit a boundary off the second ball and Uthappa capped it with a six, helping the ball over fine leg. RR 21/0 after 2 overs.
21:34 hrs IST
Boundary for Stokes, RR get going
A boundary off the final ball of the first over by Stokes off Arshdeep. RR 9/0 after 1 over.
21:30 hrs IST
And we return! RR begin their chase
Alright then. 185 is what Rajasthan Royals need to somehow remain alive. Robin Uthappa and Ben Stokes walk out.
21:16 hrs IST
IPL 2020 OR KXIP vs RR: End of innings! KXIP finish in 185/4 against RR
That's a commendable total KXIP have posted. The star of the innings, none other than Chris Gayle, who despite missing his century by one run, provided thorough entertainment.
21:14 hrs IST
OUT! Gayle goes for 99
Oh dear! It won't be a century for Chris Gayle this time. A yorker from Jofra Archer and it's timber. Gayle misses his century by one run. KXIP 184/4.
21:10 hrs IST
1000th SIX for Gayle in T20s
Now that's a record to be proud of. Gayle tonked his 8th six of this innings and with that, brings up his 1000th six in T20 cricket. No debate there. Chris Gayle is the greatest T20 player that's ever lived. Period.
21:08 hrs IST
KXIP vs RR: Tyagi gets away with a FREE HIT
The last Free Hit went for a SIX but not this one. Tyagi bowls the ball wide on off stump and foxes Maxwell.
21:04 hrs IST
OUT! Pooran falls
He tries to go for another four but Nicholas Pooran is out caught in the deep for 22 by Rahul Tewatia. Out walks Glenn Maxwell. Can he get something out of the last few deliveries here?
21:02 hrs IST
Did you know?
Chris Gayle boasts a strike-rate of 192 while batting in the last five overs of a T20 match. And as we mention it, Gayle hits his 6th four of the innings and follows it with a seventh six.
21:00 hrs IST
KXIP vs RR Live Updates: SIX to finish the over
Tyagi's decent over has been spoiled by Nicholas Pooran, who sends the last ball sailing over the ropes. Three overs left, KXIP 148/2. How much more can they get?
20:58 hrs IST
Good start from Tyagi to his third over
After going for 22 in his first two overs, Kartik Tyagi has started his third over - the 17th of the innings - with three singles off the first three balls. Gets away with a full toss to Pooran. Can he finish well?
20:54 hrs IST
Free-Hit and a SIX!
The buzzer goes off and that's an indication that Varun Aaron has overstepped. He tries to wide off the next ball but Nicholas Pooran gets his all behind it. The ball goes flying over sweeper cover. KXIP 137/2 with 4 overs left.
20:52 hrs IST
In Case You Didn't Know
Nicholas Pooran is being touted as the Next Big Thing in West Indies cricket. He has been endorsed by none other than the man he's currently batting with, Chris Gayle. When the Universe Boss speaks, you better listen.
20:48 hrs IST
IPL Live Updates: SIX! Nicholas Pooran is away
Doesn't take long for Nicholas Pooran, who is off and running with a six. Stokes provides the breakthrough but Pooran ensures KXIP don't lose the momentum gained through Gayle and Rahul.
20:42 hrs IST
OUT! End of Rahul's innings
The slower ball from Ben Stokes does the trick. Rahul top edges the ball for Tewatia to take the catch at mid wicket. He falls for 46 off 41 as KXIP lose their second wicket for 121.
20:38 hrs IST
Gayle sprints for two
He's 41 years old but that doesn't stop him from charging down the wicket to complete a single. A bit of a misfield allows KXIP to turn a single into two. 14 overs gone, KXIP reach 118/1
20:35 hrs IST
KXIP vs RR, IPL 2020: Rahul hits a boundary, a much-needed one
While Gayle has been at his best, Rahul hasn't been that fluent. His strike rate of 118 is a bit of a concern and the boundary towards mid wicket should help.
20:32 hrs IST
5th SIX for Gayle
This one seems to be struggling on its way to clear the boundary but Gayle is so powerful that even his miscues clear the ropes. Ben Stokes looked happy for a while but the ball goes flies above his stretched arms. KXIP 107/1 after 13 overs
20:30 hrs IST
How the first 10 overs panned out
Here is a quick summary of the first 10 overs of Kings XI Punjab's innings.
20:24 hrs IST
IPL 2020 Live Score: FIFY for Gayle
He gets there off 28 balls. Third fifty of IPL 2020 for The Universe Boss. He never gets old, does he? It's almost as if the IPL to him is like the Urn to The Undertaker. He just rises from the ashes. KXIP 91/1 after 11 overs.
20:20 hrs IST
SIX over Cover!
He's done it so often and does it again, with panache. Fuller ball from Tyagi and Rahul drives uppishly for a beautiful six. Man, has he been in some touch!
20:18 hrs IST
Nine gone, KXIP 71/1
Kings XI Punjab continue to score at a healthy rate of over 8 runs per over. Meanwhile, in a chat Andrew McDonald called Jofra Archer a "low-maintenance player". What an expression that. Not something you year everyday from a coach about his player.
20:14 hrs IST
KXIP vs RR Live Score: A recap of the first five overs
Missed the action that transpired in the first five overs of the KXIP innings? Click here to revisit how Gayle and Rahul went on the attack after the early dismissal of Mandeep Singh
20:12 hrs IST
Stokes to Gayle
And the over starts with a boundary. Slower in pace from Stokes and Gayle gets an outside edge for four. His fourth boundary, to go with three sixes.
20:08 hrs IST
Strategic TIME-OUT
Seven overs gone and KXIP reach 63/1. This time, Gayle takes on Shreyas Gopal, bringing out the big sweep shot to send the ball for six. Gayle 35 off 20 balls, Rahul 23 off 21.
20:02 hrs IST
IPL Live Updates: SIX! Huge from Rahul
Wow! How about that for a six? Aaron Drops a bouncer and Rahul pulls it a long, long way. That would have been a six easily at any cricket stadium in the world. Rahul caps off the over with another four to take KXIP to 53/1 after 6 overs. 14 off the over as Powerplay ends
19:58 hrs IST
Gayle goes after Tyagi
After beating Gayle the first ball, the Universe Boss has struck Tyagi for two fours and a six to take 14 runs off the over. KXIP 39/1 after 5
19: 54 IST
Kartik Tyagi in the attack
And he starts his over by beating Gayle outside off. Like Ian Bishop rightly pointed out, Steve Smith mentioned how he needs bowlers who support Jofra Archer. Will Aaron and Tyagi offer it?
19:52 hrs IST
KXIP vs RR, IPL 2020: Chance goes begging!
Gayle gets a reprieve. An almost identical shot to the one that got him a six, but Gayle had a huge top edge to it. The ball was in the air for almost an eternity, swirling as it came down. With Robin Uthappa running towards Riyan Parag, whom the catch really belonged to, distracted the fielder and it's a drop. KXIP 25/1 after 4 overs
19:50 hrs IST
SIX! Gayle plunders one over midwicket
BANG! Varun Aaron looked excited for a second but Gayle hit a full blooded pull shot that beat Riyan Parag at deep midwicket.
19:44 hrs IST
600 runs for KL Rahul in IPL 2020
KL Rahul smashed his first boundary to get to 600 runs in this edition of the IPL. This is Rahul's second 600-plus season in three years. He did it in 2018, while missing it by seven runs last year.
19:40 hrs IST
IPL 2020 Live Score, KXIP vs RR: Gayle off the mark
Gives himself some room and has a go to Aaron. Gayle gets an inside edge and the ball races away behind for his first boundary. KXIP 9/1 after 2 overs
19:38 hrs IST
In comes Varun Aaron...
And he starts with a wide which Sanju Samson barely gets his hands to. Saved a certain boundary there. Gayle has faced five balls and is yet to get off the mark.
19:36 hrs IST
OUT! Golden duck for Mandeep Singh
Wow! What a snorter of a delivery to receive first ball. Mandeep tries to find the bouncer but the ball takes a top edge and a diving catch from guess who?... Ben Stokes... sends the batsman on his way. KXIP 1/1 after 1 over.
19:32 hrs IST
IPL 2020 Live Score: First ball, YORKER
Right on the money is Jofra Archer, who fires a yorker first up to KL Rahul. He looks fired up tonight. Follows it up with two more dots. Archer already clocking in at 140 kph.
19:26 hrs IST
Alright then! It's almost game time!
Still no Mayank Agarwal, means Mandeep Singh opens for KXIP once again. Jofra Archer warming up. Archer to Gayle will be the battle to look out for. First ball coming up.
19:22 hrs IST
Universe Boss warming up!
Not sure if #UniverseBoss is doing push ups or pushing the earth down! 🤭#SaddaPunjab #IPL2020 #KXIP #KXIPvRR pic.twitter.com/3spSKAasLW

— Kings XI Punjab (@lionsdenkxip) October 30, 2020
19:18 hrs IST
KL Rahul would have bowled as well
"I would've looked to bowl as well, but looks like a good wicket, so will remain the same for the 40 overs. It's just everything coming together, the last four or five games, we've come really well. It's good to see and it's been a complete team effort. We would look to go out there and enjoy ourselves."
19:14 hrs IST
Reason for Aaron's inclusion...
"Don't know what happens here with the dew, so we are gonna chase tonight. It's been a bit of up and down tournament for us. It's been a tough one, we've got Varun Aaron in tonight, who wasn't fit for a while. He brings a lot of pace and comes in for Rajpoot. Hopefully, he can add something for us in the Powerplay," said Steve Smith after winning the toss.
19:10 hrs IST
Kings XI's Unchanged XI reads as follows...
Mandeep Singh, Chris Gayle, Nicholas Pooran, Glenn Maxwell, Deepak Hooda, Chris Jordan, Murugan Ashwin, Ravi Bishnoi, Mohammed Shami, Arshdeep Singh
19:06 hrs IST
Rajasthan Royals Playing XI
Robin Uthappa, Ben Stokes, Steven Smith(c), Sanju Samson(w), Jos Buttler, Riyan Parag, Rahul Tewatia, Jofra Archer, Shreyas Gopal, Varun Aaron, Kartik Tyagi
19:02 hrs IST
TOSS: RR opt to field, KXIP remain unchanged
Steve Smith has won the toss and he has decided to chase against an unchanged Kings XI Punjab.
18:52 hrs IST
TOSS coming up...
We're hearing murmurs that KXIP might bench Gayle tonight? If that is the case, surely, he must be injured or something. So far in IPL 2020, Gayle playing in directly proportional to KXIP winning. Why change it?
18:45 hrs IST
IPL 2020 Live Score, KXIP vs RR: Did you know?
Ben Stokes is the only player in the history of IPL who has more centuries than fifties. Stokes has peeled off two hundreds and just one half-century. How about that for a record to brag, eh?
18:38 hrs IST
What will RR's Playing XI look like?
Despite registering a dominant win, it is likely that Rajasthan Royals will not play the same XI against KXIP. Instead one tactical change is on the cards. Here's a look at out RR Predicted XI for tonight's game.
18:31 hrs IST
Will Glenn Maxwell finally fire?
It's been a season to forget for Kings XI Punjab batsman Glenn Maxwell, who has managed just 102 runs from 12 matches. This is his worst IPL season of his career, but like they say, it's never late to get going. With 1 run away from 1500 IPL runs, can Maxwell finally set the IPL on fire tonight? KXIP fans will certainly be hoping so.
18:24 hrs IST
Crucial match for Shreyas Gopal
Shreyas Gopal has picked nine wickets in IPL 2020 so far with a best of 2/28. He is three strikes away from reaching 50 IPL wickets. Can he get there tonight?
18:17 hrs IST
The difference Chris Gayle makes. These nuggets provide insight
- Before Gayle, KXIP's no 3 batsmen managed to score just 85 runs at an average 14.17.
- Before Gayle, KXIP's no 3 batsmen had a strike rate of 117.04 managing just 10 boundaries, while Gayle has a strike rate of 138.04 with the help of 24 boundaries.
- Gayle has dominated spin in IPL 2020, he has a strike rate of 158.49 against spin.
- RR have 2 leg spinners in their ranks against whom Gayle has a fantastic record.
- Since 2018, Gayle has an average of 65.3 and a strike rate of 200 against leg spinners.
18:10 hrs IST
KXIP vs RR Live Score: Winner take all tonight
With so much at stake, tonight's match promises to be a IPL blockbuster. Both teams need a win. A loss here for Rajasthan Royals will see them wave bye to the IPL 2020, whereas if KXIP face a defeat here, all the heard work done in the last five games will be dented big time. Have a look at our Preview of tonight's winner take all contest.
18:03 hrs IST
RR's hero from the previous match Ben Stokes reflects on his transformation as a cricketer
Since starting as a young, promising all-rounder during the 2013/14 Ashes Down Under, Ben Stokes today has emerged as one of the best cricketers in the world, let alone an all-arounder. Here, he looks back at his career and reflects on what lies ahead for him.
17:56 hrs IST
Graeme Swann on Kings XI Punjab
"Well Kings XI are a strong team, there is no doubt about that. Since Chris Gayle has come into the fold, they look like a completely different outfit. Rajasthan Royal have to believe in their overseas players because they have got some real talent, possibly the four most talented overseas players in Butler, Stokes, Smith and Archer and they have go out there and play fearless cricket. At the end of the day, if those guys don't win it, Tewatia will."
17:49 hrs IST
The Steve Smith conundrum for Royals
Smith's form has been blowing hot and cold this season. He has scored 276 runs at SR of 129.57, which by the way, is the second most for RR in IPL 2020 after Sanju Samson.
17:42 hrs IST
How Gayle's arrival has impacted KXIP
- Gayle scored 51 off 29 balls at a strike rate of 175.86 in the last match against KKR
- Since Gayle's introduction, he has scored 177 runs at an average of 35.40 despite playing at an unfavorable number 3 position.
- Since Gayle's introduction, only Rahul (208) has scored more runs for KXIP.
- His introduction in the starting 11 has solved KXIP's troublesome no 3 position, before Gayle KXIP had used 5 different players at no 3 with none of them playing more than 2 innings.
17:35 hrs IST
KXIP vs RR, IPL 2020 Live Score: Playoff equation for Rajasthan Royals
- Rajasthan Royals have won 5 games out of the total 12 games played and are sitting with 10 points.
- RR have their next clash against KXIP and later against KKR
- RR can get to max 14 points if they win both games and they can qualify if:
- They win their remaining two games
- SRH lose one of their remaining two games
- KXIP lose their remaining two games
- KKR lose their remaining two games
- With RR's NRR being low as -0.505, they would require a big margin win to have a high NRR and reserve their place in the playoffs
17:28 hrs IST
What KXIP hope should happen -
- Even if KKR gets to 16 points, KXIP can still qualify with 14 points if:
- DC or RCB lose all their remaining games
- SRH lose one or their last two remaining games
- KXIP get to 14 points by winning one of their last two games by a larger margin so that they have a high NRR over that of DC/RCB and RR
17:21 hrs IST
The Playoff race: What KXIP need to do
- With 2 matches left in the league stage they face RR and CSK in their upcoming fixture.
- Their net run rate is -0.049, hence they would have a better chance if they win both their remaining games and reach the 16-point mark.
- KXIP can make it to play offs even if they win one game if:
- KKR lose one of their last two remaining games
- SRH lose one of their remaining two games
- KXIP will get to 14 points by winning one of their last two games by a larger margin so that they have a high NRR over that of KKR and RR.
17:14 hrs IST
IPL 2020 Live Score: How can Rajasthan Royal stop Chris Gayle?
Ever since Chris Gayle has returned to the fold for Kings XI Punjab, they have won all five matches with the Universe Boss getting two half-centuries. The Abu Dhabi Ground isn't really the biggest of stadiums and the Gayle threat will loom large. However, Aakash Chopra has an idea as to how RR can send Gayle packing early. Click here to find out...
17:07 hrs IST
What happened the last time?
The previous match between Kings XI Punjab and Rajasthan Royals ended up being a run fest, with both teams scoring over 200 runs, but it was Sanju Samson's half-century and an incredible knock of Rahul Tewatia that helped RR edge KXIP.
17:00 hrs IST
IPL 2020 Live Score, KXIP vs RR
It's game time, folks! Hello and welcome to Match no 50 of the 2020 Indian Premier League. Yes, today we reach the half-century of this season's IPL matches. And like it, the stakes are high too with Kings XI Punjab squaring off against Rajasthan Royals. With five wins in their last five matches, KXIP are rising rapidly in the points table and with three places still to go, remain in the hunt for a position in the playoffs. On the other end, Steve Smith's team is one defeat away from being eliminated once and for all, leaving no question of any mathematical equation. RR edged KXIP the last time these two teams met. Can they do an encore and spoil the night for KXIP, like CSK did to KKR last night? Stay tuned… We've got you covered.
Close Story