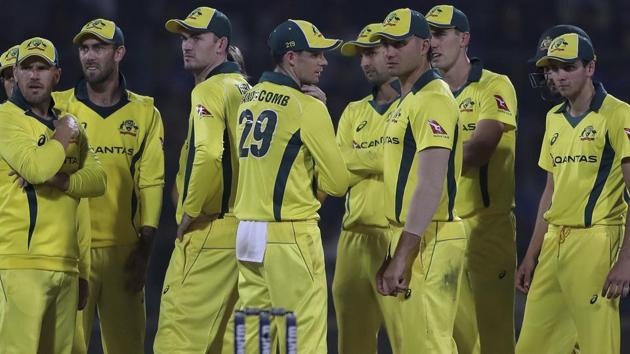 India vs Australia, 5th ODI Highlights: AUS win by 35 runs, clinch series
Highlights: Adam Zampa took three wickets while Pat Cummins and Jhye Richardson took two each as Australia beat India by 35 runs to clinch the series 3-2. Rohit Sharma was the top scorer for India with 56 while Kedar Jadhav and Bhuvneshwar Kumar played fighting knocks for the hosts. Earlier, Usman Khawaja guided Australia to 272/9 thanks to a brilliant century. (Full scorecard)
Follow India vs Australia updates:
UPDATED ON MAR 14, 2019 10:50 AM IST
21:35 hrs IST
Man of the Series
Usman Khawaja claims both the Man of the Match and the Match of the Series awards.
21:32 hrs IST
Virat Kohli
"We certainly thought it was a gettable target, they got away from us in the end, 15-20 more than what we could have kept them to. Overall, Australia deserved to win, they played with more passion, hunger and heart. Were brave in pressure situations, they way they raised their intensity meant they were deserving winners." - Virat Kohli
21:31 hrs IST
Pat Cummins
"Take 14 wickets in the series on these wickets anyday. Felt like I bowled well in the Aussie summer, glad it has clicked. Hopefully I can continue this at the World Cup. We always tend to peak around the World Cup, with a few guys set to come back, it's going to be a tough job to pick our World Cup squad. Just playing consistent cricket, a series of five matches, two T20Is, it's been a reasonable series. Always enjoy coming to India." - Pat Cummins.
21:26 hrs IST
Justin Langer
"Credit goes to the players. They have performed under pressure. Incredibly proud of the boys. It has been an unbelievable fight." - Justin Langer..
21:16 hrs IST
Australia clinch series
Marcus Stoinis castles Kuldeep Yadav with the final ball of the match and Australia have won the match by 35 runs. It was a brilliant performance by the visitors and although Kedar Jadhav and Bhuvneshwar Kumar did fight back, Australia came out on top.
21:05 hrs IST
Game over for India
Mohammed Shami is caught and bowled by Jhye Richardson and this is truly game over for the hosts. There was not much chance for India to come back after the dismissal of Kedar Jadhav and now, it is all over. IND 230/9
20:59 hrs IST
Kedar departs
Kedar Jadhav had no choice but to go for the big shots and he is caught in the deep for 44 by Glenn Maxwell. It is almost game over for the hosts as they need 49 runs to win from 20 balls.
20:53 hrs IST
Bhuvi departs
Bhuvneshwar Kumar's innings comes to an end as he is caught in the deep for 46 and Pat Cummins has provided the breakthrough for Australia! However, Kedar Jadhav is still there and he will be key for the hosts. IND 223/7
20:44 hrs IST
Stat Attack
70* runs stand between Kedar Jadhav and Bhuvneshwar Kumar is the second best 7th wicket stand at Delhi in ODIs.
20:39 hrs IST
India not giving up
Kedar Jadhav hits Glenn Maxwell for a six and Bhuvneshwar Kumar emulated the feat one over later as he slammed Adam Zampa over the mid wicket boundary. This is a gutsy show by the batsmen and India need 73 runs to win from 42 overs.
20:31 hrs IST
Kedar crucial for India
This has been a great innings from Kedar Jadhav as he has somewhat steadied the innings after India lost six wickets and he was supported well by Bhuvneshwar Kumar. Can they clinch the game for India? Tough but not impossible. India 181/6
20:21 hrs IST
Lyon has been brilliant
He has been on the money right from ball 1. The Indian batting has not been able to go after him and this has allowed him to bowl right according to the plan
20:05 hrs IST
Bhuvneshwar, Jadhav hold fort
They have to take this chase deep and then accelerate towards the end. Australia are bossing it at the moment, but they should look to keep this pressure intact
19:47 hrs IST
Jadeja stumped
Another one bites the dust, the googly from Zampa, Jadeja lunges forward to defend it, the ball spins away, Carey takes off the bails and Jadeja has not made it back home. He stutters back, India have melted away on this wicket which is spinning
19:41 hrs IST
Rohit departs
Well, this could well be the end of the game for India. Rohit jumps down the track, the ball spins back in, he swings, ball goes between bat and pad, Carey takes off the stumps and Rohit loses his bat too, such was his swing
18:29 hrs IST
Shankar departs
He smokes a 6 and then sits back expecting a short ball, he gets it, tries to pull it away, does not time, and the ball goes up miles in the air, Usman Khawaja sits down under it and takes the catch
19:19 hrs IST
8000 ODI runs for Rohit Sharma
He becomes the third joint-fastest to reach the landmark.
He is joint third fastest batsman in terms of innings played alongside Sourav Ganguly.
31st batsman to complete 8000 ODI runs
19:05 hrs IST
Lyon strikes
Lovely bowling, pure art. Angled the ball in from around the wicket, and then gets it to spin, Pant is on the front foot, looks to defend, outside edge finds Ashton Turner in 1st slip. Crowd is silenced, India under pressure
18:52 hrs IST
Pant is in
This is his opportunity to stake his claim for that World Cup squad and at number 4, the stage is set for the young man to play the innings which takes India over the line. He has started well
18:41 hrs IST
Kohli departs
Short, wide, it was there to be cut, Kohli goes after it and nicks it behind. Stoinis exults, crowd is stunned and Kohli takes the walk back to the pavilion. This is a body blow for the hosts
18:38 hrs IST
India's record has been good in deciders
India under Virat Kohli have won 11 out of the 12 bilateral series. Read more about the proud record here.
And Kohl, Rohit are of utmost importance here for the hosts
18:29 hrs IST
Pressure building
A maiden and then a number of dot balls and Rohit decides to go aerial, just about clears mid on. Powerplay ends and India have crossed 40. These two have to stay put and take this chase as close as possible. The pitch has slowed down
18:15 hrs IST
Rohit, Kohli hold the key
India's success in ODIs is primarily because their top order has fired. With Dhawan's dismissal, the onus now lies on Rohit Sharma and Virat Kohli to forge a partnership. They bat well together, and should guard against any misunderstandings in their running
18:05 hrs IST
Dhawan dismissed
Length ball angled away, Dhawan has a lazy waft at it and nicks it to Carey. He walks and Australia celebrate, they have the early break. The left-hander was looking good in his brief stay, but India have been jolted early
17:55 hrs IST
Dhawan gets going
A clip of the pads, and then a flowing drive through covers has got India off the blocks. This pitch has slowed down and the openers should take advantage of this new ball
17:45 hrs IST
Chase about to commence
The Australian team is out in the centre, out walk Rohit Sharma and Shikhar Dhawan. The score is just about par on this surface, but a lot depends on whether or not, dew falls in the evening!
17:11 hrs IST
Australia end with 272
Some final boundaries by Jhye has taken Australia to 272/9. Good smart fielding by Kohli, but on a surface which has slowed down considerably, this could be a par score. India would hope for some dew, which might quicken the surface. The innings was headlined by Usman Khawaja, who scored his second century and Peter Handscomb scored another 50. India made a good comeback in the middle phase, but the tail wagged and the visitors would be fairly satisfied with this total
17:03 hrs IST
Cummins dismissed
Freak dismissal, full ball angled in, Cummins swings, inside edges the ball on to his pads. It then bounces up and Bhuvi takes the catch on his follow through. Unlucky for Cummins
16:59 hrs IST
Bumrah loses control
19 runs in that over, Australia surge ahead. 4 boundaries in that over, and suddenly, the score looks formidable on this surface. If there is no dew, this chase could get tricky for the hosts
16:49 hrs IST
Shami gets Carey
India are on a roll, slower length ball outside off, Carey pokes, gets the outside edge. Pant dives forward and takes a sharp catch. Australia have melted away here
16:48 hrs IST
Stoinis departs
Slower ball on off, Stoinis tries to cut it, inside edges it onto the stumps. Australia have stuttered after the strong middle phase. This is great phase for India, they have roared back into this contest
16:34 hrs IST
Bumrah has been brilliant
He has not managed to get any wickets, but Bumrah has been tight, accurate, and brilliant today. He has kept Australia under wraps so far and has built all the pressure
16:26 hrs IST
Turner departs
Well, Kuldeep traps him the wrong one, spinning away, Turner still wants to take him downtown, does not get the required timing or distance and Ravindra Jadeja accepts the catch at long on. Big wicket for India at this stage
16:21 hrs IST
Turner, Stoinis hold key
These two are powerful strikers and they need to build here and take this match right till the end. India have made a good comeback, but they cannot afford to take their feet off the pedal here.
16:13 hrs IST
Jadeja impact
After 6 innings Jadeja has picked multiple wickets in his spell
Last time he took more than 1 wicket was vs WI at Thiruvananthapuram in 2018
He took 4/43 in that match
16:05 hrs IST
Shami strikes
Length ball on off, movement off the surface, Handscomb nicks it to Pant and the crowd erupt. Great phase for India, they are on a roll right now. Australia need to forge another partnership
15:52 hrs IST
Jadeja gets Maxwell
Very loose from Maxwell, the ball was on off stump, Maxwell drives on the up, but finds short cover with absolute precision, India have made a roaring comeback
15:47 hrs IST
Khawaja dismissed
100 and out. Slow ball outside off, Khawaja drives on the up, but there is no control and Kohli takes the catch at short extra cover and then slams the ball on the turf. Much needed wicket for India
15:41 hrs IST
100 for Khawaja
Spectacular innings by the left-hander, stands back and punches the length ball to cover to bring up his second ODI century, Australia are cruising along at the moment, India need a wicket and then few more to make a comeback
15:31 hrs IST
Bumrah bowls a tight over
He is back and promptly bowls a tight over, he has conceded only 9 runs in only 5 overs. Australia are playing him with caution and attacking the other bowlers
15:19 hrs IST
Khawaja attacks Kuldeep
He raced down the track, close to the pitch of the ball and then thwacks the ball over the boundary ropes. He seems to be picking up Kuldeep's variations, still no wickets for the young man in the middle overs
15:12 hrs IST
Good over by Shami
He used the pitch better in that over, angling the ball back into Khawaja. These are the overs India need right now to build pressure on Australia
15:06 hrs IST
India search for wickets
The pitch is true and there is little assistance for the bowlers. Khawaja and Handscomb are looking very good. Virat Kohli is ringing in the changes as he looks for wickets, and now the onus is on the bowlers to keep things tight and build pressure
15:00 hrs IST
Good phase for Australia
India need wickets on this surface and on this ground, but Khawaja and Handscomb are looking very comfortable against the spinners and milking them away with ridiculous ease
14:50 hrs IST
Better over from Kuldeep
He has been put under pressure today, but Kuldeep has bowled a good tight over, conceding only three runs in that over. Handscomb is looking rather good, the century in the previous game has done wonders to his form
14:41 hrs IST
Drinks
Peter Handscomb has been promoted up the order and he already looks busy at the crease. Australia find momentum after the dismissal of Aaron Finch as the players take drinks
14:34 hrs IST
Jadeja gets Finch
An absolute peach from Jadeja, angles the ball in and then gets it to spin just a touch to beat the outside edge. Knocks back the off peg as India get their first wicket. The brilliant opening stand has been broken
14:30 hrs IST
Kuldeep under pressure
Both the openers have attacked him and this will put pressure on the young man. He has not been able to stamp his authority on this series so far, and thus the tactics employed by the Australians makes all the sense
14:27 hrs IST
Good over by Bumrah
Length ball all over which was angled in and Finch has played it well. One punch through the covers fetches him a brace, but that was only scoring runs in that over
14:23 hrs IST
Khawaja on the move
Down the track, close to the pitch of the ball and then lifts it clean over the boundary for his first maximum. He then rocks back and cuts a length ball through the vacant gully position. In complete control
14:15 hrs IST
50 added for 1st wicket
Australia have got off to the perfect start and their openers carry their good form as they add 50 for the first wicket. End of the powerplay and Kohli will introduce spin for the first time
14:08 hrs IST
Australia chugging along
Very good start by the openers as Kohli is tinkering with the field and field placements. India need to pick their 1st wicket to get things going. A string of tight overs should be the way to attack right now for India on a very true pitch
14:00 hrs IST
Brilliant from Kohli
The ball trickled to Kohli at short point, who picks it up and throws down the stumps, but Aaron Finch is safely back home. Australia are in the mood right now!
13:55 hrs IST
India looking for 1st wicket
Shami beats Finch again, but the Australian captain then stands tall and punches a length ball through point for a boundary as Australia have got off to a great start here
13:45 hrs IST
Khawaja looking sublime
That was a full ball angled in, Khawaja happily clips it away through mid-wicket. Shami then makes a good comeback, beats him outside off and then the left-hander drives a length ball back down the ground
13:40 hrs IST
Finch joins the party
Length ball on off, Finch stays put and throws his hands at it and bulldozes the ball through covers. He then taps one to point and scampers through for a single
13:39 hrs IST
Khawaja looking good
Lovely drive through the covers, leaning into the stroke and piercing the gap through the off side. The pitch has moisture, but Khawaja is looking extremely good
13:34 hrs IST
4 off the first over
A neat clip off the pads and Khawaja is up and running. The pitch looks a good one to bat on, and India need to pick early wickets to get things rolling
13:30 hrs IST
Out walk the players
The Indian team in their huddle. Usman Khawaja and Aaron Finch walk out for Australia. Bhuvneshwar Kumar with the new ball, the crowd is making themselves heard.
Let's go, gents!
13:21 hrs IST
Trophy up for grabs
This is what the two teams are playing for. Who will take it home tonight?#INDvAUS pic.twitter.com/s3PapWdPEC

— BCCI (@BCCI) March 13, 2019
13:07 hrs IST
Playing XIs
India (Playing XI): Rohit Sharma, Shikhar Dhawan, Virat Kohli(c), Rishabh Pant(w), Kedar Jadhav, Vijay Shankar, Ravindra Jadeja, Bhuvneshwar Kumar, Kuldeep Yadav, Mohammed Shami, Jasprit Bumrah
Australia (Playing XI): Aaron Finch(c), Usman Khawaja, Peter Handscomb, Marcus Stoinis, Glenn Maxwell, Ashton Turner, Alex Carey(w), Jhye Richardson, Pat Cummins, Adam Zampa, Nathan Lyon
13:04 hrs IST
Australia bat first
Finch: Batting first. Looks like a dry wicket. Hopefully we can get a big score and defend it later. The wicket and the squares have been re-laid over the last few years, so we can't look into the numbers much. Shaun Marsh misses out for Stoinis, Lyon comes in for Behrendorrf.
Kohli: We have to first restrict them with the ball, and we are the one of the best chasing sides in the world and we have to show that today. In terms of team composition, we know which way we are going. Chahal misses out and Jadeja comes in as an all-rounder, and KL misses out to make way for Shami. An extra bowling option for us, and this, we feel is our most balanced side.
12:55 hrs IST
Pitch report
This is a pitch where the ball hardly moves, and it also keeps a little low, thats why the average score is only 220-230. The dew will kick in later in the day though. There will be a little bit of spin but it is nothing that should worry the batsmen. Win the toss, maybe bowl first.
12:45 hrs IST
Rohit Sharma on the cusp of history
Rohit Sharma has an opportunity to enter in the elite club by achieving a milestone of 8000 runs- he is just 46 runs away from achieving this feat.
Read more about the story here.
12:42 hrs IST
Hello and welcome
The fifth ODI will also be the last chance for the players to convince the selectors of their world cup utility as the Indian side will not be playing any international match until the tournament in England.
Australia hold a comfortable lead over India in terms of head-to-head matches in one-day internationals. In 135 encounters between the two teams so far, the Aussies have come out on top 76 times, the most the 'Men in Blue' have lost to any team, while India have won 49 matches.
Close