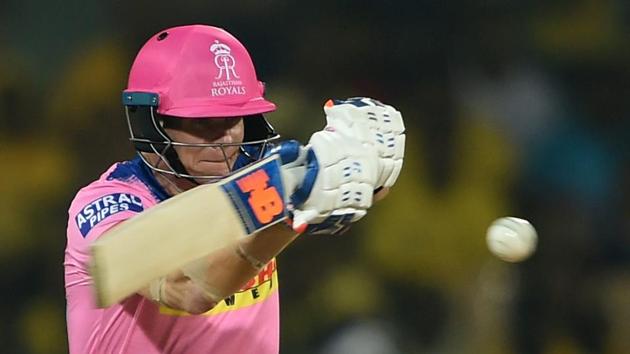 RR vs RCB, Highlights, IPL 2019 Match at Jaipur: Buttler, Smith fire as RR beat RCB by 7 wickets
As it happened: Short ball, Tripathi slams it away for a 6 and that should be the game for the hosts. RCB have been handed their 4th consecutive defeat this season. A comprehensive win for the hosts, it was set up perfectly by Jos Buttler, anchored beautifully by Steve Smith and finished by Rahul Tripathi. RCB were sloppy in the field, dropped a number of catches, and were never in the game during the chase! Follow the Full scorecard here.

RR vs RCB: As it happened
UPDATED ON APR 03, 2019 08:28 AM IST
23:31 hrs IST
Sealed with a 6
Short ball, Tripathi slams it away for a 6 and that should be the game for the hosts. RCB have been handed their 4th consecutive defeat this season. A comprehensive win for the hosts, it was set up perfectly by Jos Buttler, anchored beautifully by Steve Smith and finished by Rahul Tripathi. RCB were sloppy in the field, dropped a number of catches, and were never in the game during the chase!
23:18 hrs IST
Final 2 overs remain
Very easy equation now for the hosts. They need 9 to win off them and Smith has anchored this chase perfectly. He should get his side over the line from this position
23:07 hrs IST
Excellent from Chahal
It has been a superb spell by Yuzvendra Chahal, he has kept RCB in this contest. However, RR should win it easily from here, but will they?
22:50 hrs IST
Jos departs
A stunning innings comes to an end, Jos tries to slog Chahal, but the ball spins and takes the outside half of the bat and Marcus Stoinis takes the catch at long off. Just the break RCB needed, can this spring a revival for Kohli and co?
22:46 hrs IST
Another 50 for the JOS
Stunning innings, he has raced to another 50 and now he is flying again. Rajasthan are acing this chase the moment, RCB need quick wickets if they have to have any chance this match
22:34 hrs IST
Jos, the BOSS
Wow, this is some form. He ventures down the track when he wants and then tonks the bowlers anywhere to pick up boundaries. RCB seem to be bereft of answers right now.
22:28 hrs IST
Chahal gets Rahane
That was a googly and Rahane does not pick it, he goes back and tries to cut, the ball spins back and hits the pads before the bat and RCB get the first break
22:20 hrs IST
Conditions have improved for batting
Well the conditions are playing nicely into the hands of the home side...@rajasthanroyals. Could this be their first victory? OR is there still a twist to come? #RRvsRCB

— Lisa Sthalekar (@sthalekar93) April 2, 2019
22:17 hrs IST
Saini has bowled well
The young man has bowled well in this spell, but no support from the fielders means he has nothing to show for his efforts. And suddenly, Rahane has found his groove. 2 boundaries in that over
22:09 hrs IST
Buttler , Rahane on fire
4 overs, and Rajasthan have screamed to 45. This match will end soon if RCB do not separate this pair soon. Well, they look like a deflated unit right now, who can get the first wicket for Kohli?
22:00 hrs IST
Kohli drops Rahane
Navdeep Saini bowls the perfect length, Rahane looks to drive, nicks it to Kohli at first slip who goes to his right and shells the catch. And then Buttler smacks the exact same ball over Saini for a boundary. RR are off and running in this chase
21:50 hrs IST
Chase commences
Ajinkya Rahane and Jos Buttler are out there. There is dew, it will be beneficial for the batters, RCB need to strike and strike quick. This RR batting will run over this total if allowed to settle down
21:41 hrs IST
RCB end with 158/4
The innings comes to an end for RCB. Partiv starred with the bat and it was largely due to his contribution that RCB have posted 158. Kohli started well, but Gopal sliced through the batting order by picking him, AB de Villiers and Shimron Hetmyer. Parthiv, along with Stoinis, kept RCB in the hunt before a final flourish from Moeen lifted the eventual score
21:22 hrs IST
And he departs
Muscle is not his forte and Parthiv perishes as he looks to muscle Archer back over long on, but is caught by Ajinkya Rahane at long on. End of a top innings by the opener, over to the finishers
21:20 hrs IST
Wonderful innings by Parthiv
The opener is doing a brilliant job, finds the boundary off the final ball, he is carrying this innings all on his own. Stoinis needs to start finding boundaries soon
21:08 hrs IST
Stoinis finding his touch
Gopal finishes a fantastic spell. Stoinis is slowly finding his groove, RR need to be wary of this Australian, he can dismantle this bowling attack towards the back end of this innings
21:01 hrs IST
Parthiv looking good
The opener has looked good this innings, he has played all across the ground and is racing along. He needs to bat deep into the innings and give Stoinis time to settle down into his role
20:45 hrs IST
Hetmyer departs
His struggles continue, he was not going anywhere with this innings and finally Gopal slips in the another googly, which pitches and spins across the left-hander. A nervous prod from Hetmyer, ball takes the outside edge and Jos Buttler takes the catch. RCB are slipping away after a positive start
20:40 hrs IST
The Gopal factor
Shreyas Gopal has bowled to Virat Kohli twice in the IPL, dismissed him on both the occasions.
He has bowled to AB de Villiers on three occasions and has dismissed him all three times!
20:36 hrs IST
Gopal gets AB
Yes, he has enjoyed his time against RCB and Gopal has proved it again, forces AB to go back on his bakfoot and then spoon an easy catch back to the bowler. RCB are suddenly on the backfoot, RR back on top
20:34 hrs IST
AB looking good
A scoop, a cut, and then a drive, AB looks to be in the groove on the pitch which is true to play the strokes. Not a good start for Varun Aaron, he concedes 16 in his first over
20:26 hrs IST
Kohli castled
Huge wicket, the perfect wrong un, lands on the perfect length, draws Kohli forward, and then the ball spins between bat and pad and smashes the stumps. What a superb ball, Gopal has dealt RCB a huge jolt
20:20 hrs IST
Parthiv off and running
14 runs off that Jofra Archer over and Parthiv has started with a bang. He needs to keep going after the bowlers so that Kohli can play his game at the other end. This has been a good start for RCB so far
20:13 hrs IST
Kohli hogging all the strike
He has faced a majority of deliveries and slowly, the skipper is finding his groove. Great signs if you are an RCB fan, not quite if you are Ajinkya Rahane. This pitch is two-paced and Kohli has to settle down
20:02 hrs IST
Kohli walks out to open
The captain wants to set the tone here, and he has walked out to open today and is already looking fluent against the spinner. RCB have got off to a solid start
19:46 hrs IST
This is how the teams line up
Here's the Playing XI for #RRvRCB

Live - https://t.co/O45uyAtahT pic.twitter.com/an96EXVdwe

— IndianPremierLeague (@IPL) April 2, 2019
19:36 hrs IST
Playing XIs
Rajasthan Royals (Playing XI): Ajinkya Rahane(c), Jos Buttler(w), Rahul Tripathi, Steven Smith, Ben Stokes, Stuart Binny, Krishnappa Gowtham, Jofra Archer, Shreyas Gopal, Dhawal Kulkarni, Varun Aaron
Royal Challengers Bangalore (Playing XI): Parthiv Patel(w), Moeen Ali, Virat Kohli(c), AB de Villiers, Shimron Hetmyer, Marcus Stoinis, Akshdeep Nath, Umesh Yadav, Navdeep Saini, Yuzvendra Chahal, Mohammed Siraj
19:35 hrs IST
Rajasthan bowl first
Rahane - We have had three close games, should have closed it. But this is another opportunity and we are looking forward to it. We will bowl first, looks like a dry wicket
Kohli - It's never nice to start without a win, but we are excited about this game. It's a long tournament, if you get on a roll, you can win plenty. We wanted to bat first, if the pitch gets scruffed up, we might have a good chance. Plus, we have that type of the team, defending makes more sense. We have three changes, Akshdeep Nath replaces Shivam Dube, Navdeep Saini is in for Barman and Stionis makes his RCB debut - De Grandhomme makes way.
19:27 hrs IST
Pitch report
The Sawai Man Singh stadium spins less than any other surfaces, there are some dry areas interspersed with grass. As we move along, the grass content is heavier. It will allow the ball to slide on nicely, should be some pace and bounce - this pitch will aid the faster men and you can score some runs as well - Ian Bishop with his pitch report
19:19 hrs IST
Manish - Shreyas Gopal has managed to get rid of AB
15 off 21 balls - The fact that Shreyas Gopal has conceded so few runs against a quality batsman like AB De Villiers is a huge reason why he is not a player that RCB can take lightly. De Villiers has sometimes struggled against spin bowlers and as a result, Gopal has dismissed him twice. But, this year, the South African is looking in great touch and this will be a perfect opportunity to improve his record.
19:18 hrs IST
Sayan - AB de Villiers factor
He found form in the match against Mumbai Indians and AB de Villiers will again step up and get the job done against Rajasthan Royals, He, along with Virat Kohli, will forge a brilliant partnership in the middle order
18:57 hrs IST
Manish - Kohli's record against RR poor
Kohli, who has scored 319 runs in 17 innings against RR, has recorded the least amount of runs versus this team among active sides in the IPL. He has also recorded his lowest strike-rate (102.24) against Rajasthan Royals among current teams.
18:53 hrs IST
Sayan - Watch out for Virat Kohli, he is hurt
The skipper said at the end of the previous match that he wants his players to take up more responsibility and get the job done for his side. He could continue to bat at the number 3 position, but Kohli is hurt and is due for a big score. On a flat, true surface in Jaipur it could well be a Kohli show
18:35 hrs IST
Hello and welcome
Rajasthan Royals and Royal Challengers Bangalore, the only two teams yet to win a game in the 2019 IPL, will be desperate to outdo each other in a clash of strugglers at the Sawai Man Singh Stadium in Jaipur on Tuesday.
Before the start of the match, we will preview this contest for you where I (Manish Pathak- cricket correspondent) and Sayan Ghosh (cricket correspondent) will put forward our respective cases for two teams playing today. I will present the case for RR while my colleague will put forward his stat based counters as to why he thinks RCB will walk away with the match in their bag.
Close