Matthew Hayden explains failure of Rashid Khan in Bengaluru Test
Jun 16, 2018 03:01 PM IST
Rashid Khan returned insipid figures of 2/154 from 34.5 overs during Afghanistan's innings defeat in their debut Test against India.
Rashid Khan, who made heads turn with his stellar bowling performances in the recently concluded IPL, had a baptism by the fire during Afghanistan's debut Test against India in Bengaluru.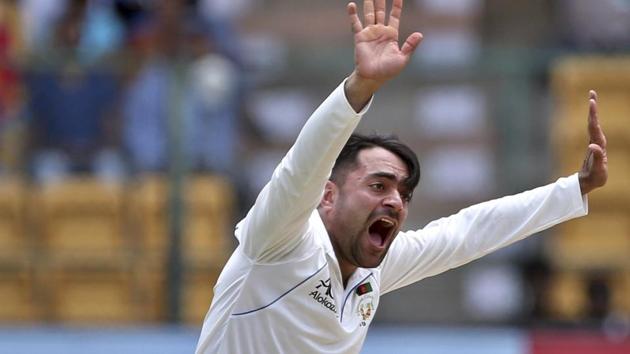 The Afghan leggie, who claimed 21 wickets from 17 matches besides recording an impressive economy rate of 6.73 for Sunrisers Hyderabad during the cash-rich league, struggled to make any impact in his maiden Test and finished with insipid figures of 2/154 from 34.5 overs.
So, what went wrong for Rashid? In former Australia opener Matthew Hayden's views, it was his desire to attack too early in the match that cost the 19-year-old dear.
Hayden, who covered the match as a commentator for Star Sports, believed that the Afghan spinner should have started with a conservative field when he first came to bowl.
"Firstly, he bowled with too attacking fields early, on a first day Test wicket. It was not day four or five, it was first day (pitch). You needed conservative fields. He was really aggressive and paid the price for it," Hayden was quoted as saying by the International Business Times.
ALSO READ | Zimbabwe Cricket assures clearing players' dues ahead of Australia, Pakistan tri-series
"As the day went on, he started to understand the abilities of bowling his leg-spinners more than his wrong'uns as well. I think he was a bit anxious, like they all were, that they have arrived at Test cricket. That overzealous behaviour hasn't led to a good performance," he added.
Afghanistan suffered an innings and 262-run defeat in a match that lasted only two days, making it the fourth instance of a team getting bowled out twice in a day of Test cricket.
India registered a massive first innings total of 474, thanks to centuries from openers Shikhar Dhawan and Murali Vijay before skittling out visitors for 109 and 103 in two innings to end the match on Friday.