'Mauke ki baat hi nahi hai': Hardik Pandya ends suspense over Prithvi Shaw's chances in India vs New Zealand 1st T20I
Jan 26, 2023 09:20 PM IST
Prithvi Shaw was drafted in the squad for the India vs New Zealand T20I series with Hardik Pandya providing insights into his chances of playing the 1st match tomorrow in Ranchi.
It has been 550 days since Prithvi Shaw last played for India. The promising youngster, who made his debut for India at the age of 18, began his career in explosive fashion, smashing a century in his first Test match, but just when people thought he is going to be around for a long time, Shaw's red-hot run came to a screeching halt with an ankle injury, which was then followed by a doping ban, slump in form and disciplinary issues. Shaw was drafted back in the team but could not cement his place in the team. His technique was exposed in the 2020-21 India vs Australia Test where he was dropped after a couple of poor scores in Adelaide, and has only featured in a limited number of matches for India ever since.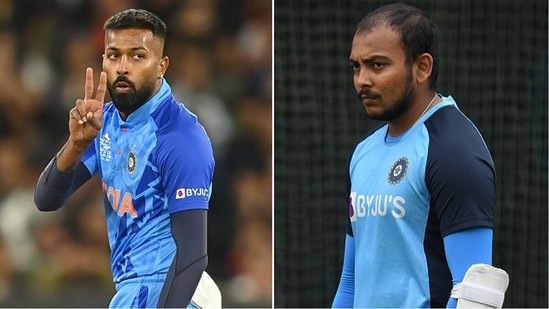 However, after setting the domestic circuit on fire with a string of impressive performances, Shaw, for the first time since July 25, 2021, was called up to the T20I team for the series against New Zealand. The reward came after Shaw had scored 363 runs in the Syed Mushtaq Ali Trophy 2022 and was in scorching form in the Ranji Trophy, where he recently scored a mammoth 379 off 383 balls against Assam. Having said that, Shaw's wait for a place in the India Playing XI might get prolonged as Hardik Pandya indicated that Shubman Gill will be the designated opener for India for the 1st New Zealand against T20I in Ranchi on Friday. It is no secret just how great a form Gill has been, having already amassed over 550 runs this year, hence with him and Ishan Kishan set to open, Shaw is expected to warm the bench.
Also Read - 'I would have preferred if Rohit Sharma...': Ian Chappell's no-nonsense take on India captain's controversial call
"Nahi sir. Shubman ne bohot achha kiya hai so usko pehle mauka milega. Actually, mauke ki baat hi nahi hai. (No sir. Shubman has done really well so he will get the opportunity first. In fact, with him it doesn't even come down to opportunities) Shubman will start because the way he is batting, he will obviously be in the team," Hardik said on the eve of the series opener.
Having being whitewashed 0-3 in the ODIs, New Zealand will seek retribution in the shorter format. Two months ago in November, when India were in New Zealand, the Men in Blue took the T20Is 1-0 after one game got washed out and the other abandoned due to rain. But expect the BlackCaps to come out all guns blazing, something Hardik acknowledged before he returns to resume India's T20I captaincy duty.
"New Zealand is a strong T20I team. They are a fine one-day unit as well even though the recent series outcome does not reflect that. They always challenge you as a team, which was the case in the 1st ODI in Hyderabad. If they could have pulled out that chase, they would have entered the second game full of confidence. But at the same point of time, we will try our best and know that we will have to play our best to beat them. They will be get rolled over. It's a fresh start," added Hardik.