'I would have preferred if Rohit Sharma...': Ian Chappell's no-nonsense take on India captain's controversial call
Jan 26, 2023 07:11 PM IST
The legendary Ian Chappell did not agree with one of Rohit Sharma's recent decisions as captain.
In the one year that Rohit Sharma has served as India's full-time all-formats captain, he has had more hits than misses. Of course, failure to win either the Asia Cup or the T20 World Cup last year will go down as two of his biggest missed opportunities but at the same time, winning multiple bilateral series with resounding margins and clinching an ODI and T20I series win in England and two achievements he and the Indian team can be mighty proud of. Rohit as captain may not be as fierce and aggressive on the field, but he too wears his heart on his sleeve. Just look at the many expressions on Rohit's face when things do not go India's way and you would get the picture.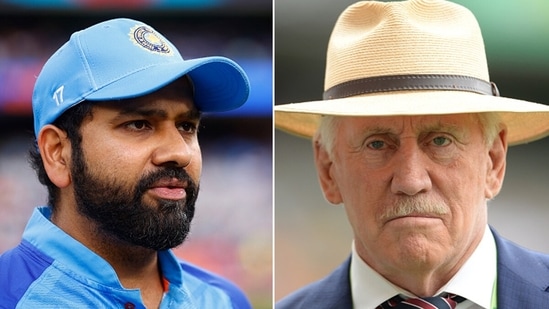 But while Rohit's captaincy has polarised fans, one thing the India skipper has stayed away from is controversy. Well, almost. Recently, one of Rohit's decisions as captain left the cricketing world divided. During the first ODI between India and Sri Lanka, Rohit withdrew an appeal for run-out against Dasun Shanaka when the SL captain was found outside his crease at the non-striker's end. As per rules, Shanaka who was closing in on his century, was out and the umpire had even made his decision, but Rohit took back the appeal allowing Shanaka to carry on. The Sri Lanka captain completed his century even as his team went down by 67, but Rohit's decision became the talking point.
Also Read - 'Ishan bhi bolega mujhe khilao, mai Ranchi ka hu...': Rohit's blunt comment on competition for spots in India squad
The run-out saga came five days after Adam Zampa's attempted run out of a batter in the Big Bash League was turned down by the third umpire. With two similar incidents taking place within a weak, the legendary Ian Chappell weighed in on both episodes, saying that if there exists a particular law for this, it should and needs to be followed.
"Two major cricket controversies – run outs at the bowler's end and catches referred to the third umpire – have reared their ugly head again, creating further headaches that should've been alleviated long ago. The run out at the bowler's end, could have and should have been resolved easily. The original law was more than adequate and should never have been changed. It's a reminder that there are generally two solutions to a problem – a simple one and the other more complicated," Chappell wrote in his column for Mid-Day.
As for the Rohit incident, Chappell felt the India captain should not have extracted his appeal back once the bails were taken off. Chasing 374 to win, Shanaka had staged a spirited fightback for Sri Lanka as from 179/7, he lifted the team to 306/8. By the time the last over was bowled, there was only one forgone conclusion but instead, all eyes were on Shanaka, who was batting on 95 and nearing his hundred. Fourth ball of the over, Mohammed Shami, bowling the final over came running in, and before jumping into his action, whipped off the bails. But before the umpire could make his decision, Shami took it back after a light intervention from Rohit. Reacting to it Chappell believes that had Rohit and India stuck to the decision, that would have been a better advent for the whole 'Spirit of Cricket' debate.
"Cricket is renowned for choosing the complicated solution. Attempting a run out at the bowler's end without warning a batsman is not unsporting. Appealing for a catch that a fielder knows he's caught should not be subjected to crowd booing as it's legal. In the Guwahati game against Sri Lanka, I'd have preferred if Indian captain Rohit Sharma had enforced, rather than rescinded, the run out appeal against his opposite number Dasun Shanaka," pointed out Chappell.