'Ishan bhi bolega mujhe khilao, mai Ranchi ka hu...': Rohit's blunt comment on competition for spots in India squad
Jan 26, 2023 04:49 PM IST
India are currently looking to unearth players they would prefer in certain positions amid heavy competition for spots.
India were without Shreyas Iyer and KL Rahul in their recently concluded ODI series against New Zealand but such is the depth of the squad that they hardly felt their absence. While their replacements Ishan Kishan and Suryakumar Yadav didn't exactly dominate the series, India put up big scores throughout the series consistently thanks to the scintillating form of opener Shubman Gill and other top order batters.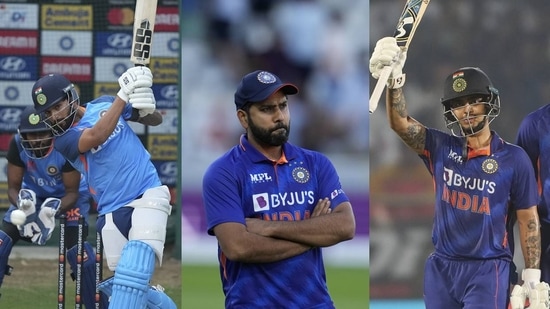 Captain Rohit Sharma, who himself scored his first ODI century in over three years in the third match, has said that the team is looking to give as many players opportunities to showcase themselves as they can. Rajat Patidar was one who could not get an appearance throughout the series, with some expecting him to play in the game as India had already series a series win by then. Rohit said that the team is following plans that they have drawn up in the buildup to the World Cup later this year and are selecting players for matches accordingly.
ALSO READ | Watch: Virat Kohli's animated gesture to 'Sara' chants for Shubman Gill leaves fans in frenzy during IND vs NZ 3rd ODI
"If we can find space for him we will get him to play," said Rohit about Patidar. "Right now there is Kohli at No.3, Ishan Kishan at No.4 - he had sat out the last series after scoring a double century. At No.5 is Suryakumar Yadav, the whole world knows what he has been doing and then at No.6 there is Hardik Pandya. We want everyone to play but we cannot do that unless we find space for them."
The third ODI was hosted at the Holkar Stadium in Indore, which is where Patidar plays his home matches for Madhya Pradesh in domestic cricket. "I know maybe we could have played him in Indore. In Ranchi, Ishan will also say, let me play, I am from Ranchi. But that is not how it works, we go according to some plans. Everyone will get a chance. That is what we have told the boys, we will give you a chance to play whenever we can but that opportunity should arise, there are a lot of boys waiting in line," said Rohit.
India will now face New Zealand in a three-match T20I series before hosting Australia for a much anticipated four-match Test series. The series against New Zealand starts on Friday in Ranchi, followed by the second match in Lucknow on Sunday. The series concludes on Wednesday in Ahmedabad.