N. Srinivasan barred by Supreme Court from attending BCCI meetings
Updated on Jul 24, 2017 09:53 PM IST
N. Srinivasan has been attending BCCI meetings as a representative of the Tamil Nadu Cricket Association.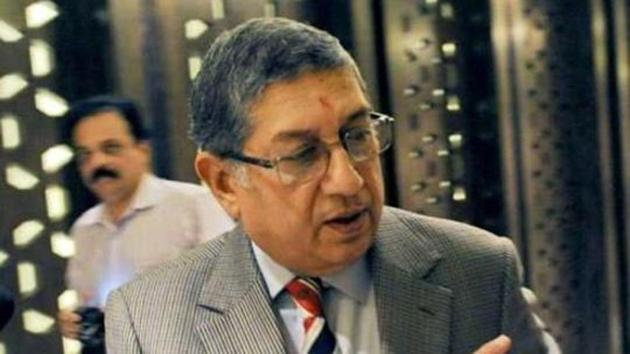 Hindustan Times, New Delhi |
HT Correspondent
N. Srinivasan, former BCCI president and representative of the Tamil Nadu Cricket Association (TNCA) has been barred by the Supreme Court from attending cricket board meetings. Along with Srinivasan, Niranjan Shah, who is a member of the special committee formed for the implementation of the Lodha Panel reforms, has also been barred.
N. Srinivasan, who had to step down as BCCI boss in the wake of the 2013 IPL spot-fixing and betting scandal, has been violating Lodha committee recommendations on age and tenure guidelines. The reforms suggested by the Justice Lodha panel says no official above the age of 70 should participate in BCCI matters.
Effectively, Srinivasan, who has been in the forefront of blocking Lodha recommendations on BCCI, will not be able to attend the BCCI Special General Meeting (SGM) on July 26. The Supreme Court only BCCI office-bearers may attend the SGM.
Reacting to the development, BCCI secretary Amitabh Choudhary told Hindustan Times in London: "It is the honourable Supreme Court of India; its orders would be binding. As the order says, in the general body meeting which will happen on the 26th, only those persons who are office bearers of the member unit associations can participate.
"So naturally there will be exclusion of some and inclusion of others. Whether it will smoothen the process or not, I can assure you that irrespective of who attends I think there is enough collective wisdom. In the next meeting in any case we would have reached a solution. This is the order of the Supreme Court and we will follow it".
Meanwhile, the Supreme Court asked the BCCI to adopt the Lodha Panel suggestions as far as "practicable" in the July 26 SGM. However, the top court may review the one-state-one-vote recommendation.
The announcement from the Supreme Court came after the top court had sought a response from both N. Srinivasan and Niranjan Shah after Committee of Administrators head Vinod Rai had complained that both had been attending the SGM despite being qualified.
In response, Niranjan Shah and N Srinivasan criticised Vinod Rai and accused him of targeting them alone.
At the start of July, the Committee of Administrators, in a status report submitted to the Supreme Court, lambasted Srinivasan and Niranjan Shah and said, "Such disqualified persons have a vested interest in stalling implementation of the Judgment." Both Srinivasan and Niranjan Shah were officially raising objections against the scheduling of the SGM.