Parshavi lives a dream born in the women's 2017 WC campaign
Jan 30, 2023 09:36 PM IST
The leg-spinner was crucial in India's triumph in the inaugural ICC T20 U-19 Women's World Cup in SA
Parshavi Chopra grew up surrounded by cricket hysteria, her father and uncle discussing the game all the time at home. But it took India's run to the 2017 ODI Women's World Cup final in England to ignite the passion for cricket in the youngster.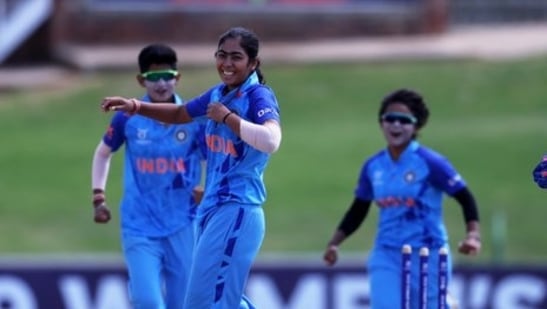 India's campaign, and their upset win over Australia, caught the imagination of Indian fans and though they lost to England in the final, women's cricket in the country had found a fresh identity. Parshavi was inspired to join the Yuvraj Singh Centre of Excellence (YSCE) in Noida with the dream of playing in a World Cup for India one day.
Six years on, leg-spinner Parshavi is living her dream. Not only was she a member of the team that beat England in the final on Sunday to clinch the inaugural T20 ICC U-19 Women's World Cup, she was also India's highest wicket-taker in South Africa, her 11 scalps in six games just one short of 15-year-old Aussie pacer Maggie Clarke's tournament high tally (12 off 5 games).
She was one of the bowlers who made it a breeze for India in the final at Potchefstroom. Her 2/13 in four overs led a dominant show by spinners as England were dismissed for 68 to set up a seven-wicket win for India. She also hogged the limelight against Sri Lanka, claiming 4/5 in the Super Six stage win.
Parshavi earned praise from Yuvraj Singh, a hero of India's U-19 as well as ODI and T20 World Cup victories. "I am very happy that our young women won the U-19 World Cup. It is a historic moment in sport and I am confident this will open up the way for many other young girls to take up the game."
The former India all-rounder was impressed with his academy trainee. "I've been following Parshavi's growth very closely. She is extremely hardworking and sincerely follows the guidance of her coaches. I am convinced that she is one talent to watch out for on the global stage. I look forward to meeting her on her return to India. I am really excited about her accomplishments in the future."
The Shafali Verma-led team won the first global title by an Indian women's team.
The 16-year-old Parshavi's family hails from Bulandshahr, Uttar Pradesh. She has been a member of the state U-19 side for a few seasons now.
"She was a skater and won many medals at state level before taking up cricket. She ran the 100m too in school. But after watching the 2017 World Cup, she wanted to become a cricketer. We encouraged her and put her in a well-equipped academy. Vishal Bhatia was her coach; she worked hard on her technique and skill from then on," said Parshavi's father Gaurav Chopra.
Gaurav and his brother have played cricket at club level in the National Capital Region. Parshavi's brother too is a budding cricketer and was in the UP U-16 boys' camp this season.
"The entire neighbourhood was at our place during the final," said her father, who spoke about the role of Yuvraj's academy in his daughter's development as a player.
"It is now time for Parshavi to build on and put in more effort. She is very young and more exposure can help her become an accomplished cricketer," he said.