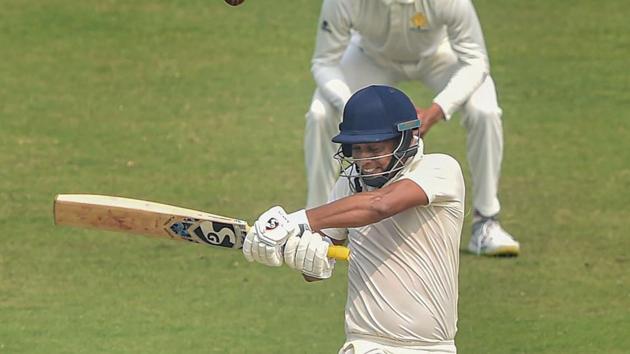 Saurashtra vs Bengal scorecard, Ranji Trophy final Day 3: Bengal reach 134/3 at stumps, trail Saurashtra by 291 runs
Saurashtra vs Bengal, Ranji Trophy final Day 3 score and updates: Follow full scorecard and updates from the Ranji Trophy final between Bengal and Saurashtra in Rajkot.
Hindustan Times | By HT Correspondent
UPDATED ON MAR 11, 2020 05:27 PM IST
Saurashtra vs Bengal, Ranji Trophy final Live Updates: Sudip Chatterjee and Wriddhiman Saha have taken Bengal to 135 for 3 at stumps on Day 3 of the Ranji trophy final against Saurashtra at the Saurashtra Cricket Association Stadium in Rajkot. The last session belonged to Bengal. If it wasn't for that big wicket of Manoj Tiwary then Bengal would have been a camp at the end of the day's play. Earlier, Dharmendrasinh Jadeja broke the opening stand of Bengal by getting the important wicket of debutant SK Gharami for 25 and then Prerak got the huge wicket of Bengal captain of Abhimanyu Easwaran for 9. Bengal were 35 for 2 at Lunch on . This after they bowled out Saurashtra for 425 early on Day 3. Chirag Jani was dismissed quickly but the last wicket partnership put on 38 runs for Saurashtra, taking them to 425. For Bengal, Akash Deep picked up 4/98.
Saurashtra vs Bengal Day 3 highlights -
17:01 hrs: STUMPS on Day 3! Bengal 134 for 3, trail Saurashtra by 291 runs.
16:54 hrs: Chatterjee survives! Numerous replays, a good 4-5 minute wait and finally the third umpire decided to overturn the decision. You cannot really blame the umpire here, it was mighty close and without a snickometre it was never going to be easy. On naked eye however, it looked as if there was an inside edge and he went with that. Sudip Chatterjee lives to fight another day (literally)
16:35 hrs: Unadkat returns! This might be Saurashtra's last throw of the dice to get a wicket before close of play on Day 3. No prizes for guessing that Bengal is playing for stumps and that might just allow to Unadkat to attack more.
16:15 hrs: FOUR! Saha gets off the mark with stunning cover drive off Chirag Jani. A gentle loosener from Jani, he intended to swing the ball by pitching it further up but when it doesn't swing it becomes easy pickings for the batsman.
15:59 hrs: OUT! LBW. Manoj Tiwary has been dismissed by Chirag Jani. He was the who overstepped and did not get the wicket of Tiwary but he has more than made up for it by getting his man with another brilliant in-dipper. Tiwary was rooted to the crease and it struck him right front, the umpire had no hesitation in rasing his finger. Tiwary thought about taking the DRS but then decided against it.
15:45 hrs: FOUR! Consecutive fours! This time even better. A fuller length delivery from Sakariya, Chatterjee presents the full face of the bat and drives it straight down the ground for a boundary.
15:44 hrs: FOUR! A loose delivery on the pads from Sakariya and Chatterjee takes full advantage of it. The best thing he did was to find the gap despite there being three fielders on the leg side.
15:28 hrs: Unadkat bowling cross seam! After not finding much assistance from the track, Unadkat has decided to bowl cross seam. He is renowned for his variations and cutters in the shorer format of the game, it will be interesting to see how he uses those with the red ball.
15:14 hrs: Jaydev Unadkat hasn't picked up a wicket yet but he hasn't gone for runs either. In 10 overs, he has given just 29 runs and he will eager to open his account in the final session of the day.
15:00 hrs: Final session of the day! Manoj Tiwary and Sudip Chatterjee will look to bat for most parts of the day as Bengal will he hopeful to put on runs in the post-tea session. As for Saurashtra, they know they can rattle Bengal by picking up couple of wickets in this session.
14:45 hrs: Tea! Manoj Tiwary and Sudip Chatterjee kept the bowlers at bay with their 59-run unbeaten stand. Bengal are still 331 runs behind but Tiwari and Chatterjee ensured they didn't suffer any more hiccups in the second session after the dismissal of openers.
14:30 hrs: The experienced pair of Sudip Chatterjee and Manoj Tiwary have weathered the storm after two quick wickets to stable the Bengal innings. Bengal haven't scored at great clip but they know this is the pair if they have to take the first innings lead.
14:14 hrs: FOUR! Depth touch from Sudip Chatterjee. It wasn't that short but he used the depth of his crease to dab it throught he vacant third man region for a boundary.
14:06 hrs: Manoj Tiwary survives! The Bengal camp was distraught, Chirga Jani was over the moon but it all changed as the umpire went upstairs to check for the no ball. And as it turned out, Jani's front foot had landed on the line, which belongs to the umpire. It was declared a no ball. That one had kept low, Tiwary was rooted to his crease and had chopped it back on to his stumps.
13:45 hrs: Good tussle between Tiwary and Jadeja! Manoj Tiwary, like always, is trying to get on top of the spinner by dancing down the track and upset his rhythm but the left-arm spinner Jadeja has been spot on so far. This battle is very important as far as this Bengal innings is concerned.
13:26 hrs: FOUR! That was there to be hit, short and wide from Jadeja and Chatterjee wasn't going to miss out on that opportunity. He rocked back and cut it past point to collect his first boundary.
13:17 hrs: A huge appeal from the Saurashtra players but umpire Padmanabhan is unmoved. Did it come off the pad? Looks like it did. Chatterjee goes for the sweep again, had to fetch it from outside off and Jadeja got a bit of turn and bounce. It seems to have missed the bat.
13:13 hrs: FOUR! Fifty up for Bengal! That was trademark Manoj Tiwary. A short and wide delivery from Unadkat, Tiwary stands and goes at it with all hands and minimal feet movement and dabs it throught the vacant point area for a boundary.
12:58 hrs: Maiden from Prerak! The right-arm medium pacer looks innocuous but has the ability to surprise the batsmen with his banana swing. Sudip Chatterjee knows this and he was extra cautious in that over.
12:45 hrs: Day 3, session 2! Dharmendrasinh Jadeja will be up against Sudip Chatterjee in the first over after lunch.
12:10 hrs: LUNCH AT DAY 3! Those two wickets just at the stroke of lunch have given Saurashtra complete control of the Ranji Trophy final. Another session that the hosts would know went their way. After getting to 425 thanks to an important 38-run last wicket stand, Saurashtra have removed both the Bengal openers with 390 runs still to play with. Bengal 35 for 2.
12:03 hrs: OUT! Prerak has dismissed Abhimanyu Easwaran for 9. Prerak gets the ball to jag back in, Easwaran plays all around it and the umpire raises his finger. That looked to be going down, Easwaran has chat with his partner and decides to opt for the review. The impact seems to be in front of leg-stump but it appears that the ball might slide down the leg side, it struck him high on the knhee-roll too. Unfortunately for Easwaran and Bengal, there is no ball-tracking here and the third umpire decides to stay with the on field decision. Big wicket of Saurashtra.
11:57 hrs: OUT! Dharmendrasinh Jadeja has broken the promising Bengal opening stand. A flighted delivery, Gharami pushed at it with hard hands and it just got the inside edge of his bat. A very good catch at forward short leg by Viswaraj. Gharami was looking good but he has to go for 25.
11:48 hrs: FOUR! What an effortless shot that was from Gharami. Where was he all this while? Gharami has been brilliant against pacers and now he shows his class against spin too. A flighted delivery from Jadeja, Gharami plants his front foot forward and just strokes it through mid on.
11:35 hrs: The deficit under 400 for Bengal! What happened there? Easwaran thought the ball would bounce more the it came straight to him from a length and he had nowhere to go. He fend it awkwardly but fortunately for him, the ball landed in man's land and Bengal got a single, which brought the target down under 400.
11:30 hrs: Gharami looking good! The debutant looks confident. The flick and the straight drive he hit off Unadkat gave clear indications that he has the potential.
11:22 hrs: FOUR! Brilliant from the debutant. Unadkat strays down the leg side and Gharami was up to the mark. He just flicks it past the square leg fielder to collect his first boundary in the first-class cricket.
11:15 hrs: Solid from Bengal openers! Abhimanyu Easwaran and SK Gharami have done a good job against the Saurashtra new ball bowlers. The odd ball from Unadkat has caused some troubles to Easwaran but by and large the Bengal right-handers have been confident.
10:55 hrs: Unadkat starts well. Two deliveries had the shape in to the right-hander in Unadkat's first over that would encourage the Saurashtra captain. The Bengal openers Abhimanyu Easwaran and debutant SK Gharami will have their task cut out.
10:37 hrs: BOWLED! Shahbaz gets Unadkat for 20. Bengal have bowled out Saurashtra for 425. This has to be a very good first innings score in a final. The foundation was laid by a brilliant century from Arpit Vasavda and a patient 66 from Cheteshwar Pujara. For Bengal, right-arm seamer Akash Deep was the star with 4/98.
10:30 hrs: FOUR! That was crunched by Jadeja. Short and wide from Mukesh and the left-hander gave the full monty. This partnership is turning out to be a brilliant one for Saurashtra and dare we say, these runs might come out to haunt Bengal in the end. The partnership between Unadakat and Jadeja is now 34.
10:02 hrs: 400 up for Saurashtra and this is a brilliant show from their batsmen. Dharmendrasinh Jadeja and Jaydev Unadkat are playing an important part in this innings and this is looking quite tough for Bengal.
09:46 hrs: Akash Deep strikes for Bengal and Chirag Jani will have to return to the pavillion. The uneven bounce continues to bother the batsmen as the ball did not rise at all and Jani was castled.
09:20 hrs: Hello and welcome to the live coverage of the Ranji Trophy final between Bengal and Saurashtra. It has been a good outing for Saurashtra till now with Arpit Vasavada and Cheteshwar Pujara putting them in the driver's seat. Will Bengal be able to match them with the bat? Only time will tell.
Close