Smith surpasses Bradman, races ahead of pack
Jan 05, 2023 09:34 PM IST
Quickest after Sachin Tendulkar to 30 Test hundreds, Smith taking it "one tour at a time".
Steve Smith surpassed Don Bradman's record of 29 Test hundreds in the third Test against South Africa in Sydney on Thursday. No current batter is in this echelon of Test cricket right now. Joe Root has 28 hundreds and Virat Kohli has 27. Considering there will be an Ashes and an India-Australia series this year, both have opportunities to improve their tally. Kane Williamson, with 25 hundreds, is a little more adrift on this list but he too is scoring heavily in Pakistan. But no one has accumulated runs quite like Smith.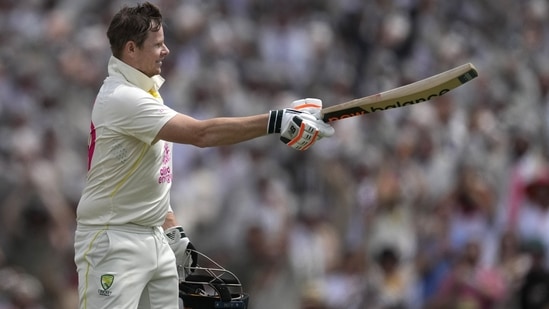 He achieved this feat in his 162nd Test innings, becoming the second quickest—after Sachin Tendulkar's 159 innings—batter to score his 30th century. Among Australians, only Ricky Ponting (41) and Steve Waugh (32) have more hundreds than Smith who is now level with Matthew Hayden's record of 30 centuries. Smith's strokes don't ooze a natural grace. The fidgeting, the disconcerting stance and subsequent shuffle—though it has decreased over the years—and the play-and-misses are almost a requisite to any Smith epic. Yet, Smith has been far more efficient than his peers, letting his metrics overarch the brilliance of his peers in terms of absolute numbers.
The best average in Asia (50.87, second to Kohli's 56.57) and in England (59.55, better than even Root's 53.56) serve as the perfect intro to Smith's genius before his surreal home (64.51) and away (60.39) average leap out at you. And if they still don't take your breath away, Smith's first innings average of 89.95 (the next best here is Kohli's 48.16) will definitely do. This isn't an accumulated average of Smith's runs on good hard bouncy Australian pitches mind you, but also in the subcontinent, South Africa and England.
Seam or spin, overcast morning conditions or in fading light on turners, Smith has scored 20 hundreds in the 55 times he has batted in the first innings of a Test. That's a 36.36% conversion percentage, comfortably ahead of Root (12.8%), Kohli (13.11%) and Williamson (15.21%). So Thursday was business as usual for Smith till he missed out on "happy hour" by giving Keshav Maharaj a simple return catch.
"I just missed out on happy hour, was time to go playing some shots as Heady just did," said Smith after the close of play. "Was time to have some fun. I was actually going to start practicing a few things, potentially like sweeping and things like that, with our upcoming Indian tour. I know that sounds bad in a way, but felt like it was an opportunity to do that against some good spinners."
A double hundred would have been a fine way to cap a home season where he had already scored a double against West Indies in Perth. But that Smith is already gearing up for India once again gave a peek into the restless perfectionist in him. And that's really the thing about Smith. When he is hitting the ball, he almost always makes it count. "It's not going to be perfect every time," he said. "So when you aren't feeling as good as you'd like you just try to grind it out, get through that initial period then hopefully things get easier. I didn't feel great my first 60-70 balls, I reckon, then things started to click and feel a lot better. Pleased I was able to get through that initial period."
Shuffling across the stumps, putting more of his body in line at times, Smith was often trying to improvise even when the bowling was hostile at times. "I was getting back and across just to cover the ball coming back in at me. I'd rather do it out there…rather than come back in the sheds and wonder why I didn't do that. Felt I could still get my weight back through the ball," he said.
As far as hundreds go, it was a very fine effort. Just that it came at a stage so bereft of thrill and anticipation. South Africa, against all odds, have been tamed so comprehensively that the pummelling by Smith and Usman Khawaja in a 219-run third-wicket stand was almost boring to watch. It didn't however rob the sense of occasion—Smith finally surpassing Bradman at the great's backyard. Still 33, Smith is at the peak of his batting prowess and ahead of the pack by a considerable margin now. But he isn't willing to think too far ahead into his future. "I really can't say how long I'll play for, I'm not sure. Take it one tour at a time, enjoy it, enjoy training and try to get better. Whilst I'm doing that I'm happy playing, but don't know how long it will last," he said.