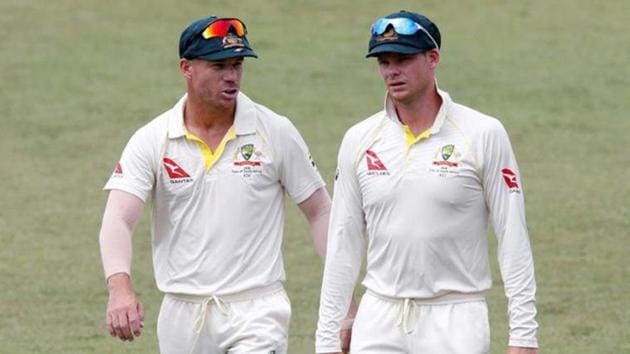 Steve Smith, David Warner to push for relaxation of their cricket bans - Reports
Steve Smith and David Warner are likely to push for a relaxation of their Cricket Australia (CA) bans, freeing them to play domestic cricket.
UPDATED ON APR 02, 2018 02:18 PM IST
Steve Smith and David Warner could push for a relaxation of their year-long bans by Cricket Australia (CA), which would allow them to play domestic cricket -- both at home and overseas, according to a report by ESPNCricinfo.
Warner, Smith and Cameron Bancroft were suspended by CA for their role in the ball-tampering scandal during the Newlands Test between South Africa and Australia last month.
The Board of Control for Cricket in India (BCCI) also barred Smith and Warner from participating in the upcoming edition of the Indian Premier League (IPL) following CA's ruling. On the other hand, Bancroft's contract with English county club Somerset was rebuked as well.
The rulings could also force the banned trio to take up the option of formal hearings under the board's code of conduct, the report said.
The ban handed by CA stated that it covered both 'domestic and international cricket.'
But according to ESPNCricinfo report: "The advisors to Smith, Warner and Bancroft - all three have retained legal counsel in addition to their respective managers Warren Craig, James Henderson and Trent Ovens - are believed to be determined that the scope of the bans is too wide, given that the offences took place when playing for Australia, and that two players had already been penalised by the ICC."
READ: Cricket Australia, ICC are culprits in letting the game slip away
"Additionally, they believe that not being able to play first-class cricket over the next 12 months is likely to hamper the trio's ability to press for Australian selection when their bans lapse. Smith and Warner would not be eligible until the end of next year's Sheffield Shield competition, while Bancroft would be ruled out until after Christmas 2018," the report further stated.
When the ban was initially announced, it was unclear whether the accused would be allowed to play cricket outside Australia.
"Under the code we didn't have any clear authority over domestic matches played overseas. It was talked about but we ascertained based on the legal advice that we didn't have that clear authority," CA's CEO James Sutherland had said in a statement.
"What we've done is we've dealt with the matters within our control. We have made an assessment and I think we all know here that there are extreme views around this in terms of what the penalties are. And not only extreme one end to the other but up and down the line as well. What we have done is try to over a number of meeting, the directors have gone into great detail to consider all of the evidence at hand and try to find the right balance for the circumstances.
"It was a really significant offence, its done immeasurable damage to the game and the reputation to the game in Australia and perhaps more broadly. And we believe in difficult circumstances we've found a landing spot that is fair after offering a proper process of investigation."
"All three players will be permitted to play club cricket and will be encouraged to do so to maintain links with the cricket community," the board said in a statement. "In addition, all three players will be required to undertake 100 hours of voluntary service in community cricket."
Whether the trio will opt for a formal hearing, and the possibility of them playing domestic cricket abroad still remains uncertain.
Close