Story of the Indian U-19 cricket team: present perfect but future uncertain
Press Trust of India, New Delhi |
Press Trust of India
Feb 04, 2018 03:00 PM IST
Many players in the World Cup-winning Indian U-19 cricket team are no doubt talented but it is too early to say how many will make it big at the international cricket.
Ravneet Singh Ricky runs a cricket academy and works for Air India.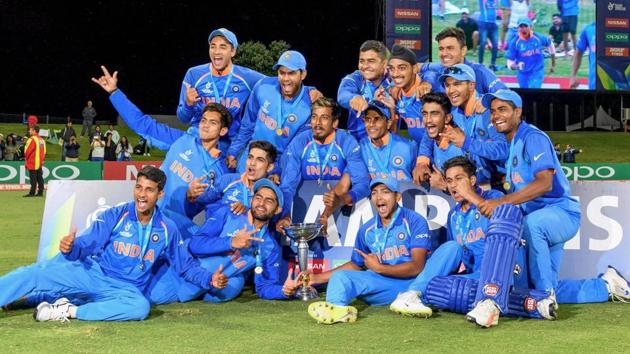 Shalabh Srivastava has gone into oblivion after BCCI suspended him for five years following a sting operation on match fixing. Ajitesh Argal has played the last of his 10 first-class matches in 2015.
Smit Patel is trying to keep his first-class career afloat by playing for India's worst performing domestic side Tripura.
Wondering how the four are joined by common thread? They were all star performers during India U-19 team's victorious World Cup campaigns in 2000, 2008 and 2012.
Ricky was adjudged best batsman of the 2000 World Cup campaign ---a tournament that gave India Yuvraj Singh and Mohammed Kaif.
Srivastava, a left arm seamer, was the third highest wicket-taker in 2000 while Argal was the man of the final during Virat Kohli led side's triumph in 2008. Smit scored a half-century in the 2012 final.
But leave alone playing for India, Ricky, Smit, Shalabh and Ajitesh could not even remotely replicate their performance at the first-class level.
As the whole country is euphoric about U-19 World Cup success, an Unmukt Chand comment forces one to sit back and think.
"For every Virat Kohli story, there is a story of Unmukt Chand or Shikhar Dhawan also."
Prithvi Shaw, Shubman Gill, Manjot Kalra, Shivam Mavi or Kamlesh Nagarkoti are no doubt talented but it is too early to say how many will make it big in international cricket.
That class of 2000 that had Ricky also had Yuvraj Singh-- possibly one of India's finest limited overs cricketer and Mohammed Kaif who played 120 odd ODIs including 2003 World Cup final for India.
"A few will make it but let's accept the fact that a lot of them will fall by the wayside. That's the reality but now important thing is to go back and play. It will be great if two or three from this batch make it," says former India opener Aakash Chopra.
What he feels will work for the current lot is that there is IPL which can hasten their progress.
"Kamlesh Nagarkoti is an exciting prospect and I expect him to play for Kolkata Knight Riders in the upcoming IPL. So if he does well, then naturally Rajasthan will be forced to play him in Ranji Trophy despite Pankaj Singh, Aniket Chaudhary, and Deepak Chahar being there," Chopra explained the situation.
Chopra seems optimistic about Nagarkoti's future.
"A good IPL might have national selectors playing him in T20s and if you look, the Indian one day side's third and fourth pacer's slot is still undecided. You never know," Chopra said.
Like it could be a Catch 22 situation for someone like Harvik Desai as Parthiv Patel still plays for Gujarat. Smit had to shift to Tripura.
Talking about final centurion Manjot Kalra's future in Delhi cricket, Chopra gave a technical reasoning.
"We have seen Manjot in white ball cricket and not in red ball which is a different proposition altogether," he said.
However both Chopra and former India wicketkeeper Deep Dasgupta feels that with more India A tours now and Rahul Dravid in charge of their transition, some of the boys will be ready in near future.
"We have an India A tour of England coming up and with Rahul around, may be Prithvi, Shubman, Kamlesh and Shivam can be taken for that tour and checked out," Dasgupta said.
There are some realistic pointers also.
The senior India team is now looking at wrist spinners like Yuzvendra Chahal and Kuldeep Yadav. Even a second grade spinner like Karn Sharma got a Rs 5.8 crore deal for his art form.
So where does it leave left-arm finger spinners like Shiva Singh, Anukul Roy or Abhishek Sharma?
"Look at Shahbaz Nadeem who has been a performer for such long time but is playing India A. Finger spinners (off-break and left-arm orthodox) are no longer priority in ODIs," Chopra said.
But both agreed that there is no shortcut to playing first-class cricket.
Often at times people after watching live coverages go bonkers with calls to immediately draft some of them in the Indian team.
It happened with Unmukt and Harmeet Singh in 2012 but they couldn't live up to the expectations.
But Chopra doesn't mind the hype as long as these kids show the mettle to take that pressure.
"I would rather want them to live in that pressure than be a Priyank Panchal who won't know what's there in store for him even after scoring 1000 runs," he said.
So from now on, it's wait and watch the story unfold.
Catch all the Latest
cricket
news, and
Live score
related updates on Hindustan Times Website and APPs