Suryakumar Yadav, Prithvi Shaw selection acknowledges X factor
Jan 14, 2023 08:31 PM IST
Yadav's T20 brilliance being rewarded with a berth in the squad for the Australia Tests and Prithvi Shaw's T20I return after a Ranji triple ton show that performances, regardless of format, are now acknowledged
'Sarfaraz Khan has done all he could'. This was the overriding sentiment among selectors though they didn't consider the prolific Mumbai batter for the squad to play the first two Border-Gavaskar Trophy Tests against Australia next month.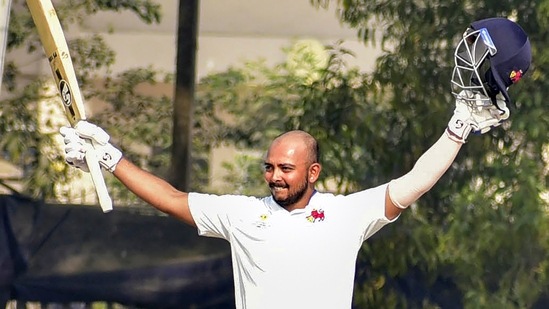 With Bradman-esque appetite for runs – Sarfaraz has scored 2,341 runs in the last three Ranji seasons including the ongoing one – they were just stating facts. But selection at elite level is the sum of many other factors – timing of runs, level of competing players, the quality of opposition, selector's long-term vision. Fundamentally, it's a judgement call that the player would be able to translate his form at a higher level.
There were not enough hands in the selection room convinced that Sarfaraz could do the job against Australia. Or, if he was the best man for the job. The moment Suryakumar Yadav's name came up for discussion, it was approved. Even if, technically, he is the 17th member of the squad, they are convinced that should a playing eleven opportunity arise, he will not be found wanting in a series that will decide the World Test Championship finalists.
Sarfaraz may feel the universe has conspired against him but Rishabh Pant's absence left the selectors scurrying for certain kind of replacements. On paper, Pant's wicket-keeping back-up KS Bharat is the obvious choice. But whether to go ahead with him is left to the team management.
The Andhra player's wicket-keeping skills against spin strengthens his case. But he isn't being trusted to bat in the top six. Bharat may only play if Ravindra Jadeja is fully fit. The all-rounder has been asked to play the final Ranji league match for Saurashtra to prove his match fitness. If Jadeja doesn't feel 100 percent, Ishan Kishan for his stroke-play and left-handedness could take Pant's place. Shreyas Iyer's run of good form will see him stay in the middle-order.
If any piece in this jig-saw puzzle goes missing, the selectors are banking on Yadav's talent to come to the rescue. "Introducing Sarfaraz to international cricket in an important series against Australia didn't feel right," an official close to selection matters said.
Another official pointed out, "the wickets are expected to take sharp turn". Sarfaraz hasn't got all his domestic runs without handling spin, one may counter. "Wouldn't opposing spinners fear Surya more?" was the argument.
It boils down to the shifting narrative of elite level selections where game-changing white-ball innings against international opposition – that's what IPL is mostly about – will influence borderline Test selections.
England's former U-19 World Cup star Harry Brook, before he smashed three hundreds in his debut Test series in Pakistan last month, had the confidence to predict how he would pick Abrar Ahmed's mystery spin well, benefitting from his experience in the Pakistan Super League.
In Yadav's case, the selectors had largely ignored him despite his 5,000-plus first-class runs. But on the back of his T20 genius, all it took the Mumbai batter was a couple of quickfire 90s in Ranji for the selectors to change their mind.
Shaw's 379 earns a recall
Another selection call by Chetan Sharma's panel illustrating how it has become difficult to separate formats is that of Prithvi Shaw for the New Zealand T2OIs. The Mumbai opener's ability to quickly get off the blocks has been known for long. His most recent 379 against Assam at almost run-a-ball was the reiteration selectors needed. He will compete with Ishan Kishan and Shubman Gill who opened in the last T20 series.
Shaw's selection is another of India's efforts to add scoring urgency in the T20 top-order. Rahul Tripathi, who played in the recent series against Sri Lanka, impressed with a 16-ball 35 at Rajkot. Rohit Sharma, Virat Kohli and KL Rahul haven't played a T20I after the World Cup in Australia with no official word on why they were ignored. Rohit has said they are being rested in an ODI World Cup year. But with India bursting with talent, they will know that an impressive IPL will vital to push their case for the 2024 T20 World Cup.
Pacer Harshal Patel, dropped from the NZ T20I series, is already playing Ranji. Left-arm seamer Arshdeep Singh, who has lost his ODI place, will also be donning the whites again for Punjab "to strengthen his bowling muscles and add layers to his bowling".
Topics