Virat Kohli's fanboy moment with Arijit Singh, cricketer says he's 'captivated'
Updated on Oct 17, 2017 03:03 PM IST
Not just scoring runs and decimating oppositions, Indian cricket captain Virat Kohli loves his Bollywood connections and enjoys music too.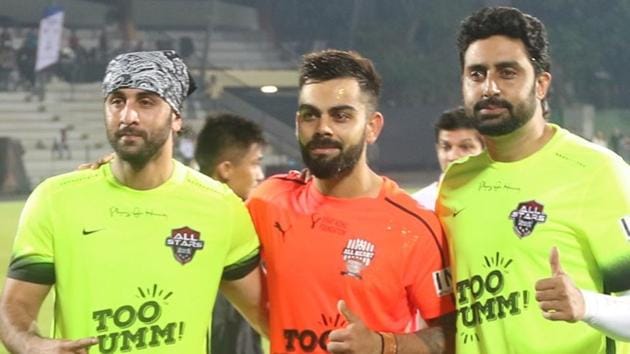 Most cricketers have a way to unwind or handle the pressures that come with stardom. When he is not training or playing a match, Sachin Tendulkar would often be seen with his earphones. Tendulkar loves old hits.
Virat Kohli, the quintessential modern man that he is, loves his music too. He not only endorses the right brands, but also choses his favourites with much care.
On Tuesday, Kohli revealed one of his favourite singers, Arjit Singh. "No one has captivated me with their voice like this man," Virat Kohli tweeted alongside a photograph with the 30-year-old singer from West Bengal.
Born to a Punjabi father and Bengali mother, Arijit Singh shot to fame in 2010 after working alongside noted music director, Pritam Chakraborty.
Arijit's major breakthrough came in the Aashiqui 2 where he was a lead and key vocalist and got prominence with the song "Tum Hi Ho" .
Kohli was in the news on Sunday when he led All Heart Football Club in a celebrity match with a clutch of Bollywood superstars like Ranbir Kapoor and Abhishek Bachchan.
The Indian cricketers, that included the football-loving MS Dhoni, enjoyed the Celebrity Clasico that was played for Kohli's foundation. Recently, Kohli was on a TV with Bollywood superstar Aamir Khan.
Kohli's Indian cricket team will be back to action with the ODI series starting against New Zealand. The first ODI will be played in Mumbai on October 22.
Personalise your news feed. Follow trending topics