Watch: 'Grateful to Shardul for listening to me' - Pandya's epic reply to Shastri's 'who gave advice to whom' question
Jan 25, 2023 11:13 AM IST
Hardik Pandya had a hilarious response to Ravi Shastri's question about the former's partnership with Shardul Thakur during the third ODI of the series against New Zealand.
India registered a comprehensive 90-run win over New Zealand in the third ODI of the series in Indore. Posting a mammoth 385/9 in fifty overs, India bowled the Kiwis out on 295 with Shardul Thakur and Kuldeep Yadav picking three wickets each. Shardul had also produced an important outing with the bat, scoring a valuable 25 off just 17 deliveries, hitting three fours and a six. He forged a 54-run partnership with Hardik Pandya (54) during the final overs of the match, playing a big role in taking India's score past the 350-run mark.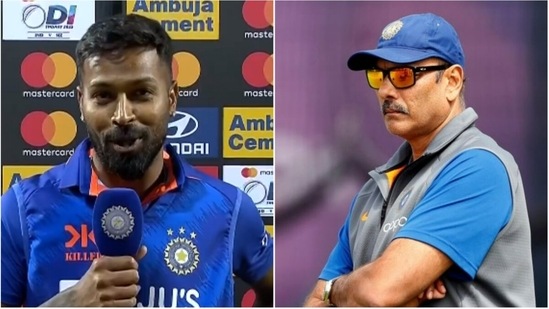 Following India's win, former India head coach Ravi Shastri talked to Hardik Pandya on the game, touching on various topics including the partnership with Shardul. Shastri asked a tongue-in-cheek question on the same, asking Pandya on who was giving advice to whom during the partnership.
Also read: Watch: Rahul Dravid's priceless reply to Gill's 'how does it feel to enter dressing room with your name on it' question
Pandya let out a laugh and joined in on the banter, stating that he was "grateful" to Shardul for listening to him at the crease.
"Luckily, I was glad Shardul has faith in me and lets me dictate the terms inside. But he always has his point and I always try to listen, but at the end of the day, because of his faith in me, he does what I exactly want. So, in our partnership, it was combined but I'm grateful to Shardul for listening to me!" Pandya said as he chuckled.
Hardik Pandya has grown heaps-and-bounds since his return to cricket in the last year's Indian Premier League after a significant spell away from the game due to injury. Pandya had led the Gujarat Titans to IPL title in his maiden season as captain; the all-rounder made a comeback to Team India weeks after the league ended, and also captained the team in June for a T20I series against Ireland.
At the start of the year, Pandya was named the captain of the T20I team for the series against Sri Lanka, and will retain the role when India take on New Zealand in a three-match series in the shortest format later this week.