Watch: MS Dhoni's most unique autograph to a fan on the street goes viral, video breaks the internet
Dec 12, 2022 01:37 PM IST
Keeping up with the same intense fan following, a video of MS Dhoni signing an autograph for a fan is burning up the internet.
Wherever MS Dhoni goes, the world follows. The former captain is perhaps the most famous Indian cricketer of all time – his popularity with the fans arguably surpasses that of the great Sachin Tendulkar. And to be honest, why wouldn't it? The things that Dhoni achieved during his 15-year-long career is the stuff of legends. The only captain to win all three ICC titles – World Cup, T20 World Cup and the Champions Trophy – Dhoni has redefined the definition of captaincy in Indian cricket, let along over the world. Couple that with his batting and extraordinary wicketkeeping skills, Dhoni could well be the GOAT, at least as far as captaincy is concerned.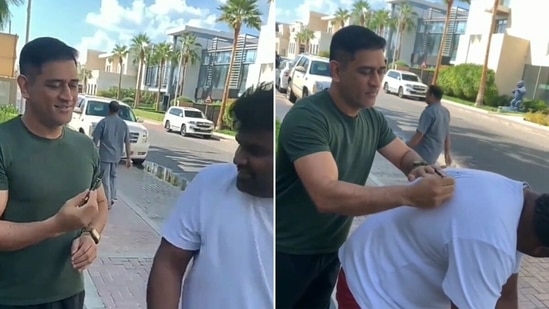 It has been over two years since Dhoni retired from international cricket, but there has been absolutely no dip in his fan following. If anything, now that he doesn't play barring the IPL, it has only increased. Recently a video of him getting mobbed on the streets of London had gone viral as he had visited the UK to attend the Wimbledon and was also in attendance for one of India's limited-overs fixtures against England.
Keeping up MSD's crazy following, a video of Dhoni signing an autograph for a fan is burning up the internet. In a video that has surfaced on social media, a fan was lucky to have Dhoni pen his signatures on his shirt. The fan was seen bending over, allowing Dhoni to sign the white shirt the fan was wearing on the back. And rest assured, that shirt is never going to get washed ever again.
Watch the video below :-
Recently, a video of Dhoni had emerged where he was busting the moves with India all-rounder Hardik Pandya. Dhoni was seen burning up the floor with some stunning dancing, the video of which was enough to send social media into a meltdown. For someone who has always been spotted remaining extremely calm and composed on the field, this avatar of Dhoni was a huge shocker to his fans, albeit in a good way.
Even though Dhoni played his final match for India in the semifinal of the 2019 World Cup, fans still get to witness the MSD magic whenever the IPL comes around. Dhoni, the second-most successful captain in the history of IPL behind Mumbai Indians' Rohit Sharma, will be seen captaining a fresh-looking Chennai Super Kings in IPL 2023 next year.
After a forgettable outing in 2020, where for the first time in history, CSK failed to reach the IPL playoffs, captain Dhoni staged a remarkable comeback the following year in 2021, leading his team to a fourth title. However, another off-season in IPL 2022 led to speculations over Dhoni's future – as to whether he would return or not – but CEO Kasi Viswanathan refuted any such thoughts. Dhoni himself had said that before he rides off into the sunset, he wants to play his last IPL season in front of Chepauk – the crowd that made him 'Thala'.
With the pandemic limiting IPL season to only a few venues from 2020 to 2022, year 2023 will mark the return of teams travelling to different venues, including the MA Chidambaram Stadium in Chennai, where Dhoni would be back doing what he does best - enthral the crowd.