When Virender Sehwag thought Rahul Dravid was boring
Virender Sehwag said he once observed that it was very boring when Rahul Dravid bats for Indian cricket team, because he never hits fours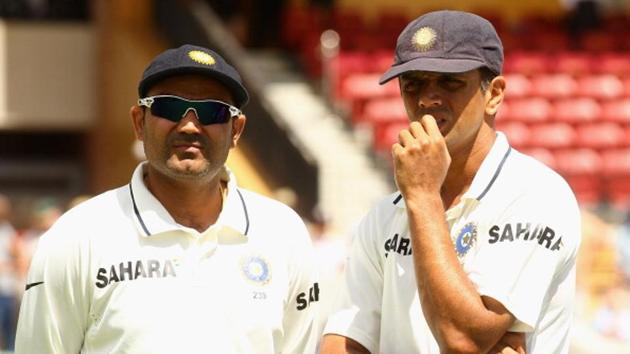 Updated on Apr 21, 2018 12:17 AM IST
An evening with Virender Sehwag usually means a smattering of Hindi and a lot of humour. On both counts, he didn't disappoint.
Yes, there were some bits such as Sehwag rating the 2007 T20 World Cup win as the biggest moment of his career. "No one expected us to win it and I was carrying team shirts to the quarter-final thinking I would distribute them because that would be our last match. That and the 2011 World Cup would be best moments of my career," he said.
READ | IPL 2018: Shane Watson's fiery ton lifts Chennai Super Kings vs Rajasthan Royals
Even when Sehwag said it was he who told Sourav Ganguly that Greg Chappell was writing an e-mail to the Board of Control for Cricket in India (BCCI), it was narrated in a manner typical of his commentary.
"I used to take breaks while on the field and told the umpires I had a bad stomach. To convince Greg, I went to the bathroom too. When I came out, I saw him writing an e-mail. I saw it was addressed to the BCCI and immediately took notice of it. And then I told Dada," said Sehwag in conversation with Boria Majumdar at a programme for his book 'Eleven Gods And A Billion Indians' here on Friday.
READ | Marginal rise in Indian Premier League TV viewership in Week 1 of IPL 2018
There were other anecdotes: of singing while ripping into Ronnie Irani in the NatWest Trophy final, being told by Ganguly that his only place in a Test XI was as opener, being chided for getting out at 84 at Lord's but saying that he was happy because he never thought he would get that many and not having any regrets for being dismissed on 195 in Melbourne.
But the stories were told in the facetious manner of his tweets. Such as his career as a commentator. "I would do that in the dressing room and once said it is very boring when (Rahul) Dravid bats, because he never hits fours. It came naturally to me. And because of me, the TV channel got high TRPs and now they can't afford me. Think of this: Rs 22,000 crore being spent on Indian cricket and no good commentator in Hindi," he said, to ripples of laughter.
READ | IPL 2018: Chris Gayle celebrates Kings XI Punjab's win with Preity Zinta
So it fit that Sehwag said he was having a great time spending other people's money --- all of Rs 80 crore --- in the IPL. "And they pay me to do that. I hope Kings XI Punjab wins it once in the next five years," said the team's mentor.
That brought Chris Gayle into the conversation and Sehwag said he has already earned his price of Rs 2 crore by winning them two games.
India's chance to win in 2019
Sehwag said India have a good chance of winning the 2019 World Cup in England. "They have a good bowling unit. In our time, four pacers (Javagal) Srinath, Zaheer (Khan), Ajit Agarkar and Ashish Nehra rarely played together but this side has four who are. I see an overseas Test series win this year," he said.
Close Story