AAP Uttarakhand chief resigns as rebellion breaks out in party ranks
Published on Jul 17, 2016 08:49 PM IST
The episode brought out into the open the long-simmering rift within the party, which is hoping to challenge the two national parties – the Congress and the BJP – in its debut in Uttarakhand assembly polls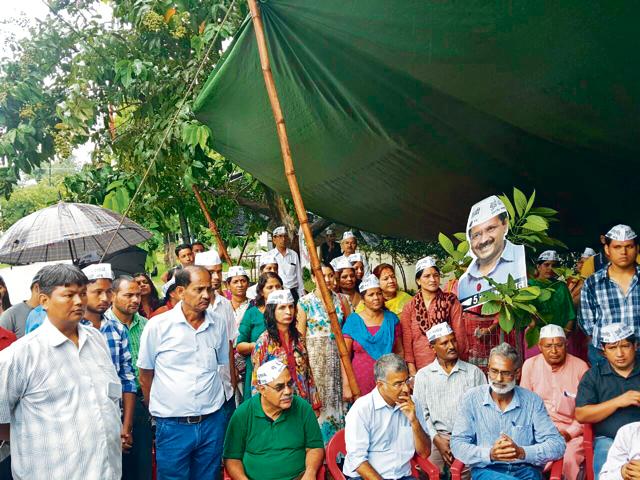 A rebellion seems to have broken out in the Aam Aadmi Party (AAP) in Uttarakhand barely months before the assembly elections, with a large number of party workers protesting against the regional leadership and two of its top leaders, including the state chief, resigning from their posts.
The episode brought out into the open the long-simmering rift within the party, which is hoping to challenge the two national parties – the Congress and the BJP – in its debut in the Uttarakhand assembly polls.
Despite heavy rain in the state capital since Friday night, over 200 volunteers – from as far as Almora, Bageshwar, Kapkot hill towns in the Kumaon region of Uttarakhand – gathered outside the state party chief Anoop Nautiyal's residence in Vasant Vihar area on Sunday afternoon.
They were protesting against the alleged "suppressive style of functioning" of AAP's Uttarakhand in charge Vivek Yadav.
"The honest workers (of AAP) have been threatened with dire action for raising their voice against the corrupt practices going on here. We are not against the party, but against the style of functioning of Yadav which is keeping the party from becoming strong," said Kamal Devradi, one of the protesters, adding that "at least 300 more such party members" have supported the protest across the state.
The protesters held a dialogue with Nautiyal for escalating their grievances to the high command, who later announced his decision to resign from his post of the AAP's state working committee president. Ranveer Chaudhary, state treasurer of AAP, also resigned from his post.
Citing "organisational issues" as a key reason, Nautiyal said he had taken a "principled stand" of putting in his papers as a form of protest against "how old volunteers were being treated" by AAP's Uttarakhand leadership.
Without naming anyone in particular, Nautiyal said there had been "some major differences of opinion" within the party which was unfortunate at a time when the AAP needed to strengthen its structure ahead of the upcoming polls.
"There's a need to align the party in a certain way for a corruption-free Uttarakhand and we need to have a positive agenda in place urgently. I will communicate the problems to the party's central leadership," Nautiyal said.
Vivek Yadav, in charge of AAP in Uttarakhand, however, termed the entire episode as a "tamasha" (drama) on part of some "dissatisfied or inactive workers" and denied that there were any complaints regarding his style of functioning.
"It could be a conspiracy by the BJP/Congress parties who are afraid of our (AAP's) growing popularity in Uttarakhand," he said.
He emphasised that "suitable action" would be taken if any party workers were found indulging in "indiscipline against the party".
Personalise your news feed. Follow trending topics