Anti-encroachment drive: Breather to squatters as Supreme Court modifies HC order
The Supreme Court on Wednesday modified an Uttarakhand high court order on removal of encroachments and directed the Dehradun municipal corporation to issue appropriate notices to the encroachers and take action based on their replies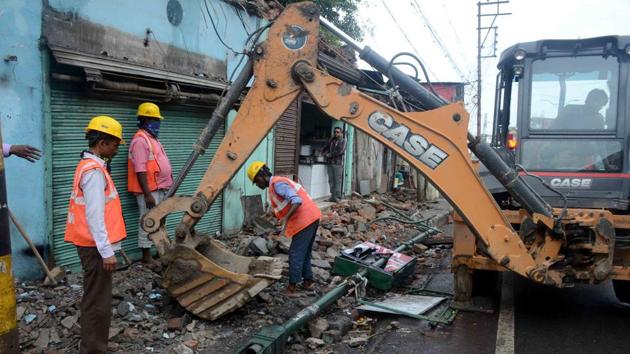 Updated on Jul 05, 2018 09:40 PM IST
The Supreme Court on Wednesday modified an Uttarakhand high court order on removal of encroachments and directed the Dehradun municipal corporation to issue appropriate notices to the encroachers and take action based on their replies. Responding to a special leave application (SLP), the apex court said show cause notices should be issued to the encroachers within three weeks, following which reply to the same be filed within next three weeks and a decision (by the competent authority on action) be taken within next four weeks.
"Till the decision is taken by the competent authority, status quo, obtaining as on today, shall remain in force," the SC order said.
Taking a tough stand on encroachments in Dehradun and Mussoorie, the Uttarakhand High Court had on June 18 directed the Dehradun municipal corporation, Mussoorie Dehradun Development Authority (MDDA) and state functionaries concerned to remove all the unauthorized encroachments unauthorized constructions on public footpaths, streets, roads, and pavements within four weeks by "using its might". The court issued the directions after treating a letter written by Manmohan Lakhera, a Dehradun-based journalist, as public interest litigation (PIL).
Sanpreet Singh, counsel for Dehradun-based Sunita, who had filed the SLP in Supreme Court after her shop in Karanpur was marked by local civic authorities under anti-encroachment drive, said that the directions were issued by a three judge-bench.
"We find that the High Court has directed for removal of unauthorised encroachments. Thereafter, it has proceeded to issue a series of directions. We are really not concerned with the general directions given by the High Court. However, we are inclined to modify the order passed by the High Court to the extent that the competent authority of Nagar Nigam, Dehradun shall issue appropriate notices to the unauthorized encroachers and follow the due procedure and thereafter evict them if they are found to have encroached," the apex court order read.
The apex court also ruled that their direction shall apply only to the existing encroachments. "If there is any kind of encroachment after the order of the high court, the same shall be removed after giving 24 hours notice," the court said.
In the June 18 order, a division bench of Justices Lok Pal Singh and Rajiv Sharma, had directed the state functionaries "to impose Section 144 of CrPC while removing the illegal structures built on government and municipal land, footpaths and streets." It had also directed the Uttarakhand chief secretary to initiate disciplinary proceedings against the officials, during whose tenure such encroachments came up. The court had also directed the authorities concerned to seal all the residential premises, including basements, which were being misused for commercial purposes, within three weeks.
Close Story
Personalise your news feed. Follow trending topics