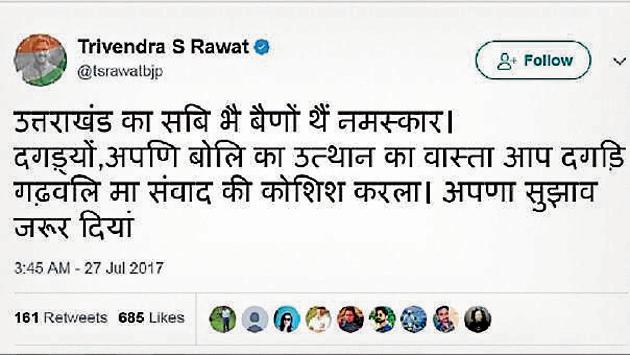 CM tweets in regional languages bring out Garhwal-Kumaon divide
Chief minister Trivendra Singh Rawat's tweets in Garhwali and Kumaoni seem to have opened a can of worms with the people from the two divisions sparring online over his 'preference' to one language over the other
PUBLISHED ON JUL 30, 2017 07:47 PM IST
Chief minister Trivendra Singh Rawat's tweets in Garhwali and Kumaoni seem to have opened a can of worms with the people from the two divisions sparring online over his 'preference' to one language over the other.
Rawat had posted tweets in the two regional languages, urging the people to use them frequently for their promotion. Though he tweeted in both Garhwali and Kumaoni, Twitterati alleged Rawat of 'preferring' Garhwali over Kumaoni, thereby highlighting the underlying "politics" between the two regions. Incidentally, Rawat hails from Garhwal.
"Sir, very disappointed with your tweet. Do u represent Garhwal only or full Uttarakhand? Personal liking is 1 thing, raj dharma is another (sic)," wrote @neerajjoshi24. "Hon'ble CM – Why only gadwali why not kumauni?" asked Dr Ranjeet Mehta. "You are the CM of Uttarakhand not only of Garhwal," tweeted @gsp223. Some even blamed him for posting a "biased tweet".
Some users urged Rawat not to differentiate between Garhwal and Kumaun. "Why are you discriminating between kumaoni and garhwali. This was least expected from you," wrote @nayanpandey2. Another user @PandeyGrv reminded Rawat of his party's "sabka sath sabka vikas" (development for all) agenda and urged him to give equal importance to both the languages.
Experts said the Twitter spat highlights the Garhwal-Kumaon divide, where CMs from one region were often accused of "ignoring" the other.
Of the eight chief ministers, Nityanand Swami - the first - was originally from Haryana. Four were from Garhwal and the remaining three from Kumaon. Swami was followed by Bhagat Singh Koshyari from Kumaon. ND Tiwari from Kumaon was accused by many of 'ignoring' Garhwal. The next three CMs – Bhuwan Chandra Khanduri, Ramesh Pokhriyal 'Nishank'and Vijay Bahuguna – were from Garhwal and faced similar allegations.
Then came Harish Rawat from Kumaon, who also faced allegations of "neglecting" Garhwal. Last year, as many as eight (of the total nine defecting) leaders from Garhwal led a rebellion against Rawat, putting the state in a political crisis.
Congress spokesperson Mathura Dutt Joshi said it was "unfortunate" that the BJP government was trying to divide the state into Garhwal and Kumaon, while "all we need for the state's development is unity".
Cabinet minister Madan Kaushik, however, denied the allegations. "CM had tweeted in both the languages and the aim was clearly to promote both Kumaoni and Garhwali. Our government is committed to developing both the regions. There is no truth in giving preference to one over the other."
Social commentators said the "rivalry" between Garhwal and Kumaon had existed historically, culturally and politically and that the tiff over sub-regional identity gets heightened according to who gets the CM's post. "When a person from Garhwal becomes the CM, Kumaonis claim discrimination against them and vice versa. Nevertheless, the traditional divide is played upon by disgruntled political leaders for their own interest," said socio-political commentator Jay Singh Rawat, adding Uttarakhand also lacked a 'one state-one language' concept.
Close