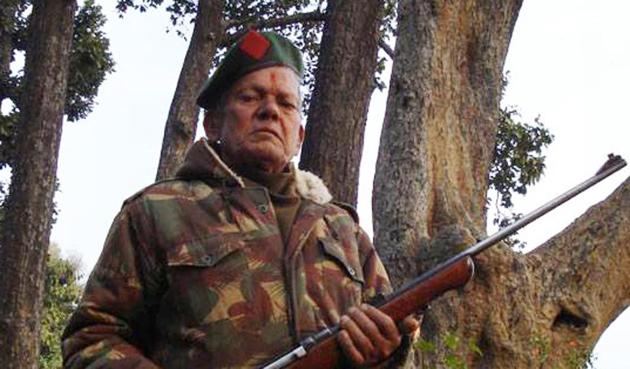 'Mini Corbett' Thakur Dutt Joshi who died 'unnoticed'
Thakur Dutt Joshi, the legendary hunter of Kumaon who killed more than 50 man-eaters, died Thursday evening
PUBLISHED ON DEC 23, 2016 08:33 PM IST
Thakur Dutt Joshi, the legendary hunter of Kumaon who killed more than 50 man-eaters, died Thursday evening. He was 82. He was unwell for last few days and died while being taken to Delhi. He was cremated in Ramnagar on Friday.
Joshi, popularly known as 'Mini Corbett' after legendary Jim Corbett who made man-eaters of Kumaon famous through his works, had joined as a forest guard in Uttarakhand forest department in the late 60s. He made his first kill in the early 70s shooting down a leopard that had turned man-eater. Since then, the forest officials started summoning him every time they needed a hunter to put down a man-eater.
With age he had started losing eyesight, but in September this year, when this correspondent asked him if he was ready to again pick the gun, Joshi said, "Main sher ki ankhon mein ankh dalkar dekh sakta hun, mein darta nahi (I can stare down a tiger. I don't get scared)."
Among the hunters in Uttar Pradesh and Uttarakhand, Joshi was celebrated as one who had impeccable knowledge about the big cats. As per the forest department sources, Joshi had killed 51 big cats, including 15 tigers
Such was his reputation and marksmanship that even after he retired from the forest department in 1996 after nearly four decades of service, he was regularly called by the government officials and other hunters for assistance.
"We learnt a lot from him. Joshiji shared tips that came in handy when I went out looking for leopards," said Lakhpat Singh, a hunter from Garhwal, who has 49 kills to his credit.
Joshi last assisted Lakhpat in killing a tigress that had turned man-eater in October this year. The legendary hunter had told HT that he had taken a pledge to kill all the man-eaters.
"I had once killed three tigers back-to-back near Garjia (Corbett). It was difficult, but I have pledged to kill all the man-eaters" Joshi had said.
With him an era has ended. His death comes days after the Uttarakhand High Court passed an order that big cats cannot be killed or declared "man-eaters". Few years ago Joshi penned a book --- Kumaon Ke Khaufnak Aadamkhor. Perhaps, the future generations will remember 'Mini Corbett' by reading his tale.
Close