PM to visit Kedarnath to review the progresss of reconstruction project
It is being speculated that Prime Minister Narendra Modi might launch the BJP's campaign for the 2019 Lok Sabha elections from the shrine town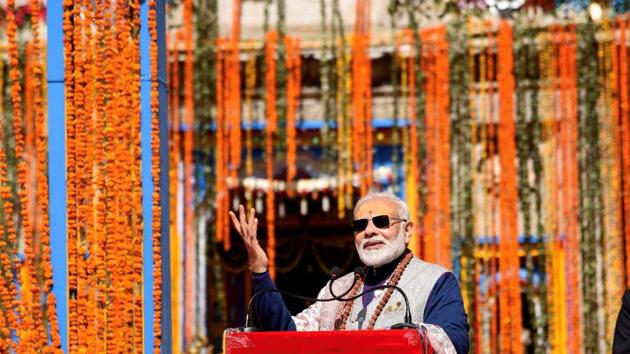 Updated on Feb 25, 2018 10:03 PM IST
Amid reports that BJP may launch its campaign for 2019 Lok Sabha polls from Kedarnath, the Uttarakhand government has confirmed that Prime Minister Narendra Modi will remain present at the ceremonial reopening of the portals of the shrine on April 29.
"The prime minister will attend the ceremonial reopening of the portals of the Kedarnath shrine. During his visit he (Modi) will also review the progress of works relating to the Kedarnath reconstruction project," said Darshan Singh Rawat, the media coordinator of chief minister Trivendra Singh Rawat.
Modi's frequent visits to Kedarnath after taking charge as the PM in 2014 have given rise to the speculations that he might launch the BJP's campaign for the next year's general elections from the shrine town. Reports got the credence when Modi set a one-year deadline to complete Kedarpuri's reconstruction.
Darshan Singh refused to comment on the speculations about the poll campaign launch. "Right now we have no information…Things might become clear during his visit," he said.
BJP state vice-president Jyoti Prasad Gairola dubbed the reports as speculative. "All such reports are mere conjectures…I don't think there is any plan that he will be inaugurating our party's campaign from there."
Darshan Singh, however, said Modi had been keeping a close watch on the reconstruction works. "Images of works relating to the reconstruction are being transmitted live to the Prime Minister's Office (PMO) from the ground zero," he said.
CM Rawat, meanwhile, would soon visit Delhi where he would share with the PM the details relating to all centrally funded projects and schemes being implemented in the state, Darshan Singh said. "He (Modi) has called the meeting to review the performance of the state government's one year in power, which will be completed soon."
Close Story